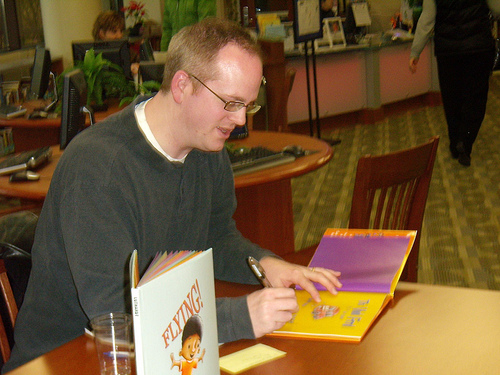 Kevin Luthardt
Born:
1973 in Schaumburg, Illinois
Pen Name:
None
Connection to Illinois
: Luthardt was born and raised in Schaumburg and currently resides in the Chicago area.
Biography
: Kevin Luthardt is an artist, illustrator, author, and muralist whose work appears in galleries and other venues. He studied painting at the University of Illinois at Champaign-Urbana and is a former staff member at Skokie Public Library.
---
Awards
:
'''''Peep!'''''
-- 2004 Children's Choice, IRA/CBC
-- 2014 ILLINOIS READS Book '''''Larabee'''''
-- 2004 Best Books of the Year Awards, Child Magazine
-- 2005 Children's Choice, IRA/CBC
-- 2005 Kansas State Reading Circle Recommended Reading Lis
Primary Literary Genre(s):
Fiction; Illustrator
Primary Audience(s):
Children
E-Mail:
kevinluthardt@sbcglobal.net
Pinterest:
https://www.pinterest.com/kevinluthardt/
Twitter:
https://twitter.com/kevinluthardt?lang=en
Website:
http://www.kevinluthardt.com/
on WorldCat:
http://www.worldcat.org/search?q=kevin+luthardt
---
Selected Titles
Findley the Funnel
ISBN: 0615914519 OCLC: Findley the Funnel is the story of a young boy rarely happy with what he receives. Findley learns that happiness can be found by doing good deeds for others.
Flying
ISBN: 9781561457243 OCLC: 243960470 Peachtree, Atlanta : ©2009. A boy's simple questions about why he cannot fly lead to an imaginative journey with his father.
Hats! /
ISBN: 0807531715 OCLC: 54753675 Albert Whitman & Company, Morton Grove, Ill. : 2004. When three friends meet a mean boy who insults their hats, they make a friend of him.
Larabee /
ISBN: 1561453005 OCLC: 52775166 Peachtree, Atlanta : ©2004. The mailman's dog, Larabee, helps deliver letters and packages to everyone on the route except himself.
Mine! /
ISBN: 0689832370 OCLC: 42913744 Atheneum Books for Young Readers, New York : 2001. Two brothers fight over their new toy dinosaur until it tears and they learn to share.
Peep!
ISBN: 1561456829 OCLC: 50696465 Peachtree, Atlanta : ©2003. Although a boy is lonely after the hatchling duckling that followed him home finally joins other ducks, he soon meets another creature.
The Vowel family :
ISBN: 9780822579823 OCLC: 122701379 Carolrhoda Books, Minneapolis : ©2008. The members of the Vowel family have a hard time talking until their children, Alan, Ellen, Iris, Otto, and Ursula, are born, and when one of them gets lost one day, it takes their Aunt Cyndy to fix the problem.
When Edgar met Cecil
ISBN: 9781561457069 OCLC: 809789677 Edgar the robot is unhappy when his family moves to a new town, until he meets Cecil, an alien, and they become friends.
You're weird! /
ISBN: 0803729863 OCLC: 54930134 Dial Books for Young Readers, New York : ©2005. Rabbit and Turtle each make fun of the other's peculiarities, but they turn out to have some things in common after all.
Zoom! /
ISBN: 1561453323 OCLC: 56058339 Peachtree, Atlanta, Ga. : ©2005. Illustrations and rhyming, easy-to-read text describe a father and child's wild ride on a roller coaster.