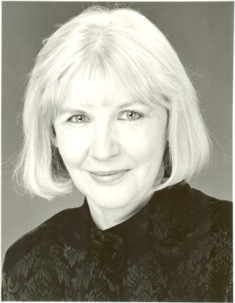 Stella Pevsner
Born:
1921 in Lincoln, Illinois
Died:
June 11, 2020 in Albuquerque, New Mexico
Pen Name:
None
Connection to Illinois
: Pevsner was born in Lincoln and lived in Palatine and Chicago. She attended Illinois State University in Bloomington-Normal for two years.
Biography
: Stella Pevsner began writing childrenís books in 1970 after a career in advertising and freelance writing because her son Stuart said his favorite author, Beverly Cleary, ďdidnít write fast enough.Ē In all, she wrote 18 books. A former president of the Society of Midland Authors, she went on to win many awards for her writing. The ABC Afterschool Special, 'Me and Dad's New Wife' was based off her novel 'A Smart Kid Like You'. She continued writing into her 90's, publishing her last book, 'Bubblegum Angel' in 2018.
---
Awards
:
"""A Smart Kid Like You"""
-- Dorothy Canfield Fisher Children's Book Award, 1977
-- Children's Fiction Award, Society of Midland Authors, 1987
"""And You Give Me a Pain, Elaine"""
-- Golden Kite Award, Society of Children's Book Writers and Illustrators, 1978
"""Cute is a 4-Letter Word"""
-- Carl Sandburg Award, Friends of the Chicago Public Library, 1980
"""Would My Fortune Cookie Lie?"""
-- Children's Fiction Award, Society of Midland Authors 1996
"""How Could You Do It, Diane?"""
-- Carl Sandburg Award, Friends of the Chicago Public Library,
"""Other Awards:"""
-- Illinois Children's Book Author of the Year, 1987
Primary Literary Genre(s):
Fiction
Primary Audience(s):
Children; Young adult readers
:
---
Selected Titles
A smart kid like you.
ISBN: 0590327356 OCLC: 19035371 Vagabond, New York : ©1975. Just as Nina begins to accept her parents' divorce, she discovers her father's new wife is to be her seventh grade math teacher.
And you give me a pain, Elaine
ISBN: 0671688383 OCLC: 39598182 Pocket Books, New York : [1989], ©1978. Andrea feels her parents unfairly focus most of their attention on her trouble-making older sister.
Break a Leg!
ISBN: 0517502240 OCLC:
Bubblegum Angel
ISBN: 1721925139 OCLC:
Cute is a four-letter word /
ISBN: 0671688456 OCLC: 539347552 Pocket Books, ©1980.
Footsteps on the stairs /
ISBN: 9780671524111 OCLC: 11151024 Three boys interested in the supernatural try to calm a restless ghost haunting one boy's house.
How could you do it, Diane? /
ISBN: 0395510414 OCLC: 19130381 Clarion Books, New York : ©1989. As Bethany struggles to find the reasons why her sister committed suicide, her parents try to repress the incident.
I'm Emma: I'm a quint
ISBN: 060611503X OCLC: 778983703 Minstrel, New York : 1996. Thirteen-year-old Emma, one of a set of quintuplets, struggles to maintain her individuality as she attends acting class, prepares for her half-sister's wedding, and auditions for a movie.
Is everyone moonburned but me? /
ISBN: 0395957702 OCLC: 41880300 Clarion Books, New York : ©2000. Thirteen-year-old Hannah feels plain and drab compared to her older and younger sisters, but when both of her divorced parents seem on the verge of remarriage and a series of crises face the family, she is the only one who manages to keep her sanity.
Jon, Flora, and the odd-eyed cat /
ISBN: 0671561057 OCLC: 37189915 Pocket Books, New York : 1997, ©1994. While recovering from rheumatic fever and a move from Chicago to a small southern town, fourteen-year-old Jon becomes involved with a troubled young girl's recreation of an ancient druid ceremony.
Lindsay, Lindsay, fly away home /
ISBN: 0671503545 OCLC: 11764226 Pocket, New York : [1985], ©1983. Teen-aged Lindsay, after spending most of her life in India and other faraway places with her businessman father, is perplexed and unhappy when she is suddenly sent to live with her aunt Meg in the United States.
Me, my goat, and my sister's wedding /
ISBN: 0671662066 OCLC: 29234705 Pocket Books, New York : ©1986. Doug and his friends keep their pet goat a secret from their families, but before long, sightings of the high-spirited animal occur at very inappropriate places.
New girl
ISBN: 0590401033 OCLC: 5345205 Scholastic Book Services, New York : [1970] Fran's best friend leaves for summer camp and now Fran does not know how she'll ever get through two long months without Debbie.
Renting Out Dogs is Rong!
ISBN: 1547204184 OCLC:
Sing for your father, Su Phan
ISBN: 0440415381 OCLC: 36330903 Clarion Books, New York : ©1997. Recalls the events in a North Vietnamese village that forever changed the lives of the youngest daughter of a prosperous trader and her family.
Sister of the quints
ISBN: 0671659731 OCLC: 17965600 Pocket Books, New York : 1988. Thirteen-year-old Natalie's life undergoes chaotic changes when her stepmother has quintuplets and their roomy Chicago home becomes a huge nursery.
The night the whole class slept over /
ISBN: 067178157X OCLC: 26994348 Pocket Books, New York : 1992, ©1991. Eleven-year-old Dan, whose artist parents have kept him moving around all his life, fears he will lose the friends he has made at his new school, until the class sleepover coincides with a bad winter storm.
Would my fortune cookie lie? /
ISBN: 0395730821 OCLC: 32969093 Clarion Books, New York : 1996. While worrying that her mom is plotting to move the family from their Chicago home, thirteen-year-old Alexis also wonders about the mysterious young man who seems to be shadowing her and her friend.