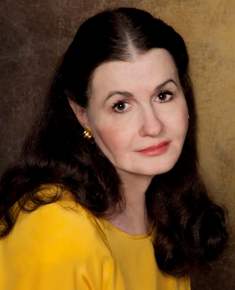 Susan Hahn
Born:
in Chicago, Illinois
Pen Name:
None
Connection to Illinois
: Hahn was born in Chicago by the name of Susan Firestone. She attended Highland Park High School and received her B. A. and M. A. in psychology from Northwestern University. She currently resides in Winnetka.
Biography
: Susan Hahn an award-winning poet, playwright and novelist. As a licensed group therapist at the Woodlawn Metal Health Center, she began incorporating writing and art into her therapy; and began to write her own work submitting her first poems to Poetry magazine. In 1997 she became Editor of Northwestern's award-winning TriQuarterly literary magazine and remained there until 2010. She was also co-founder and co-editor of TriQuarterly Books.Her first play, ''Golf'', directed by Ann Filmer, premiered in 2005 at Circle Theatre in Forest Park and her seventh book of poetry, ''The Scarlet Ibis'', was directed by Ann as a verse play in an earlier version in 2007.In 2013-2014 she was the inaugural Writer-in-Residence at the Ernest Hemingway Foundation.
---
Awards
:
-- Literary Awards and Fellowships, Illinois Arts Council
-- Award for Poetry, The Society of Midland Authors, 1994
-- George Kent Prize, Poetry Magazine, 2000
-- Fellowship in Poetry, Guggenheim Foundation, 2003-2004
-- Inaugural Writer-in-Residence,Hemingway Foundation, 2013-2014
-- Pushcart Prizes in fiction and poetry
Primary Literary Genre(s):
Fiction; Poetry
Primary Audience(s):
Adult readers
Website:
https://www.susanhahnauthor.com/
Website:
https://www.poetryfoundation.org/poets/susan-hahn
Website:
https://poets.org/poet/susan-hahn
Website:
https://www.encyclopedia.com/arts/educational-magazines/hahn-susan-1941
Wikipedia:
https://en.wikipedia.org/wiki/Susan_Hahn
---
Selected Titles
Confession
ISBN: 0226312739 OCLC: 34546779 University of Chicago Press, Chicago : 1997. Collection of forty-five poems by the co-editor of TriQuarterly Books.
Harriet Rubin's mother's wooden hand
ISBN: 0226312992 OCLC: 22310500 University of Chicago Press, Chicago : 1991.
Holiday
ISBN: 0226312755 OCLC: 45888724 University of Chicago Press, Chicago : 2001.
Incontinence /
ISBN: 0226312712 OCLC: 27814135 University of Chicago Press, Chicago : 1993.
Losing Beck :
ISBN: 9781597096324 OCLC: 1043976087 Losing Beck is the story of Jennie Silver, who is trying to get over a man who was greatly influenced by the renowned Hungarian emigre novelist Avigdor Element. Spanning a hundred years of history from when Nijinsky danced The Afternoon of the Faun in Paris in 1912, through World Wars I and II, to very close to the present, Jennie keeps a diary, writes a play and a novella in her attempt to control her desperate, high-pitched emotions focused on a man she is uncontrollably drawn to and at the same time finds repugnant. A man who is one of the keepers and part of the legacy of Element's bad behavior--Provided by publisher.
Mother in summer /
ISBN: 0810151308 OCLC: 48951099 TriQuarterly Books/Northwestern University Press, Evanston, Ill. : 2002. Mother in Summer is a collection of poems offering candid, powerful insight into the grief of losing a parent.
Self/pity
ISBN: 0810151642 OCLC: 59280331 Northwestern University Press, Evanston, Ill. : 2005.
The note she left :
ISBN: 9780810124868 OCLC: 175057152 Northwestern University Press, Evanston, Ill. : ©2008.
The scarlet ibis :
ISBN: 0810151839 OCLC: 76820902 Northwestern University Press, Evanston, Ill. : 2007. A collection of poems by Susan Hahn that use the image of the ibis to explore a wide range of topics, including slavery, ancient Egypt, individuality, and courage.
The six granddaughters of Cecil Slaughter :
ISBN: 0984651004 OCLC: 794707567 Fifth Star Press, Chicago, Ill. : 2012. A family of Jewish Hungarian immigrants settle in Chicago in the first half of the 20th century, and rise from poverty to prosperity. Cecil Slaughter's children-- out of equal measures glorified memory and sibling rivalry-- name their daughters after him, with subtle variations: Ceci, Cecilia, Cecily, Celine, Celie, and Celeste. Despite-- or perhaps because of-- this and other familial forces pushing on them, each has a personality and direction of life distinct from her cousins.