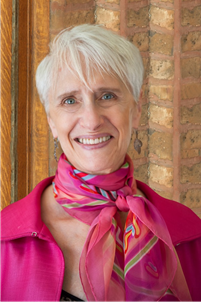 Sara Paretsky
Born:
1947 in Ames, Iowa
Pen Name:
None
Connection to Illinois
: Paretsky moved to Chicago when she finished her undergraduate degree at the University of Kansas. She resides in Hyde Park.
Biography
: Sara Paretsky is best known for her mystery novels featuring the female private investigator, VI Warshawski, which revolutionized the genre that typically made women vamps or victims. Born in Ames, Iowa, she grew up in Lawrence, Kansas. Educated at the University of Kansas and the University of Chicago, Paretsky worked in several Chicago business corporations. Her writing career began in 1977 and she has been the recipient of several literary awards. She created Sisters in Crime, a worldwide organization to support women crime writers, which earned her Ms. Magazine's 1987 Woman of the Year Award. In addition to 21 Warshawski novels, she has written two stand-alone novels and a memoir. Her character was made into the movie, V.I. Warshawski in 1991. She also created the Sara & Two-C Dogs Foundations to support reproductive rights, STEM and arts programs for young people. View Sara Paretsky's Library of Congress book talks: *Fire Sale book talk from 2/27/2007 at: http://www.read.gov/webcasts/paretsky.html. *Shell Game: A V.I. Warshawski Novel with Maureen Corrigan from the National Book Festival on August 31, 2019 at: https://www.loc.gov/events/2019-national-book-festival/authors/item/n83160499/sara-paretsky/.
---
Awards
:
Killing Orders Nomination, Anthony Award, Best Novel, 1986
Blood Shot Nomination, Anthony Award, Best Novel, 1989
A Woman's Eye Anthony Award, Best Short Story Collection, 1992;
Other Awards Cartier Diamond Dagger Award, Lifetime Achievement, Crime Writers' Association, 2002; Anthony Award, Lifetime Achievement, 2011; Grand Master Award, Mystery Writers of America, 2011
Shell Game Sue Grafton Memoriam, Mystery Writers of America, 2019
Dead Land Nomination, Sue Grafton Memoriam, Mystery Writers of America , 2021
Primary Literary Genre(s):
Fiction; Mystery
Primary Audience(s):
Adult readers
Blog:
http://www.saraparetsky.com/blog/
E-Mail:
viwarshawski@mindspring.com
Facebook:
https://www.facebook.com/pages/Sara-Paretsky
Instagram:
https://www.instagram.com/saraparetsky/
Twitter:
https://twitter.com/saraparetsky
Web:
https://saraparetsky.com
Web:
https://www.goodreads.com/author/show/28509.Sara_Paretsky?origin=
Wikipedia:
https://en.wikipedia.org/wiki/Sara_Paretsky
---
Selected Titles
A taste of life and other stories /
ISBN: 9780146000409 OCLC: London : London :
Bitter medicine /
ISBN: 0340935154 OCLC: London : Hodder Paperbacks, London : 2008. Married to a useless punk with gang connections, Consuelo is pregnant and in labour. Warshawski takes her to a free hospital and Consuelo's doctor is savagely murdered. Just how far will some people go in order to protect their interests?
Blacklist :
ISBN: 0141010231 OCLC: New York : G.P. Putnam's Sons, New York : ©2003. This is a story of secrets and betrayals that stretch across four generations-secrets political, social, sexual, financial: all of them with the power to kill. Eager for something physical to do in the spirit-exhausting wake of 9/11, V.I. accepts a request from an old client to check up on an empty family mansion; subsequently surprises an intruder in the dark; and, giving chase, topples into a pond. Grasping for something to hold on to, her fingers close around a lifeless human hand. It is the body of a reporter who had been investigating events of forty-five years earlier, during the McCarthy era, and V.I.'s discovery quickly sucks her into the history of two great Chicago families-their fortunes intertwined by blood, sex, money, and the scandals that may or may not have resulted in murder all these years later. At the same time, she inadvertently becomes involved in the story of a missing Egyptian boy whose possible terrorist connections make him very much sought after by the government. As the two cases drive her forward-and then shockingly tumble together-she finds that wealth and privilege, too, bear a terrible price; and the past has no monopoly on patriotic scoundrels. Before everything is over, at least two more people will lie dead ... and V.I. might even be one of them. A novel as passionate, complex, and powerfully entertaining as its acclaimed heroine, Blacklist is a stunning achievement.
Bleeding Kansas /
ISBN: 0451224485 OCLC: New York : G.P. Putnam's Sons, New York : ©2008. The late-twentieth-century descendants of anti-slavery emigrants worry about maintaining religious superiority over a rival family while launching a harassment campaign against a Wiccan newcomer, an effort that is challenged by a young man's military service.
Blood shot
ISBN: 9781444761443 OCLC: London : Hodder, London : 2013. V.I. Warshawski isn't crazy about going back to her old south Chicago neighborhood, but a promise is something she always keeps. Caroline, a childhood friend, has a dying mother and a problem -- after twenty-five years she wants V.I. to find the father she never knew. But when V.I. starts probing into the past, she not only finds out where all the bodies are buried -- she stumbles onto a very new corpse. Now she's stirring up a deadly mix of big business and chemical corruption that may become a toxic shock to a snooper who knows too much. --Amazon website.
Body work /
ISBN: 0451413083 OCLC: New York : Signet Select, New York : 2011, ©2010. An audience-participation performance by a controversial artist is disrupted by a violent outburst culminating in the artist's murder days later, prompting V.I. Warshawski to prove the innocence of an Iraqi war veteran charged with the crime.
Breakdown /
ISBN: 0399157832 OCLC: When the teenage daughters of some of Chicago's most influential families discover the body of a ritually murdered victim, investigator Warshawski explores theories that the killing is linked to a hostile media campaign against a senatorial candidate or a wealthy patriarch's childhood in Nazi-occupied Lithuania.
Brush back /
ISBN: 0399160574 OCLC: Reluctantly agreeing to help when an old boyfriend asks her to exonerate his mother for the murder of his sister, V.I. Warshawski is forced to confront ugly politics and violent elements in her hometown.
Burn Marks
ISBN: B01F9QAAA4 OCLC:
Critical mass /
ISBN: 0399160566 OCLC: New York Times-bestselling author Sara Paretsky's brilliant protagonist V.I. Warshawski returns in another hard-hitting entry, combining razor-sharp plotting and compelling characters with a heady mix of timely political and social themes. V.I. Warshawski's closest friend in Chicago is the Viennese-born doctor Lotty Herschel, who lost most of her family in the Holocaust. Lotty escaped to London in 1939 on the Kindertransport with a childhood playmate, Kitty Saginor Binder. When Kitty's daughter finds her life is in danger, she calls Lotty, who, in turn, summons V.I. to help. The daughter's troubles turn out to be just the tip of an iceberg of lies, secrets, and silence, whose origins go back to the mad competition among America, Germany, Japan and England to develop the first atomic bomb. The secrets are old, but the people who continue to guard them today will not let go of them without a fight. --
DEAD LAND.
ISBN: 0062435922 OCLC: Chicago may be the city of broad shoulders, but its political law is Pay to Play. Money changes hands in the middle of the night, and by morning, buildings and parks are replaced by billion-dollar projects. Chicago PI V.I. Warshawski gets pulled into one of these clandestine deals through her impetuous goddaughter, Bernie Fouchard. Bernie tries to rescue Lydia Zamir, a famed singer-songwriter now living on the streets; Zamir's life fell apart when her lover was murdered next to her in a mass shooting at an outdoor concert. Not only does Bernie plunge her and V.I. headlong into the path of some ruthless developers, they lead to the murder of the young man Bernie is dating. He's a computer geek working for a community group called SLICK. V.I. is desperate to find a mysterious man named Coop, who roams the lakefront in the middle of the night with his dog. She's sure he holds the key to the mounting body count within SLICK. Coop may even know why an international law firm is representing the mass murderer responsible for Lydia's lover's death. Instead, the detective finds a terrifying conspiracy stretching from Chicago's parks to a cover-up of the dark chapters in America's meddling in South American politics. Before she finds answers, this electrifying novel pushes V.I. close to the breaking point: People who pay to play take no prisoners. --Provided by publisher
Deadlock
ISBN: 9780307781284 OCLC: New York, N.Y. : Dell Pub., New York, N.Y. : [2011] When Chicago Black Hawks hockey legend Boom Boom Warshawski slips off a wharf and drowns in Lake Michigan, cousin V.I. questions the report of accidental death and rumors of suicide. V.I. searches for leads and finds a trail of violence and corruption. It takes her to the center of Chicago's powerful shipping industry. There she ferrets out her cousin's killer -- but nearly gets painted out of the picture -- permanently!
Fallout :
ISBN: 0062435841 OCLC: V.I. Warshawski travels to Kansas to investigate the disappearances of a young film student and a faded Hollywood star, but long-simmering racial tensions stir up more mysteries as the body count rises.
Fire sale
ISBN: 9781501282874 OCLC: V.I. Warshawski may have left her old South Chicago neighborhood, but she learns that she cannot escape it. When V.I. takes over coaching duties of the girls' basketball team at her former high school, she faces an ill-equipped, ragtag group of gangbangers, fundamentalists, and teenage moms who inevitably draw the detective into their family woes.
Ghost Country.
ISBN: 1299005233 OCLC: Delta, 2008.
Guardian angel /
ISBN: 9780385299312 OCLC: After her golden retriever has puppies, and her yuppie neighbors put them to sleep while dog-sitting, V.I. uncovers a corporate network of murder and corruption.
Hard time
ISBN: 9781444761542 OCLC: London : Hodder, London : 2013. Multimedia conglomerate Global Entertainment has purchased the Chicago Herald-Star, forcing the paper's staff to scramble to stay employed. Reporter Murray Ryerson, V.I.'s longtime friend and sometime rival, manages to reinvent himself as the host of a television show on Global's network. On her way home from a party celebrating Murray's debut, V.I. almost runs over a woman lying in the street. Stopping to help, V.I. soon learns that her Good Samaritan act will drop her squarely in a boiling intrigue. In a case that forces her to go head-to-head with one of the world's largest providers of private security and prison services, a case that exposes dark hidden truths behind the razzle-dazzle of the entertainment industry, V.I. will be ahead of the game if she gets out alive.
Hardball
ISBN: 9781101133828 OCLC: New York : G.P. Putnam's Sons, New York : ©2009. When V.I. Warshawski is asked to find a man who's been missing for four decades, a search that she figured would be futile becomes lethal. Afraid to learn that her adored father might have been a bent cop working for the Chicago P.D., V.I. takes the investigation all the way to its frightening end.
Indemnity only /
ISBN: 034093512X OCLC: London : Hodder, London : 2007. Meeting an anonymous client on a sizzling summer night is asking for trouble. Especially when the client lies and tells V.I. Warshawski he's the prominent banker John Thayer, looking for his son's missing girlfriend. But V.I. soon discovers the real John Thayer's son - and he's dead. As V.I. begins to question her mysterious client's motives, she sinks deeper into Chicago's darker side: a world of gangsters, insurance fraud and contract killings. And while she must concentrate on saving the life of someone she has never met, it becomes clear that she is in danger of losing her own.
Killing orders
ISBN: 9781501282881 OCLC: It begins as a $3 million heist from a Dominican priory. It spirals into a case of lethal complexity that may unite big corporate conspirators, Chicago's underworld bosses and the Church itself in a very unholy trinity. V.I. Warshawski's job is to find out for sure ... even though it's clear she might die trying.
Love and Other Crimes :
ISBN: 9780062915542 OCLC: 1143826960 In "Miss Bianca," a young girl becomes involved in espionage when she befriends a mouse in a laboratory that is conducting dark experiments. Ten-year-old V.I. Warshawski appears in "Wildcat," embarking on her very first investigation to save her father. A hardboiled New York detective and elderly British aristocrat team up to reveal a murderer in Chicago during the World's Fair in "Murder at the Century of Progress." In the new title story, "Love & Other Crimes," V.I. treads the line between justice and vengeance when the wrongful firing of a family friend makes him a murder suspect.
Overboard
ISBN: 0063010887 OCLC: Morrow 2022 Legendary detective V.I. Warshawski uncovers a nefarious conspiracy preying on Chicago's weak and vulnerable, in this thrilling novel from New York Times bestseller Sara Paretsky On her way home from an all-night surveillance job, V.I. Warshawski's dogs lead her on a mad chase that ends when they discover a badly injured teen hiding in the rocks along Lake Michigan. The girl only regains consciousness long enough to utter one enigmatic word. V.I. helps bring her to a hospital, but not long after, she vanishes before anyone can discover her identity. As V.I. attempts to find her, the detective uncovers an ugly consortium of Chicago powerbrokers and mobsters who are prepared to kill the girl. And now V.I.'s own life is in jeopardy as well. Told against the backdrop of a city emerging from its pandemic lockdown, Overboard lays bare the dark secrets and corruption buried in Chicago's neighborhoods in a masterly fashion.
Shell game /
ISBN: 9780062435866 OCLC: 1037887778 "Sara Paretsky follows her instant New York Times bestseller Fallout--her most widely read novel in years--with an extraordinary adventure that pits her acclaimed detective, V.I. Warshawski, against some of today's most powerful figures. Legendary sleuth V.I. Warshawski returns to the Windy City to save an old friend's nephew from a murder arrest. The case involves a stolen artifact that could implicate a shadowy network of international criminals. As V.I. investigates, the detective soon finds herself tangling with the Russian mob, ISIS backers, and a shady network of stock scams and stolen art that stretches from Chicago to the East Indies and the Middle East. In Shell Game, nothing and no one are what they seem, except for the detective herself, who loses sleep, money, and blood, but remains indomitable in her quest for justice"--
Sisters on the case :
ISBN: 9781436247962 OCLC: 457224461 New American Library, New York : 2008. Presents twenty mystery stories from various writers, including Sue Henry, Barbara D'Amato, Carolyn Hart, and Sara Paretsky.
The Guardian Angel
ISBN: 9600040003675 OCLC: 1078557065
Total recall :
ISBN: 0440224713 OCLC: 50845458 Dell Pub., New York : 2002, ©2001. While investigating a case of insurance fraud perpetrated on a poor family from Chicago's South Side, private detective V.I. Washawski is called in to assist her dear friend and mentor, Dr. Lotty Hershel, who is faced with the appearance of a mysterious man who may have a terrifying link to Lotty's past and dangerous implications for her present.
Tunnel vision
ISBN: 9781444761504 OCLC: 811731196 Stubbornness has landed private eye V.I. Warshawski in big trouble at her Chicago office. With her grand old Loop building set to be razed, she's become a hold-out tenant amid frayed wiring and scary, empty corridors. Then she finds a homeless woman with three kids in the basement, and before she can rescue them, they disappear. Worst of all, she's been implicated in a murder -- after the body of Deirdre Messenger, a prominent lawyer's wife, turns up sprawled across her desk--Amazon website.
Windy city blues
ISBN: 9781543641554 OCLC: 993971845 It's strictly friends and family as V.I. Warshawski, makes return appearances in a collection of stories that bring new meaning to 'ties that bind.' Decked out in her silk shirts and no-nonsense Attitude, V.I. is out to make a living by the skin of her teeth.
Women on the case
ISBN: 0307425762 OCLC: 497838579 Dell Pub., New York : [2009] 26 stories ... featuring female sleuths.
Words, works, and ways of knowing :
ISBN: 022633774X OCLC: 952338681 ACrime writer Sara Paretsky is known the world over for her acclaimed series of mysteries starring Chicago private investigator V.I. Warshawski, now in its seventeenth installment. Paretsky's work has long been inflected with history--for her characters the past looms large in the present--and in her decades-long career, she has been recognized for transforming the role of women in contemporary crime fiction.--Words, Works, and Ways of Knowing--Rounding out the book, leading religious scholar Amanda Porterfield provides an afterword discussing where Paretsky's work fits into the contemporary study of religion. And in a sobering--sometimes shocking--preface, Paretsky paints a picture of what it was like to be a female graduate student at the University of Chicago in the 1970s. A treat for Paretsky's many fans, this book offers a glimpse of the development of the mind behind the mysteries.
Writing in an age of silence /
ISBN: 1844671224 OCLC: 84151426 Verso, London ; 2007. "Paretsky explores the traditions of political and literary dissent that have informed her life and work, against the unparalleled repression of free speech and thought in the USA today. In tracing the writer's difficult journey from silence to speech, she turns to her childhood and youth in rural Kansas, then evokes Chicago--the city with which she has become indelibly associated--from her arrival during the civil-rights struggle in the mid-1960s to her literary creation, the south-side detective V.I. Warshawski. Paretsky traces the emergence of Warshawski from the shadows of the loner detectives that stalk the mean streets of Dashiell Hammett's and Raymond Chandler's novels, and in the process explores American individualism, the failure of the American dream, and the resulting dystopia. Both memoir and meditation, this is a compelling exploration of the writer's art and daunting responsibility in the face of the assault on US civil liberties post-9/11"--Publisher description.