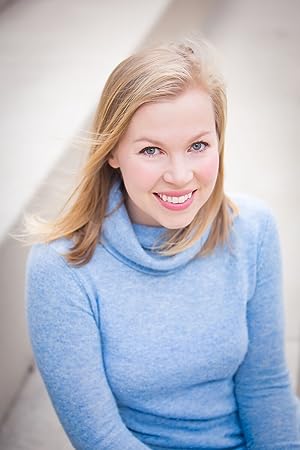 Stephanie Kate Strohm
Born:
, in New York
Pen Name:
None
Connection to Illinois
: Strohm has lived in Chicago.
Biography
: Stephanie Kate Strohm grew up on the Connecticut coast. She is an author, actress and teacher. She currently lives in Los Angeles.
---
Awards
:
t's not Me, It's You ILLINOIS READS Book Selection, Illinois Reading Council, 2019
Primary Literary Genre(s):
Fiction
Primary Audience(s):
Young adult readers
E-Mail:
steph@stephaniekatestrohm.com
Facebook:
https://www.facebook.com/stephaniekatestrohm/
Instagram:
https://www.instagram.com/stephkatestrohm/
Twitter:
https://twitter.com/stephkatestrohm?lang=en
Web:
http://www.stephaniekatestrohm.com/
---
Selected Titles
Confederates don't wear couture /
ISBN: 054797258X OCLC: 796081873 Houghton Mifflin Harcourt, Boston : 2013. While touring with group of Confederate Civil War re-enactors for a summer internship, Libby and Dev attempt to design and sell Southern Confederate costumes for a ball, investigate haunted battle grounds, and seek handsome Southern soldier boys.
It's not me, it's you /
ISBN: 0545952581 OCLC: 957648105 High school senior Avery Dennis runs the prom committee, and she has always had a date for everything, but when a public breakup with her current boyfriend makes her start wondering about her own dating history, she sets out to investigate why her relationships never seem to work out--and ends up discovering some hard truths about herself and her dating choices.
King Cheer
ISBN: 1368081118 OCLC: Disney Hyperion 2024 Heartstopper meets Bring It On in this contemporary graphic novel that reimagines Shakespeare's King Lear as a queer dramedy!When cheer captain Leah steps down months before graduation, the team is shocked. Waitlisted by her dream college, questioning her identity, and suffering from senioritis, Leah needs to hand the captain's poms off and focus on her future.But when the competition for captaincy goes awry, power-hungry twins take command of the squad and immediately pit the cheerleaders against the basketball team in a fight for glory. Balls fly, pom-poms shake, hearts are broken—and only one person can heal the rift between the teams. But first she'll have to heal herself.As full of heart as it is backflips and three-pointers, King Cheer is a warm and witty story of self-discovery, friendship, and finding the courage to face your future.
Love à la mode /
ISBN: 1368019048 OCLC: 1020295919 High school juniors Rosie Radeke and Henry Yi, both enrolled in an elite cooking program in Paris, must balance rivalry and romance.
Once upon a tide :
ISBN: 1368054439 OCLC: 1240826389 Fourteen-year-old mermaid princess Lana reluctantly visits her mother on land for the Royal Festival after her mermaid-father appoints her a royal ambassador, but when an earthquake strikes back home and Lana is forbidden to go back home, she discovers nefarious forces may be at work against her kingdom.
Part of Your World: A Twisted Tale Graphic Novel
ISBN: 1368068189 OCLC: Disney Hyperion 2023 What if Ariel had never defeated Ursula? Discover a new side of The Little Mermaid in this darkly romantic reimagining of the classic Disney film—now available as a graphic novel!Five years ago, Ariel defied her father, King Triton, and traded her voice for the chance to meet Prince Eric. But when Ursula attacked and defeated Ariel, the sea witch took everything: the little mermaid's voice, her prince, and her father's life. Now, Ariel rules as the silent queen of Atlantica, while Ursula, disguised as a beautiful human woman, runs Prince Eric's kingdom on land.But when Ariel discovers that her father might still be alive, she finds herself returning to a world—and a prince—she never imagined she would see again.On land, Ariel learns that Ursula has been making the most of her role as princess: plotting, scheming, and waging outright war with neighboring kingdoms. And after Ursula catches wind of Ariel's resurfacing, she threatens to obliterate both land and sea. Will Ariel be able to overthrow the murderous villain bent on destroying her home—along with the world she once longed to be a part of?In this adaptation of one of the most popular books in the New York Times best-selling Twisted Tale series, brilliantly adapted by Stephanie Kate Strohm, illustrator duo Kelly and Nichole Matthews breathe new life into this story of power, love, and a mermaid's quest to reclaim her voice.
Pilgrims don't wear pink /
ISBN: 0547564597 OCLC: 696602958 Houghton Mifflin Harcourt, Boston : 2012. During a summer internship at a living history museum in Maine, fashion-conscious Libby runs afoul of her roommate, investigates a haunted ship, and seeks a romantic hero like those in the historical novels she loves.
Prince in disguise
ISBN: 9781484768174 OCLC: 968244474 Tomboy Dylan, sixteen, meets the boy of her dreams when she is forced to play maid of honor to her beauty queen sister, who is marrying Scottish royalty on a reality television show.
Restless Hearts (Katy Keene, Novel #1)
ISBN: 1338676318 OCLC: Scholastic 2020 An original prequel novel based on the hit CW show Katy Keene!Before Katy, Jorge, Pepper, and Josie were best friends, they were just four teenagers following their dreams. Katy Keene is struggling to get by after her mom's death. That is, until she gets a call from her old friend Veronica Lodge with the opportunity of a lifetime. Uptown, Jorge Lopez is trying to break into Broadway. There's an open call coming up that could make his dreams a reality-but landing the role might mean pretending he's someone else.According to the tabloids, Pepper Smith is one of the most notorious socialites in the city. Good thing they don't know the truth about her past.And Josie McCoy left Riverdale to tour the country and pursue her dreams. But if she wants to become a star, it might be time for a change. . .Told from alternating points of view, this Katy Keene prequel novel is an original story not seen on the show!
That's not what I heard /
ISBN: 133828181X OCLC: 1034605737
The date to save /
ISBN: 1338149067 OCLC: 970617167 Angelica Marie Hutcherson is an aspiring reporter for the San Anselmo Prep's newspaper, The Prepster; sophomore Colin Von Kohorn is its editor, who keeps rejecting her stories because they do not reflect his
The taming of the Drew /
ISBN: 1510702156 OCLC: 948174346
Twelfth Grade Night-Arden High, Book 1
ISBN: 1368062393 OCLC: Disney Hyperion 2022 The course of true love never did run smooth . . . and neither does high school in this new graphic novel series for fans of Heartstopper and The Prince and the Dressmaker.Vi came to Arden High for a fresh start and a chance to wear beanies and button-ups instead of uniform skirts. And though doing it without her twin feels like being split in half, Vi finds her stride when she stumbles (literally!) into broody and beautiful poet-slash-influencer, Orsino. Soon Vi gets roped into helping plan the school's Twelfth Grade Night dance, and she can't stop dreaming about slow dancing with Orsino under the fairy lights in the gym.The problem? All Vi's new friends assume she's not even into guys. And before Vi can ask Orsino to the dance, he recruits Vi to help woo his crush, Olivia. Who has a crush of her own . . . on Vi.Star-crossed love abounds in this hilarious and romantic story of self-discovery, mistaken identities, and the magic that happens when we open our hearts to something new.