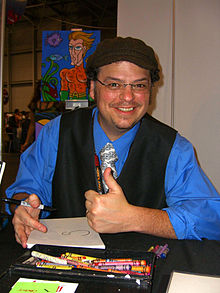 Art Baltazar
Born:
1968 in Chicago, Illinois
Connection to Illinois
: Baltazar is a native Chicagoan.
Biography
: Art Baltazar is one of the creative forces behind the New York Times bestselling, Eisner Award-winning Tiny Titans. He is also the co-writer for Billy Batson and the Magic of Shazam, Young Justice, Green Lantern Animated (comic), and artist/co-writer for the awesome Tiny Titans/Little Archie crossover, Superman Family Adventures, Super Powers, and Itty Bitty Hellboy! Art is one of the founders of AW YEAH COMICS comics shop along with the ongoing comic series. He is a 3-time Eisner Award winner.
---
Awards
:
"""Tiny Titans"""
-- Eisner Award, Best Publication for Kids, 2009, 2011
-- #8 on the New York Times Best Seller, March 2009
-- Harvey Award, Best Original Graphic Publication for Younger Readers, 2011
-- Eisner Award Nominee, Best Publication for Kids, 2015
-- ILLINOIS READS Book Selection, Illinois Reading Council, 2017
"""Tiny Titans and The Science Fair"""
-- 18 best books for reluctant readers, Amazon, Summer 2018
"""Superman Family Adventures"""
-- Harvey Award Nominee, Original Best Graphic Publication for Younger Readers, 2013
"""Itty Bitty Hellboy"""
-- Eisner Award, Best Publication for Kids, 2014
-- Stan Lee Excelsior Junior Award Nominee, 2015
"""Ace DC Super Pets"""
-- 18 best books for reluctant readers, Amazon, Summer 2018
"""Encounter"""
-- Kids' Comics Award Nominee for Most Epic Adventure, 2019
"""Powers in Action, Volume 1: The Hero Squadron"""
-- ILLINOIS READS Book Selection, Illinois Reading Council, 2020
"""AW YEAH COMICS"""
-- Best of Skokie Awards, 2020
Primary Literary Genre(s):
Fiction; Illustrator
Primary Audience(s):
Children; Young adult readers
Facebook:
https://www.facebook.com/art.baltazar.37
Twitter:
https://twitter.com/artbaltazar?ref_src=twsrc%5Egoogle%7Ctwcamp%5Eserp%7Ctwgr%5Eauthor
Website:
http://www.artbaltazar.com/
Wikipedia:
https://en.wikipedia.org/wiki/Art_Baltazar
---
Selected Titles
ArkhaManiacs
ISBN: 1401298273 OCLC: 1110445967
DC Super Heroes and Pets Papercraft
ISBN: 0316356409 OCLC: 935195710
DC Super Pets Character Encyclopedia
ISBN: 1404882979 OCLC: 823387415 This illustrated encyclopedia features in-depth profiles, stats, and history about DC Super-Pets and their owners, both heroes and villains.
DREW AND JOT - MAKING A MARK.
ISBN: 1684155983 OCLC: 1141145589
Drew And Jot: Dueling Doodles
ISBN: 1684154308 OCLC: 1091847874 Fifth grade best friends Andrew and Foz's superhero comic adventure is all about saving the day! But what happens when Andrew's sister gets her hands on the sketchbook and unleashes a new and powerful villain? Can Andrew and Foz work together to save their creation?
Gilbert: #1 The Little Merman
ISBN: 1545801444 OCLC: 1061313255 "A message in a bottle? A fiery asteroid from space? A sea of magical mystical mermaids? In the deepest part of the ocean, unexplored by man and too deep for humans to swim, lives a little sea creature named Gillbert. Gillbert the Sea Creature is the son of King Nauticus, king of all the oceans. One day, Gillbert will be king. But in the meantime, his playful curiosity takes him away from the kingdom on a journey of discovery. Gillbert meets an amphibious mermaid and follows her into unknown parts of the ocean. Where he meets many unknown and undiscovered species of underwater creatures. He didn't know these things existed so close to home. Gillbert's world just got a whole lot bigger!"--
Gillbert #2: The Curious Mysterious
ISBN: 1545803498 OCLC: 1129696295 "Young Gillbert is the prince of the underwater world of Atlanticus. Together with his best friend Sherbert and mysterious new friend Anne Phibian, Gillbert is curious to where all these bottled messages floating throughout the ocean are coming from. Could the fiery Pyrockians from space have something to do with it? Or maybe it is something more mysteriously monstrous? Plus, Gillbert must deal with being a new big brother, when his little sister Matilda is actually much, much bigger than him!"--Provided by publisher.
Gillbert.
ISBN: 1545804893 OCLC: 1180226402 "Something fishy is going on! The Pyrockians, those fiery little invaders from outer space, are back and they're planning something seriously strange. And what exactly are they doing with an undersea volcano? Would you believe they're evolving into diamonds? It is up to the little merman, young prince Gillbert, to figure out what those pesky Pyrockians are really up to -- but he's gone, with his best bud, Sherbert, to a strange mysterious place in the ocean, called Phiblothian, to meet with Anne Phibean and her pham-- oops, family! Gillbert meets the Phibian Phather, Phinius, Phibster, Phinny, Phil, Phylu, Phibling, Philbert, Phred, Phernando, and the rest."--Provided by publisher.
Green Lantern: The Animated Series Vol. 2
ISBN: 1401243282 OCLC: 875696336 "The team from The Interceptor is back! Hall Jordan, Green Lantern of Earth, travels the stars alongside his comrade Green Lantern Kilowog, his reformed enemy Razer and their ship's control unit Aya. Together, they protect the far frontier of space from violent forces, chiefly the rage-fueled Red Lanterns and their hateful leader, Atrocitus. Hal has always been brave but reckless, charging into danger without plan. Will he heed his team's advice and learn caution? Or will his rash behavior lead him and his friends straight into Atrocitus's traps?" -- P. [4] of cover.
Itty Bitty Hellboy: The Search for the Were-Jaguar!
ISBN: 1616558016 OCLC: 927438985 "Itty Bitty Hellboy and his friends hear a rumor of an island populated by creatures like their pal Roger, but the problem is there is only one pair of underwear to share between everyone. So the gang embarks on a special mission to deliver underwear to the Island of Rogers, but their mission is suddenly interrupted by the discovery of the strange mysterious beast known as ... the Were-Jaguar!"--
Out of this World:1 Encounter
ISBN: 1549302701 OCLC: 1054105466 Encounter is a new kind of hero; an alien escaped to Earth with pods that will eventually hatch to become his siblings, who can take any form he chooses, and decides to become a hero! With help from his talking dog Barko, he fights crime on our planet. But there is a mysterious figure who will try anything to defeat him. In volume one, Encounter and Barko must defend the pods from villains such as Gadget Man, Cold Blaze the Thermodynamic Shark, and Ribbon Rhonda. No matter the odds, Encounter will always find a way to save the day!
Powers in Action, Volume 1
ISBN: 1632294419 OCLC: 1084309263 Action Lab Entertainment 2019
Sami the Samurai Squirrel: Welcome to Woodbriar
ISBN: 1632293536 OCLC: 1027174046 Action, adventure and comedy await as Sami the samurai squirrel and friends embark on a quest to solve a mystery that's been haunting the village of Woodbriar for years. A hooded ghost named Visper has been watching Sami from the shadows. Who is Visper? What does he want? Join the fun as Sami encounters ninja monkeys, hungry pirates and a cranky Cyber-Yeti in this action-packed series from creator Scoot McMahon. Also featuring an exclusive story co-written by famous cartoonists Art Baltazar and Franco! Aw Yeah! "Everything about Sami the Samurai Squirrel is a fun wonderful read." (Amanda Gilliam).
Streaky! :
ISBN: 1496551419 OCLC: 999366789 Even Supergirl needs a furry friend. But how did Streaky become her Super-Cat? Discover the origin of this superpowered Super-Pet in the this action-packed, POW!-WHAM!-BOOM! chapter book for early readers. With illustrations by Art Baltazar, Eisner Award-winning cartoonist and creator of DC Comics' Tiny Titans, DC Super-Pets Origins are sure to be a hit with super hero fans, pet lovers, and everyone in between!
Super Powers Vol. 1
ISBN: 1401268420 OCLC: 1000519703 Batman has gone missing and it is up to his friends Superman and Wonder Woman to save him, but something has united the greatest threats in the universe and now the whole Justice League is needed to save the day.
Super Powers! Pryme Time!
ISBN: 1496573994 OCLC: 1024088961 With New Krypton gone, Superman Pryme goes into a fit of rage. As the Justice League tries to stop him, evil arrives in Gotham City.
Super Powers! The Wrath of Apokolips!
ISBN: 1496574001 OCLC: 1024112896 The Justice League battles Darkseid over control of Gotham City. When Darkseid frees all of the villains in Arkham Asylum, will the team of super heoes be out matched?
Super Powers: Dark Knight Dilemma!
ISBN: 1496573951 OCLC: 1061864245 The world's greatest heroes are back in action--except Batman is missing! While Superman helps clean up Gotham City, Wonder Woman searches outer space to find the Dark Knight. Her journey brings her closer to Batman, but can she uncover the truth behind his disappearance?
Superman Family Adventures: Enter Bizarro!
ISBN: 1434247902 OCLC: 843228731 Superman trains his young sidekicks to become super heroes, Bizarro comes to Earth and makes a mess of Metropolis, and Jimmy Olsen finds out that being Superman's pal means help is only a shout away.
Superman Family Adventures: General Zod Dogs!
ISBN: 1434264793 OCLC: 857405598 Superman's old foe General Zod has escaped from the Phantom Zone, and it is up to Superman to save Metropolis from the fiery footsteps of fifty-foot frankfurters.
Superman Family Adventures: The Adventures Begin!
ISBN: 1434247864 OCLC: 843228728 Superman's closest allies help him in his super adventures, and Lex Luthor gets his own dirty tricks used against him.
Superman Family Adventures: The Menace of Metallo!
ISBN: 1434247945 OCLC: 868298069 Astronaut Corben becomes supervillain Metallo, and it is up to Superman and his new super-friend Steel to contain him.
Superman Family Adventures: Who is the Purple Superman?
ISBN: 1434247937 OCLC: 868298175 A mysterious Purple Superman has appeared in Metropolis and he is making Superman sick.
Superman of Smallville
ISBN: 1401283926 OCLC: 1089839509 DC Zoom 2019 Can Superman keep Smallville from going to the dogs?--
The Amazing Adventures of the DC Super-Pets: Coast City Carnival Chaos
ISBN: 1515882535 OCLC:
The Amazing Adventures of the DC Super-Pets: Horse Show Heist
ISBN: 1515882551 OCLC:
The Amazing Adventures of the DC Super-Pets: Metropolis Monkey Trouble
ISBN: 1515882543 OCLC:
The Amazing Adventures of the DC Super-Pets: Robin Robin to the Rescue
ISBN: 151588256X OCLC:
The fastest pet on earth /
ISBN: 140486623X OCLC: 670324784 Jumpa the Kanga must save a rare golden tortoise that was born on Paradise Island from the evil Chauncey the Cheetah.
Tiny Titans Vol. 1: Welcome to the Treehouse
ISBN: 1401220789 OCLC: 229028168 DC Comics 2009 The young superheroes begin a new school year. The teachers are super villains, the field trips are out of this world, and their playground must be protected from the Fearsome Five.
Tiny Titans Vol. 6: The Treehouse and Beyond!
ISBN: 1401233104 OCLC: 750013901 DC Comics 2011 From a trip to the center of the Earth to the halls of Sidekick Elementary, the Tiny Titans are ready for any adventure.
Tiny Titans: Aw Yeah Titans!
ISBN: 1401238122 OCLC: 851066266 With the Tiny Titans nearly ready to start their super hero training, they celebrate with Batgirl, meet Robin's replacement, and reveal their secret identities.
Tiny Titans: Beast Boy & Raven
ISBN: 1779507178 OCLC: 1144093326
Tiny Titans: Field Trippin
ISBN: 140123173X OCLC: 668188540 Supergirl babysits the tinier Tiny Titans and then the gang heads to the Fortress of Solitude for a super birthday party, which is crashed by a crew of Braniacs.
Tiny Titans: Growing Up Tiny!
ISBN: 1401235255 OCLC: 768799362 "These all ages tales from the DC Universe, beautifully written and illustrated by Art Baltazar and Franco, will entertain new readers and seasoned fans of comics"--
Tiny Titans: Penguins in the Batcave!
ISBN: 143424539X OCLC: 777643186 Whether they are in class at Sidekick Elementary, or playing in the Batcave, it is hard for the young superheroes to stay out of trouble.
Tiny Titans: Report Card Pickup!
ISBN: 143424699X OCLC: 808421346 The Tiny Titans pickup their report cards at Sidekick Elementary--and that is only the beginning of their troubles.
Young Justice.
ISBN: 1401233570 OCLC: 774935153 "Your favorite cartoon teen heroes are back in action! The Justice League needed a covert team that could operate on the sly, so who better than experienced crime fighters Robin, Kid Flash and Aqualad? Together with Superboy, recently rescued from the top-secret Project Cadmus, and the crush-worthy shape-shifting alien Miss Martian, these teens are ready to stop being sidekicks and start taking down villains--like the League of Shadows and the Joker--all on their own. But Superboy may have a secret mission of his own to complete-- destroying Superman!"--Page 4 of cover.
Young Justice: Campfire Secrets
ISBN: 1434260372 OCLC: 830367259 Aqualad, Robin, Kid Flash, Superboy and Miss Martian trade stories around the campfire, revealing how they all started as crimefighters.
Young Justice: Fears
ISBN: 1434260380 OCLC: 852399998 Campfire bonding continues as the members of the team share their background stories as well as their hopes and fears--but sometimes this kind of team-building can get out of hand.