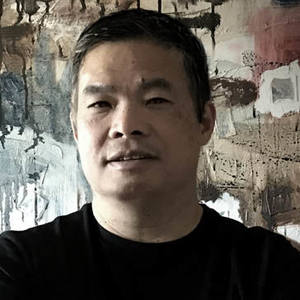 Richard Lo
Born:
Canton, China
Pen Name:
Rich Lo
Connection to Illinois
: At the age of seven, Lo and his family immigrated from China to the United States and settled in Chicago's Chinatown. Lo graduated from Eastern Illinois University and currently resides in Naperville.
Biography
: Rich Lo has been drawing and painting since he was a child. When he was seven years old, Rich and his family immigrated to the United States from Canton, China, and settled in Chicago's Chinatown. He is an accomplished illustrator and fine artist, Rich Lo's work can be found on packaging and ads for national brands and on large installations in public buildings throughout the Midwest. He is also the illustrator of Mountain Chef and Father's Chinese Opera, which was an Asian/Pacific American Award for Literature Honor Book. He is the author-illustrator of After the Snowfall, Chinese Kite Festival, and Chinese New Year Colors.
---
Awards
:
Father's Chinese Opera Asian/Pacific American Award for Literature in the Picture Book Category, 2014-2015
Chinese New Year ILLINOIS READS Book Selection, Illinois Reading Council, 2020; A CCBC Choice
After the Snowfall Starred Review, Publishers Weekly
Mountain Chef: How One Man Lost His Groceries, Changed His Plans, and Helped Cook Up the National Park Service Carter G. Woodson Book Award
A CCBC Choice
Primary Literary Genre(s):
Illustrator; Non-Fiction
Primary Audience(s):
Children
E-Mail:
rich1022@gmail.com
Twitter:
https://twitter.com/RichardLoArtist
Web:
http://greatsketch.com/
Web:
https://www.saatchiart.com/account/profile/1137037
---
Selected Titles
After the Snowfall
ISBN: 163076390X OCLC: 1226498817 A picture book in which a fox traverses a forest in winter and comes across other inhabitants there.
Chinese Kite Festival
ISBN: 0823447642 OCLC: 1243020109 Children can learn animal names in both English and Chinese with this beautifully illustrated book!A tiger pounces across the sky.A ladybug takes flight from a leaf.Animal names and their significance in Chinese culture is beautifully explored for young readers in this stunning book. Simple bilingual text helps teach children animal names in both English and Chinese, and little ones will learn that butterflies are a sign of love, bees signify hard work, and more through the very simple and accessible backmatter. Paired with Rich Lo's vibrant digital watercolors, this simple and practical introduction to Chinese animal names and symbolism is irresistible.
Chinese New Year Colors
ISBN: 0823447510 OCLC: Holiday House 2019 Celebrate Lunar New Year with a rainbow of traditions in this bilingual board book! Hóng is the color of firecrackers! Jīn is the hue of lucky coins. Zŏng is the shade of sweet peanut puffs. Welcome to the festivities of the Chinese New Year, where symbolic gifts, foods, and objects come together in a celebration of beautiful colors. This simple and bold bilingual board book is perfect for toddlers and lap sitters. Each spread focuses on a particular color, giving the name in both Chinese and English, and showcasing a traditional part of the New Year celebration--from paper fans to lion dances.For older readers, a large-format picture book is also available, which features additional backmatter about the symbols shown.
Father's Chinese Opera
ISBN: 1628736100 OCLC: 863044021 Sky Pony Press 2014 A little boy wishes to join his father's Chinese opera but learns that you must work hard in order to reach your goals. With an author's note at the end--
Mountain Chef: How One Man Lost His Groceries, Changed His Plans, and Helped Cook Up the National Park Service
ISBN: 1580897118 OCLC: 929048721 Charlesbridge 2016 Tie Sing was born in the mountains. The mountains were in his blood. But because he was of Chinese descent at a time in America when to be Chinese meant working in restaurants or laundries, Tie Sing's prospects were limited. But he had bigger plans. He began cooking for mapmakers and soon built a reputation as the best trail cook in California. When millionaire Stephen Mather began his quest to create a national park service in 1915, he invited a group of influential men -- writers, tycoons, members of Congress, and even a movie star -- to go camping in the Sierras. Tie Sing was hired to cook. Tie Sing planned diligently. He understood the importance of this trip. But when disaster struck -- twice! -- and Tie Sing's supplies were lost, it was his creative spirit and quick mind that saved the day. His sumptuous menus had to be struck and Tie Sing had to start over in order to feed the thirty people in the group for ten whole days. His skills were tested and Tie Sing rose to the challenge. On the last night, he fed not just the campers' bodies, but also their minds, reminding them to remember and protect the mountains.
One, Two, Three Dim Sum: A Mandarin-English Counting Book
ISBN: 1950500012 OCLC: duopress 2020 Children and their parents can learn to count to ten in both English and Mandarin in this fun bilingual counting book of food. This book features traditional Chinese food items paired with numbers in both English and Chinese. Illustrated by Rich Lo, you'll learn two is for chopsticks, five is for egg rolls, and nine is for sweet buns, and since the numbers are shown in both simplified and traditional Chinese and English, learning is both easy and fun.