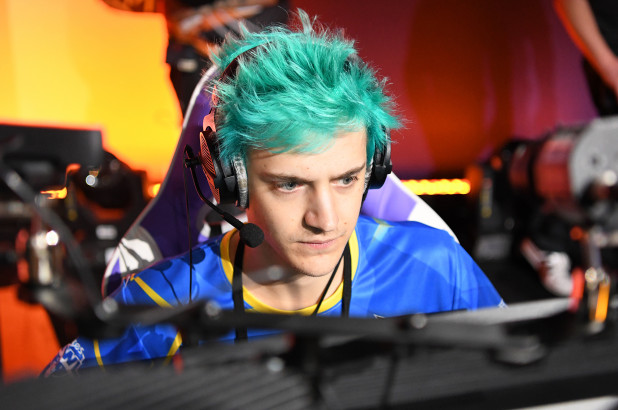 Richard Tyler Blevins
Born:
1991 in Detroit, Michigan
Pen Name:
Tyler Blevins, Ninja, Tyler (Ninja) Blevins
Connection to Illinois
: Blevins lives in Grayslake.
Biography
: Tyler "Ninja" Blevins is a professional gamer and Battle Royale player who is widely hailed as the #1 streamer. He is best known for playing Fortnite, Call of Duty: Black Ops 4, and Halo. With over forty million followers across all platforms, Ninja is beloved by fans for his goofy, energetic personality, incredible impressions, and gaming expertise. In 2019, Time magazine named him one of the 100 most influential people in the world.
---
Awards
:
"""Ninja: Get Good: My Ultimate Guide to Gaming"""
-- ILLINOIS READS Book Selection, Illinois Reading Council, 2020
Primary Literary Genre(s):
Fiction; Non-Fiction
Primary Audience(s):
Adult readers; Young adult readers
IMDB:
https://www.imdb.com/name/nm8181333/
Instagram:
https://www.instagram.com/ninja
Twitter:
https://twitter.com/Ninja
Website:
https://teamninja.com/
Website:
https://www.forbes.com/profile/tyler-blevins/#2f0ccd5a784e
Wikipedia:
https://en.wikipedia.org/wiki/Ninja_(streamer)
WorldCat:
http://www.worldcat.org/search?q=Tyler++Blevins
YouTube:
https://www.youtube.com/channel/UCAW-NpUFkMyCNrvRSSGIvDQ
---
Selected Titles
NINJA NOTEBOOK :
ISBN: 1529104807 OCLC: 1104309998
Ninja: Get Good: My Ultimate Guide to Gaming
ISBN: 1984826751 OCLC: 1112125084 Clarkson Potter 2019 From one of the leading Fortnite players in the world comes your game plan for outclassing the rest at playing video games. This complete compendium includes everything Tyler Ninja Blevins wishes he had known before he got serious about gaming. Video games come and go, but Ninja's lessons are timeless. Pay attention to them and you'll find that you're never really starting over when the next big game launches. Who knows-- you may even beat him one day. As he says, that's up to you. --
Ninja: The Most Dangerous Game
ISBN: 1984857444 OCLC: 1100448630 Ten Speed Press 2019 Ninja, the undisputed champion of the world's most popular online battle royale, accepts a mysterious challenge and finds himself, along with dozens of other players, in the battle royale's universe, where they must start from scratch, avoid being ghosted, and maybe save the world.