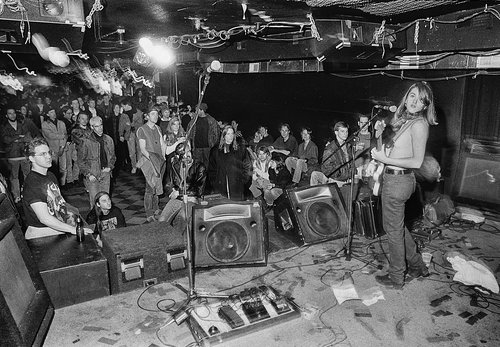 Liz Phair
Born:
1967 in New Haven, CT
Connection to Illinois
: Phair moved to Chicago with her family in 1976. She attended New Trier High School in Winnetka and lived in Chicago until 2001.
Biography
: Liz Phair is a Grammy-nominated singer songwriter whose debut album, Exile in Guyville, is considered by music critics to be a landmark of indie rock. She has been a recording artist and touring performer for over twenty-five years, paving the way for countless music artists, particularly women, who cite her among their major influences. She began her career in the early 1990s in Chicago by self-releasing audio cassettes under the name Girly-Sound. Phair is also a noted visual artist who majored in studio art and art history at Oberlin College. Her writing has appeared in The New York Times and The Atlantic. Horror Stories is her first book. She now resides in California.
---
Awards
:
"""Horror Stories"""
-- 11 notable Chicago books of 2019, Chicago Tribune
-- Starred Review, Publishers Weekly
Primary Literary Genre(s):
Non-Fiction
Primary Audience(s):
Adult readers
Facebook:
https://www.facebook.com/lizphair/
IMDB:
https://www.imdb.com/name/nm1001663/bio
Instagram:
https://www.instagram.com/lizphairofficial/
Twitter:
https://twitter.com/PhizLair?ref_src=twsrc%5Egoogle%7Ctwcamp%5Eserp%7Ctwgr%5Eauthor
Website:
https://www.lizphairofficial.com/
Wikipedia:
https://en.wikipedia.org/wiki/Liz_Phair
YouTube:
https://www.youtube.com/channel/UCxlSo0u9m1NU3Vbl7kDeBWg
---
Selected Titles
Horror Stories: A Memoir
ISBN: 0525511989 OCLC: 1085589367 Random House 2019 When Liz Phair was just starting out in the Wicker Park, Chicago, music scene in the early 1990s, she encountered some people--mostly men, who didn't respect her and were determined not to see her fail, exactly, because they didn't care enough about her to wish failure on her--they just wanted her to get out of their space, to disappear. Girly Sound was the name of the cassettes she used to pass around in those days, and in 1993 those songs became the landmark album Exile in Guyville, which turned Phair, at twenty-five, into a foul-mouthed feminist icon. Now, like a Gen X Patti Smith, Liz Phair tells the story of her life and career in a memoir about the moments that have haunted her most. Horror is in the eye of the beholder. For Phair, horror is what stays with you--the often unrecognized, universal experiences of daily pain, shame, and fear that make up our common humanity. In Phair's case it means the dangers of falling for the perfect guy, and the disaster that awaits her; the memory of a stranger passed out on a bathroom floor amid a crowd of girls, forcing her to consider our responsibilities to one another, and the gnawing regret of being a bystander; and the profound sense of emptiness she experienced on the set of her first celebrity photoshoot. Horror Stories is a literary accomplishment, and reads like the confessions of a friend. It is a book that gathers up all of our isolated shames, bringing us together in our shared imperfection, our uncertainty and our cowardice, smashing the stigma of not being in control. But most importantly, Horror Stories is a memoir that asks questions of how we feel about the things that have happened to us, how we cope with regret and culpability, and how we break the spell of those things, leeching them of their power over us. This memoir is an immersive experience, taking readers inside the most intimate moments of Phair's life. Her fearless prose, wit, and uncompromising honesty transform those deeply personal moments into tales about each and every one of us--that will appeal to both the serious fan and the serious reader--