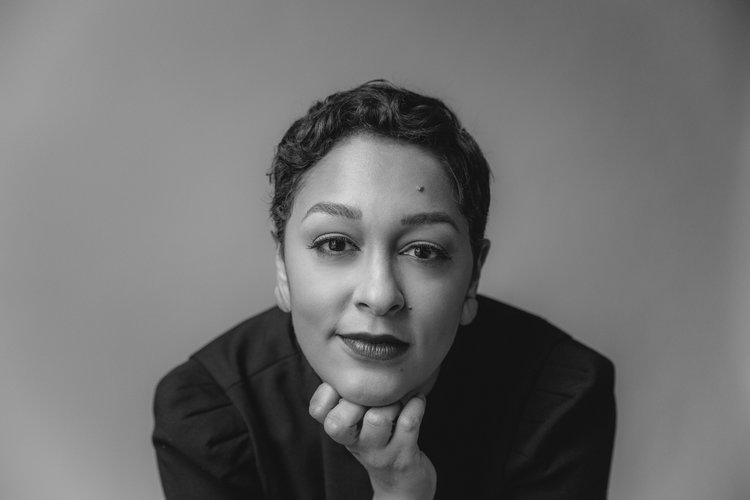 Eve L. Ewing
Born:
Chicago, Illinois
Connection to Illinois
: Ewing was born and raised in the Logan Square community of Chicago and is a proud alumna of Chicago Public Schools. She still resides in Chicago today.
Biography
: Dr. Eve L. Ewing is a sociologist of education and a writer from Chicago. She is an assistant professor at the University of Chicago School of Social Service Administration. Her work has been published in The New Yorker, The Atlantic, Washington Post, The New York Times, and many other venues.
---
Awards
:
"""1919"""
-- Best Books by Women of Summer, O Magazine, 2019
-- 25 Hot Books of Summer, Chicago Tribune, 2019
-- The Millions Must-Read Poetry, June 2019
-- Most Anticipated Reads of Summer, LitHub, 2019
-- 29 Summer Books To Get Excited About, Buzzfeed
-- Best New Books of June, Chicago Review of Books, 2019
-- Starred Review, Booklist
-- 11 notable Chicago books of 2019, Chicago Tribune
"""Ghosts in the Schoolyard: Racism and School Closings on Chicago's South Side"""
-- Best Books of the Year, NPR, 2018
-- Starred Review, Booklist
-- Starred Review, School Library Journal
"Maya and the Robot"
-- Illinois Reads Book Selection, Illinois Reading Council, 2022
Primary Literary Genre(s):
C:CHILDREN; Fiction; Non-Fiction
Primary Audience(s):
Adult readers
Facebook:
https://www.facebook.com/eveewing
Instagram:
https://www.instagram.com/eve.ewing/
Twitter:
https://twitter.com/eveewing
Website:
https://eveewing.com
Website:
https://eveewing.tumblr.com/
---
Selected Titles
1919
ISBN: 1608465985 OCLC: 1079848956 Haymarket Books 2019
Electric Arches
ISBN: 1608468569 OCLC: 972252403 Haymarket Books 2017 Blending stark realism with the surreal and fantastic, Eve L. Ewing's narrative takes us from the streets of 1990s Chicago to an unspecified future, deftly navigating the boundaries of space, time, and reality. Ewing imagines familiar figures in magical circumstances; blues legend Koko Taylor is a tall-tale hero; LeBron James travels through time and encounters his teenage self. She identifies everyday objects: hair moisturizer, a spiral notebook as precious icons.
Ghosts in the Schoolyard: Racism and School Closings on Chicago's South Side
ISBN: 022652602X OCLC: 1022775314 University of Chicago Press 2018 Failing schools. Underprivileged schools. Just plain bad schools. That's how Eve L. Ewing opens Ghosts in the Schoolyard: describing Chicago Public Schools from the outside. The way politicians and pundits and parents of kids who attend other schools talk about them, with a mix of pity and contempt. But Ewing knows Chicago Public Schools from the inside: as a student, then a teacher, and now a scholar who studies them. And that perspective has shown her that public schools are not buildings full of failures--they're an integral part of their neighborhoods, at the heart of their communities, storehouses of history and memory that bring people together. Never was that role more apparent than in 2013 when Mayor Rahm Emanuel announced an unprecedented wave of school closings. Pitched simultaneously as a solution to a budget problem, a response to declining enrollments, and a chance to purge bad schools that were dragging down the whole system, the plan was met with a roar of protest from parents, students, and teachers. But if these schools were so bad, why did people care so much about keeping them open, to the point that some would even go on a hunger strike? Ewing's answer begins with a story of systemic racism, inequality, bad faith, and distrust that stretches deep into Chicago history. Rooting her exploration in the historic African American neighborhood of Bronzeville, Ewing reveals that this issue is about much more than just schools. Black communities see the closing of their schools--schools that are certainly less than perfect but that are theirs--as one more in a long line of racist policies. The fight to keep them open is yet another front in the ongoing struggle of black people in America to build successful lives and achieve true self-determination.
Ironheart Vol. 1: Those With Courage
ISBN: 1302915088 OCLC: 1104042067 Marvel 2019 Riri Williams, the armored hero called Ironheart who took the comics world by storm, takes center stage! When a group of world leaders is held hostage by one of Spider-Man's old foes, Riri must step up her game. But she's thrown for a loop when an old acquaintance from back in Chicago re-enters her life! Now, Ironheart is caught between her need for independence and her obligations at M.I.T. - and when an old friend is kidnapped, she needs to make some tough decisions! Luckily, Riri has a will of steel, a heart of iron...and a brand-new A.I. system on her side! CHAMPIONS artist Kevin Libranda joins award-winning poet Eve L. Ewing, as Ironheart steps boldly out of Tony Stark's shadow to forge her own future!--Provided by publisher.
Ironheart Vol. 2: Ten Rings
ISBN: 1302915096 OCLC: 1109726785 Marvel 2020
Maya and the robot /
ISBN: 198481463X OCLC: 1200578548 A forgotten homemade robot comes to life just when aspiring fifth-grade scientist Maya needs a friend--and a science fair project.