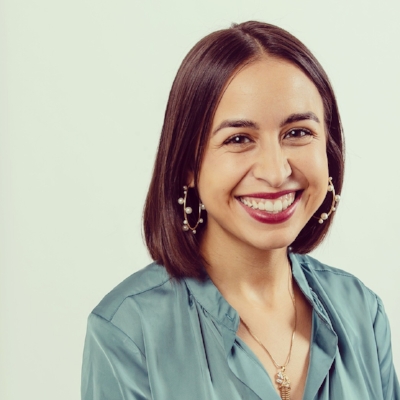 Jasmine Warga
Born:
1988 in Cincinnati, Ohio
Connection to Illinois
: Warga currently resides in Chicago.
Biography
: Jasmine Warga is an award-winning author for young adults. She briefly taught 6th grade science in Texas before going on to get her MFA in creative writing from Lesley University in Boston. There, she quickly discovered that writing for kids and teens was the perfect combination of her dual interests in storytelling and working with kids.
---
Awards
:
The Shape of Thunder Best Book of 2021 by The Boston Globe, 2021 Goodreads Award Nominee, Summer 2021 IndieNext Selection, Junior Library Guild Selection, Barnes & Noble Best Book Of May 2021 Selection, A Chapters Indigo Best Book of 2021 Selection; Illinois READS Book Selection, Illinois Reading Council, 2022
A Rover's Story New York Times bestseller; Best Book of the Year from The Washington Post, Publishers Weekly, New York Public Library, Chicago Public Library; Illinois READS Book Selection, Illinois Reading Council, 2023
Primary Literary Genre(s):
Fiction
Primary Audience(s):
Children; Young adult readers
E-Mail:
jasminewargabooks@gmail.com
Instagram:
https://www.instagram.com/jassiewarga/
Twitter:
https://twitter.com/jasminewarga
Web:
http://jasminewarga.com
---
Selected Titles
A Rover's Story
ISBN: 0063113929 OCLC: Balzer + Bray 2022 The One and Only Ivan meets The Wild Robot in this unique and deeply moving middle grade novel about the journey of a fictional Mars rover, from the Newbery Honor–winning author of Other Words for Home.Meet Resilience, a Mars rover determined to live up to his name.Res was built to explore Mars. He was not built to have human emotions. But as he learns new things from the NASA scientists who assemble him, he begins to develop humanlike feelings. Maybe there's a problem with his programming….Human emotions or not, launch day comes, and Res blasts off to Mars, accompanied by a friendly drone helicopter named Fly. But Res quickly discovers that Mars is a dangerous place filled with dust storms and giant cliffs. As he navigates Mars's difficult landscape, Res is tested in ways that go beyond space exploration.As millions of people back on Earth follow his progress, will Res have the determination, courage, and resilience to succeed… and survive?
Here We Are Now
ISBN: 0062324705 OCLC: Balzer + Bray 2017 While her mother is out of town, sixteen-year-old Taliah accompanies her estranged father--a famous rock star who one day appears on her doorstep--to Oak Falls, Indiana, to meet his dying father and the rest of his family, and on the way, Taliah learns about how her parents met and separated, her mother's experience as a Jordanian immigrant, and her own ability to accept change and open up to others.
My Heart and Other Black Holes
ISBN: 0062324683 OCLC: Balzer + Bray 2016 Sixteen-year-old physics nerd Aysel is obsessed with plotting her own death. With a mother who can barely look at her without wincing, classmates who whisper behind her back, and a father whose violent crime rocked her small town, Aysel is ready to turn her potential energy into nothingness. There's only one problem: she's not sure she has the courage to do it alone. But once she discovers a website with a section called Suicide Partners, Aysel's convinced she's found her solution Roman, a teenage boy who's haunted by a family tragedy, is looking for a partner. Even though Aysel and Roman have nothing in common, they slowly start to fill in each other's broken lives. But as their suicide pact becomes more concrete, Aysel begins to question whether she really wants to go through with it. Ultimately, she must choose between wanting to die or trying to convince Roman to live so they can discover the potential of their energy together.
Other Words for Home
ISBN: 0062747800 OCLC: Balzer + Bray 2019 Sent with her mother to the safety of a relative's home in Cincinnati when her Syrian hometown is overshadowed by violence, Jude worries for the family members who were left behind as she adjusts to a new life with unexpected surprises.
The Shape of Thunder
ISBN: 0062956671 OCLC: Told in their alternating voices, twelve-year-old neighbors and former best friends Cora Hamed and Quinn McCauley begin working together to open a wormhole so they can travel through time to prevent the school shooting that resulted in the deaths of Cora's sister and Quinn's brother.