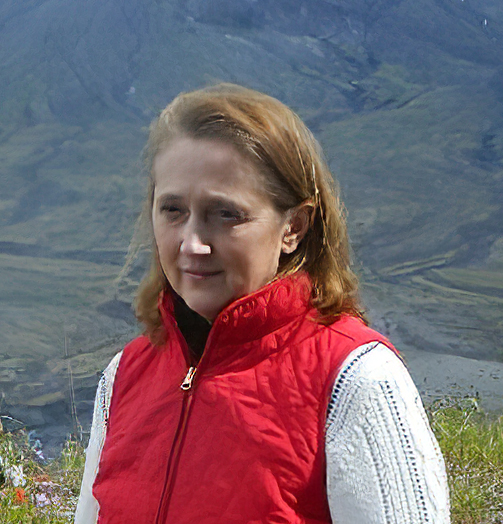 Melanie Holmes
Born:
Chicago, IL 1962
Connection to Illinois
: Holmes was born in Chicago and is a lifelong Illinoisan. She wrote the biography of Dr. David A. Johnston who was raised in Oak Lawn, IL, attended University of Illinois, and followed his dream of becoming a volcanologist, only to die in the 1980 eruption of Mount St. Helens. Holmes also wrote a pictorial history of Manteno, Illinois; the site of a large mental institution as well as the backdrop for Elizabeth Packard's fight for married women's property rights in the mid to late 1800s.
Biography
: Melanie Holmes is the author of five books. Her first book, "The Female Assumption," earned a 2014 Global Media Award from the Population Institute (Washington DC) for its message of equality for women. Her second book: "A Hero on Mount St. Helens," published by University of Illinois Press in May 2019, is a biography of Dr. David Johnston, who died in the line of duty as a USGS volcanologist when Mount St. Helens erupted in May 1980. His family, close friends, colleagues, and even David's own writings (diary, letters from the field) contributed to this book. People know how Johnston died, it is time the world heard how he lived. Holmes's third book was published by Arcadia Publishing in their Images of America line: "Manteno." A small town that sprung up where the Potawatomi once dwelled, it began as a train town - like so many Midwestern villages - and later became known for a state hospital that was on its fringe until 1985. Holmes's fourth book came out in April 2021: "The Secret Life of Postcards: Tracing Art & History Through One Woman's Collection," which reveals the art, symbolism, and history that is hidden in her grandmother's vintage collection (1906-1930s). Her grandmother was a Costigan who hailed from Herscher, IL, and who married a Lemenager, (of the Eugene Lemenager clan). Holmes' fifth book (May 2023) is part of Reedy Publishing's nationwide line of statewide bucket list books. As a lifelong Illinoisan and travel enthusiast, Holmes reveals insider tips for roaming the Land of Lincoln!
---
Awards
:
The Female Assumption Global Media Award for its message of equality for women, Population Institute (Washington DC) 2014
Primary Literary Genre(s):
History; Non-Fiction
Primary Audience(s):
Adult readers; Young adult readers
E-Mail:
HolmesAuthor11@gmail.com
Facebook:
https://www.facebook.com/Melanie-Holmes-467706716674112/
Web:
https://www.melanieholmesauthor.com/
---
Selected Titles
100 Things to Do in Illinois Before You Die
ISBN: 1681064421 OCLC: Reedy Press 2023 You may know Illinois as the former home of Abraham Lincoln or Chicagoland. But Illinois is more than just the Land of Lincoln or the location of one of the US's largest cities. 100 Things to Do in Illinois Before You Die introduces you to the state's rich history, showcasing the places with some of the best food and entertainment Illinois has to offer. Discover Cahokia Mounds and Dickson Mounds State Museum, which reveal sacred sites and customs of indigenous tribes who dwelled here before it became the United States. Experience Mark Twain–style paddleboats, world class museums, and unique lodgings like a train caboose or a treehouse. There are boulders for climbing, hot air balloons for riding, and some of the best spectator sports to enjoy―all just beyond the borders of your neighborhood or region. Local author Melanie Holmes shares her favorite tips about her home state. Whether you're a lifelong Illinoisan or visiting for the weekend, you'll find something in these pages to add to your bucket list. From sandstone-lined waterways to the best of theater, dance, and comedy clubs, Illinois has it all.
A Hero on Mount St. Helens: The Life and Legacy of David A. Johnston
ISBN: 9780252084317 OCLC: 1100767589 University of Illinois Press 2019 Serendipity placed David Johnston on Mount St. Helens when the volcano rumbled to life in March 1980. Throughout that ominous spring, Johnston was part of a team that conducted scientific research that underpinned warnings about the mountain. Those warnings saved thousands of lives when the most devastating eruption in U.S. history blew apart Mount St. Helens, but killed Johnston on the ridge that now bears his name. Melanie Holmes tells the story of Johnston's journey from a nature-loving Boy Scout to a committed geologist. Blending science with personal detail, Holmes follows Johnston through encounters with Aleutian volcanoes, his work helping the Portuguese government assess the geothermal power of the Azores, and his dream job as a volcanologist with the U.S. Geological Survey. Interviews and personal writings reveal what a friend called the most unjaded person I ever met, an imperfect but kind, intelligent young scientist passionately in love with his life and work and determined to make a difference.
Manteno; Images of America
ISBN: 9781467104487 OCLC: 1121082849 Arcadia 2020 Once known as a "brickyard town," the small town of Manteno holds a special place for not just Americans, but for French, Canadians, and Indigenous people as well. Though the village of Manteno was only formed thanks to the Illinois Central Railroad in 1869, the area had been populated for generations before that - Manteno's name derives from Mawteno, a Potawatomi maiden whose people lived in the area before the arrival of Europeans. Farming has always been a mainstay in Manteno, and its importance continues today, but Manteno's boundaries widened as a mental hospital opened on its eastern border in 1930 and a major interstate sprang up on its western edge decades later. Part of the French-Canadian Heritage Corridor, it was common to hear French on the streets of Manteno well into the 20th century by many residents as well as by an order of nuns from Paris who chose Manteno for a Catholic boarding school - a school they operated for more than six decades. Among former Mantenoans is a man who won the "Grand Prize of the World" in 1900, a woman who canvassed for women's rights legislation that swept the nation in the 19th century, and a family who left its mark on the history of American aviation.
The female assumption :
ISBN: 1500933058 OCLC: 900476011 Recipient of Global Media Award 2014 from the Population Institute, Washington, DC (best book category). This book is a call to action, unique because it is sounded by a mother of three with 30+ years' perspective. Holmes challenges all of us to "free" females from the assumption that motherhood is the ultimate expression of womanhood. It is a meaningful path--and there are many more! Women have been redefining the female experience for centuries, but their voices keep vanishing; women such as Kate Chopin, Charlotte Perkins Gilman, Tillie Olsen, Madelyn Cain and other mothers who have written about the realities of women's lives and motherhood. Holmes encourages everyone to dispense with outdated scripts that refer to motherhood as a foregone conclusion rather than one path among many that leads to a meaningful happy life.
The Secret Life of Post Cards: Tracing Art and History Through One Woman's Collection
ISBN: 169563229X OCLC: Independently Published 2021 The golden age of post cards was short-lived but effusive. More than a sum of its parts, this collection speaks of the era of high child mortality, the influenza pandemic of 1918-19 that killed more soldiers and sailors than enemy weaponry, and the symbolism that fits on the front of these 3 1/2 x 5 1/2 cards. This art form was replaced by greeting cards, and later e-cards. But the charm of this vintage collection grabs you. It recalls some of the best and worst of times. Which is essentially what any outline of history reveals.