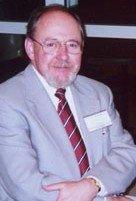 Fred Schlipf
Born:
Pen Name:
Connection to Illinois
: Schlipf is a library building consultant in the Champaign-Urbana area. He earned his MA and Phd in Library Science at the University of Chicago.
Biography
: Fred Schlipf has been hanging out in library buildings since the early 1940s (at about the age of four, he turned out all the lights in the Detroit Lakes (Minnesota) Public Library one evening a happy moment that is still both bright and dark in his memory), and has been working for libraries and teaching about libraries and consulting on library buildings since he was 17. He's been a library school faculty member for over 50 years, and he spent nearly 33 years as director of The Urbana Free Library, the public library of Urbana, Illinois (just down the street from the University of Illinois). He's done formal building consulting for between 150 and 200 libraries and quick consulting for many more, and he visits library buildings everywhere he goes. He has a BA from Carleton College and an MA and PhD from the Graduate Library School of the University of Chicago. He has served on dozens of committees and task forces of the American Library Association, Illinois State Library, Illinois Library Association, local library groups in Illinois, and the Illuminating Engineering Society of North America. He was Illinois Librarian of the Year in 2000.
---
Awards
:
Primary Literary Genre(s):
Non-Fiction
Primary Audience(s):
Adult readers
Facebook:
https://www.facebook.com/Fred-Schlipf-46658914468/
LinkedIn:
https://www.linkedin.com/in/frederick-schlipf-26230a17
WorldCat:
http://www.worldcat.org/search?q=Fred++Schlipf
---
Selected Titles
The Practical Handbook of Library Architecture: Creating Building Spaces that Work
ISBN: 0838915531 OCLC: 974470577 American Library Association 2018 You've spent your life working in and coping with your library building ... and you've been ignored when it comes to planning the spaces that you work in. Schlipf and Moorman provide their rules for planning and evaluating plans for new buildings and renovations. Building decisions-- whether good or bad-- can last centuries. Discover some of the ways you can reduce your chance of regretting-- or outright hating-- those decisions.