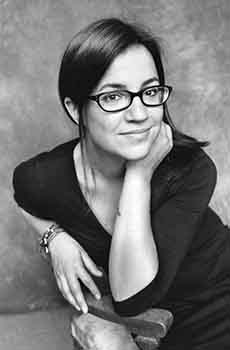 Emily Gray Tedrowe
Born:
Connection to Illinois
: Tedrowe lives in Chicago.
Biography
: Emily Gray Tedrowe earned a PhD in literature from New York University and a BA from Princeton University. She has received an Illinois Arts Council award as well as fellowships from the Ragdale Foundation, Virginia Center for the Creative Arts, and the Sewanee Writers' Conference. A frequent book reviewer for USA Today and other publications, Tedrowe also writes essays, interviews, and short stories.
---
Awards
:
Commuters - Starred Review, Booklist
The Talented Miss Farwell - Best Books of 2020 (so far), Real Simple , Starred Review, Publishers Weekly , Illinois Reads Book Selection, Illinois Reading Council, 2022
Primary Literary Genre(s):
Fiction
Primary Audience(s):
Adult readers
E-Mail:
emily@emilygraytedrowe.com
Instagram:
https://www.instagram.com/egtedrowe/
Twitter:
https://twitter.com/egtedrowe
Web:
https://www.emilygraytedrowe.com/
---
Selected Titles
Blue Stars
ISBN: 1250052483 OCLC: St. Martin's Press 2015 Emily Gray Tedrowe has written an extraordinary novel about ordinary people, a graceful and gritty portrayal of what it's like for the women whose husbands and sons are deployed in Iraq. BLUE STARS brings to life the realities of the modern day home front: how to get through the daily challenges of motherhood and holding down a job while bearing the stress and uncertainty of war, when everything can change in an instant. It tells the story of Ellen, a Midwestern literature professor, who is drawn into the war when her legal ward Michael enlists as a Marine; and of Lacey, a proud Army wife who struggles to pay the bills and keep things going for her son while her husband is deployed. Ellen and Lacey cope with the fear and stress of a loved one at war while trying to get by in a society that often ignores or misunderstands what war means to women today. When Michael and Eddie are injured in Iraq, Ellen and Lacey's lives become intertwined in Walter Reed Army Hospital, where each woman must live while caring for her wounded soldier. They form an alliance, and an unlikely friendship, while helping each other survive the dislocated world of the army hospital. Whether that means fighting for proper care for their men, sharing a six-pack, or coping with irrevocable loss, Ellen and Lacey pool their strengths to make it through. In the end, both women are changed, not only by the war and its fallout, but by each other. --
Commuters
ISBN: 0061859478 OCLC: New York : HarperPerennial, New York : ©2010. At seventy-eight, Winnie Easton has finally found love again with Jerry Trevis, a wealthy Chicago businessman who has moved to the small, upstate town of Hartfield, New York, to begin his life anew. But their decision to buy one of the town's biggest houses ignites anger and skepticism--as children and grandchildren take drastic measures to secure their own futures and endangered inheritances. With so much riding on Jerry's wealth, a decline in his physical health forces hard decisions on the family, renewing old loyalties while creating surprising alliances --Page 4 of cover.
The Talented Miss Farwell
ISBN: 0062897721 OCLC: Custom House 2020 At the end of the 1990s, with the art market finally recovered from its disastrous collapse, Miss Rebecca Farwell has made a killing at Christie's in New York City, selling a portion of her extraordinary art collection for a rumored 900 percent profit. Dressed in couture YSL, drinking the finest champagne at trendy Balthazar, Reba, as she's known, is the picture of a wealthy art collector. To some, the elusive Miss Farwell is a shark with outstanding business acumen. To others, she's a heartless capitalist whose only interest in art is how much she can make. But a thousand miles from the Big Apple, in the small town of Pierson, Illinois, Miss Farwell is someone else entirely, a quiet single woman known as Becky who still lives in her family's farmhouse, wears sensible shoes, and works tirelessly as the town's treasurer and controller. --Publisher