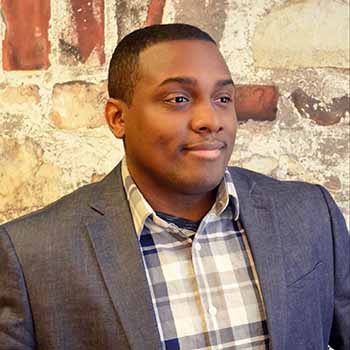 Alverne Ball
Born:
Pen Name:
Connection to Illinois
: Ball grew up on Chicago's west side in the dangerous crime-infested streets of K-Town. He has attended Columbia College Chicago where he studied fiction writing and would later receive his B.A. and M.F.A in Creative Writing.
Biography
: Alverne Ball completed studies in Columbia College's prestigious Semester in Los Angeles program, an intensive course focused on the adaptation of material to the screen. His love of storytelling has taken him to South Africa where hes written storylines for the hit TV series, Uzalo. He is a 2015 Stage 32 finalist for his TV pilot, Soul Survivor, as well as a finalist in the Page International Screenplay Competition for his co-written screenplay, Rhineland Bastards.Mr. Ball has taught graphic novel writing at Noble charter High School in Chicago. He has written comic and graphic novel material for such companies as Di Bona Ventura Productions, Paramount pictures, Mcgraw-Hill, Lions forge comics, New Paradigm entertainment, Campfire graphic novels, and 133art.com.His writing has been published in the literary magazine Annalemma, in Columbia College newspaper The Chronicle, online at Brokenfrontier.com, online for the Museum of contemporary Photography in Chicago, online for Comicbookresources.com, and an online graphic story for the literary magazine, Hypertextmag.com. His short stories of suspense have appeared in the Sin anthology by Avendia Press, Criminal Class Review as well as the online magazine, the heated forest.comMr. Ball is also the recipient of the 2014 and 2015 Glyph Rising Star awards for his writing on 133art's OneNation and OneNation: Old Druids. In 2009 Mr. Ball received first place in the Union League Civic & Arts Foundation Creative Writing Competition for his graphic story, 'Virgin Wolf. He has also received Three Weisman Scholarships from Columbia College Chicago for his other graphic works.Currently, Mr. Ball has produced an online comic series, When we were Kings, published by popular entertainment website, Afropunk.com. He is working on the follow up to Only the Holy Remain while also writing a new graphic novel and a new feature screenplay.
---
Awards
:
Primary Literary Genre(s):
Non-Fiction
Primary Audience(s):
Adult readers
Web:
https://tinhouse.com/th_post_faculty/alverne-ball/
Facebook:
https://www.facebook.com/alverneball
LinkedIn:
https://www.linkedin.com/in/alverneball
WorldCat:
http://www.worldcat.org/search?q=Alverne++Ball
---
Selected Titles
Across the Tracks: Remembering the Tulsa Race Massacre and Black Wall Street
ISBN: 141975517X OCLC: 1224246118 Abrams 2021 In Across the Tracks: Remembering Greenwood, Black Wall Street, and the Tulsa Race Massacre, author Alverne Ball and illustrator Stacey Robinson have crafted a love letter to Greenwood, Oklahoma. Also known as Black Wall Street, Greenwood was a community whose importance is often overshadowed by the atrocious massacre that took place there in 1921. Across the Tracks introduces the reader to the businesses and townsfolk who flourished in this unprecedented time of prosperity for Black Americans. We learn about Greenwood and why it is essential to remember the great achievements of the community as well as the tragedy which nearly erased it. However, Ball is careful to recount the eventual recovery of Greenwood. With additional supplementary materials including a detailed preface, timeline, and historical essay, Across the Tracks offers a thorough examination of the rise, fall, and rebirth of Black Wall Street.--Netgalley.com.
Dime Paperback
ISBN: 1944536000 OCLC: Arion 2016
Only The Holy Remain
ISBN: 0998336440 OCLC: Vital Narrative Press 2016
Virgin Wolf: Birth of a hunter
ISBN: 1944536019 OCLC: Arion 2016