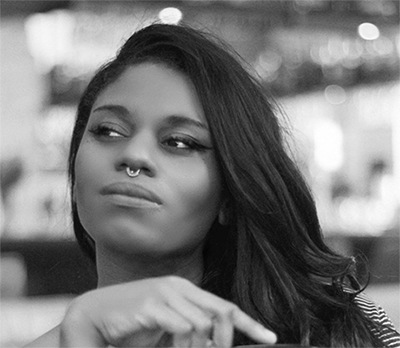 Kayla Ancrum
Born:
Pen Name:
K. Ancrum
Connection to Illinois
: Ancrum grew up in Chicago and still lives there today. She attended Dominican University.
Biography
: Kayla Ancrum is a Chicago native passionate about diversity and representation in young adult fiction. She currently writes most of her work in the lush gardens of the Chicago Art Institute.
---
Awards
:
The Weight of the Stars Starred Review - Booklist
Darling Illinois READS Book Selection, Illinois Reading Council, 2023
Primary Literary Genre(s):
Fiction
Primary Audience(s):
Young adult readers
Web:
https://kancrum.com/
Web:
https://twitter.com/KaylaAncrum
Web:
https://www.linkedin.com/in/kayla-ancrum-a9a1ab48
Web:
http://Kayla@kancrum.com
---
Selected Titles
Darling
ISBN: 1250265266 OCLC: 1242989894 Imprint 20210622. A teen girl finds herself lost on a dangerous adventure in this YA thriller by the acclaimed author of The Wicker King and The Weight of the Stars―reimagining Peter Pan for today's world.
The Weight of the Stars
ISBN: 1250101638 OCLC: 1083528281 Imprint 2019 Ryann dreams of traveling across the stars, but a career in space isn't an option for a girl who lives in a trailer park on the wrong side of town. Alexandria is a loner who spurns Ryann's offer of friendship, until a horrific accident leaves Alexandria with a broken arm. Ryann learns her secret: Alexandria's mother is an astronaut who volunteered for a one-way trip to the edge of the solar system. Every night Alexandria waits to catch radio signals from her mother. And its up to Ryann to lift her onto the roof day after day ... until the silence between them grows into friendship, and eventually something more. --
The Wicker King
ISBN: 1250101549 OCLC: 964502859 Imprint 2017 Best friends August and Jack struggle to cope as one spirals into madness.