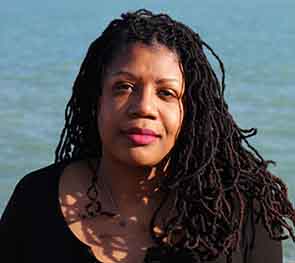 Mikki Kendall
Born:
in Chicago, Illinois
Connection to Illinois
: Kendall was born in Chicago and was raised in the Hyde Park neighborhood. She is a graduate of the University of Illinois at Urbana Champaign and of DePaul University.
Biography
: Mikki Kendall is a New York Times bestselling writer, speaker, and blogger whose work has appeared in The Washington Post, The Boston Globe, The Guardian, TIME, Salon, Ebony, Essence, and elsewhere. An accomplished public speaker, she has discussed race, feminism, violence in Chicago, tech, pop culture, and social media on The Daily Show, MSNBC, NPR, Al Jazeera's The Listening Post, BBC's Women's Hour, and Huffington Post Live, as well as at universities across the country. In 2017, she was awarded Best Food Essay from the Association of Food Journalists for her essay on hot sauce, Jim Crow, and Beyonc. She is also the author of Amazons, Abolitionists, and Activists: A Graphic History of Women's Fight for Their Rights and a co-editor of the Locus-nominated anthology Hidden Youth, as well as a part of the Hugo-nominated team of editors at Fireside Magazine. A veteran, she lives in Chicago with her family.
---
Awards
:
Hood Feminism - NY Times Bestseller, Named a Best Book of 2020 by Bustle, BBC, and Time A Washington Post Notable Nonfiction Book of 2020
Amazons, Abolitionists, and Activists - Illinois Reads Book Selection, Illinois Reading Council, 2022
Primary Literary Genre(s):
Fiction; Non-Fiction
Primary Audience(s):
Adult readers
Facebook:
https://www.facebook.com/HoodFeminismMikki/
Instagram:
https://www.instagram.com/karnythia/
Twitter:
https://twitter.com/karnythia
Web:
https://mikkikendall.com/
Web:
https://hoodfeminism.com/
Wikipedia:
https://en.wikipedia.org/wiki/Mikki_Kendall
YouTube:
https://www.youtube.com/channel/UCUxeRVPImpU2WoryMRcmoOQ
---
Selected Titles
Amazons, Abolitionists, and Activists
ISBN: 0399581790 OCLC: Ten Speed Press 2019 A bold and gripping graphic history of the fight for women's rights. The ongoing struggle for women's rights has spanned human history, touched nearly every culture on Earth, and encompassed a wide range of issues, such as the right to vote, work, get an education, own property, exercise bodily autonomy, and beyond. Amazons, Abolitionists, and Activists is a fun and fascinating graphic novel-style primer that covers the key figures and events that have advanced women's rights from antiquity to the modern era. In addition, this compelling book illuminates the stories of notable women throughout history--from queens and freedom fighters to warriors and spies--and the progressive movements led by women that have shaped history, including abolition, suffrage, labor, civil rights, LGBTQ liberation, reproductive rights, and more. Examining where we've been, where we are, and where we're going, Amazons, Abolitionists, and Activists is an indispensable resource for people of all genders interested in the fight for a more liberated future --
Hood Feminism: Notes from the Women That a Movement Forgot
ISBN: 0525560548 OCLC: Viking 2020 A collection of essays taking aim at the legitimacy of the modern feminist movement, arguing that it has chronically failed to address the needs of all but a few women --