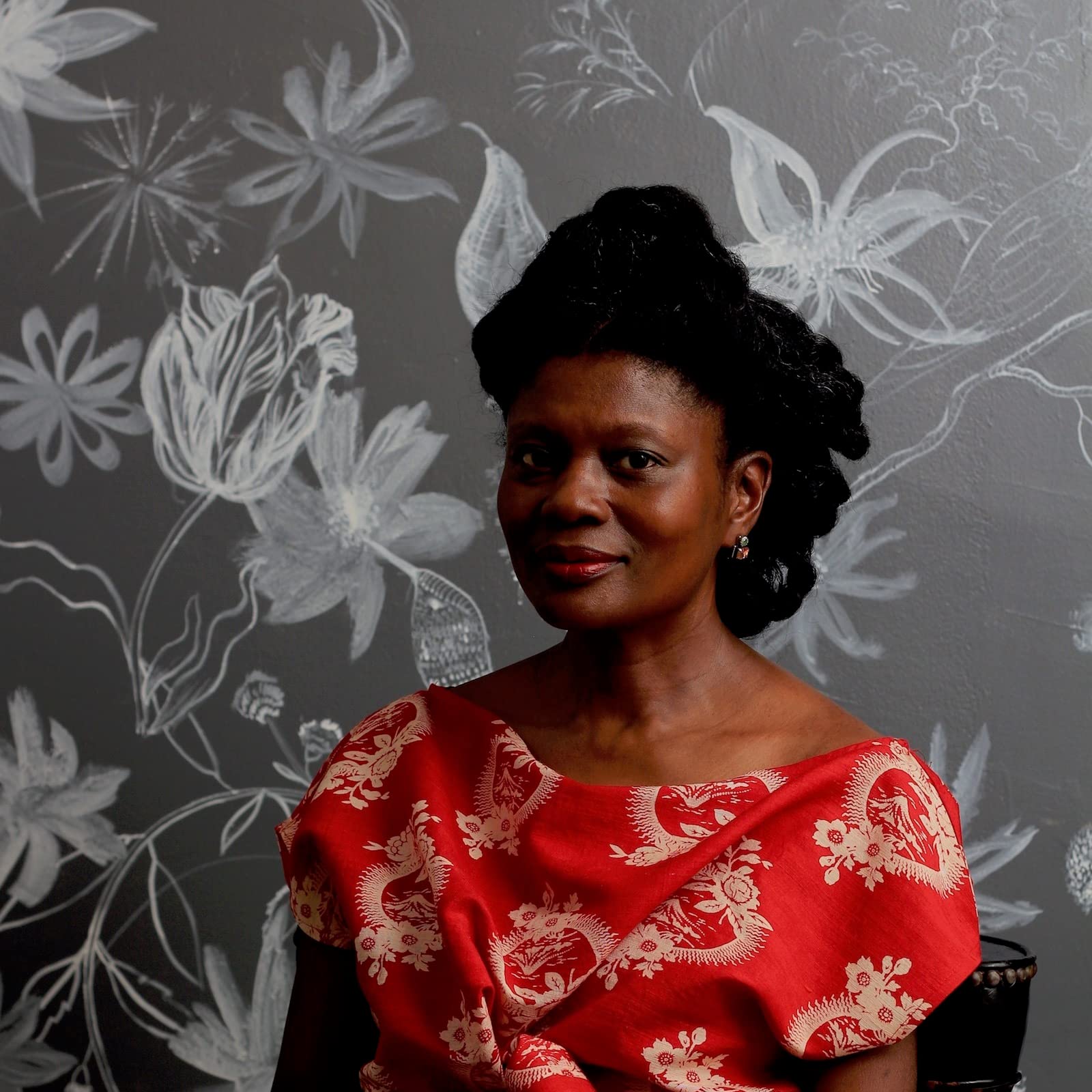 Cozbi A. Cabrera
Born:
Brookliyn, New York
Connection to Illinois
: Cabrera lives in Evanston.
Biography
: Cozbi A. Cabrera was born in Brooklyn, NY to parents who were born in Honduras, Central America. A former art director for music, she creates and illustrates picture books for young readers. In addition to writing and painting, she loves working in textiles. Her handmade dolls or 'muecas' are collected around the world.
---
Awards
:
Me & Mama Caldecott and Coretta Scott King Honor Book
Exquisite A 2021 Coretta Scott King Book Award Illustrator Honor Book; A 2021 Robert F. Sibert Informational Honor Book; A 2021 Association of Library Service to Children Notable Children's Book; Illinois READS Book Selection, Illinois Reading Council, 2023
Primary Literary Genre(s):
Fiction; Illustrator
Primary Audience(s):
Children
E-Mail:
cozbi.a.cabrera@gmail.com
Pinterest:
https://www.pinterest.com/cozbic/
Twitter:
https://twitter.com/CozbiHandmade
Web:
http://www.cozbi.com/
Web:
http://www.cozbi.com/illustration
Web:
https://cozbimade.tumblr.com/
---
Selected Titles
A Windy Day
ISBN: 0863162185 OCLC: 32803205 Black Butterfly Children's Books, [New York, NY] : ©1994. During a fun-filled outing to the park with her family, a three-year-old girl delights in the mischievous, unpredictable behavior of the playful wind.
Beauty, Her Basket
ISBN: 0688178219 OCLC: 51764585 Greenwillow Books/Amistad, [New York] : ©2004. Sea grass basket . . . Sweetgrass basket . . . Beauty, Her Basket. "I stick my nose inside the basket as far as it can go. I want to smell its secrets." Sandra Belton and Cozbi A. Cabrera invite you to the Sea Islands, where a young girl, her cousin Victor, and their Nana are spending the summer together. There will be stories to share and pictures to see and secrets worth knowing. Secrets about these times and the old times and tomorrow, too.
Chef Edna: Queen of Southern Cooking, Edna Lewis
ISBN: 1951836391 OCLC: Cameron Kids 2023 A warm and inviting picture-book portrait of African American culinary legend Edna Lewis, who brought Southern cooking to the masses Edna loved to cook. Growing up on a farm in Freetown, Virginia, she learned the value of fresh, local, seasonal food from her Mama Daisy, how to measure ingredients for biscuits using coins, and to listen closely to her cakes to know when they were done. Edna carried these traditions with her all the way to New York, where she became a celebrated chef, who could even turn traditional French food into her signature Southern style. The author of several cookbooks and the recipient of numerous awards, Chef Edna introduced the world to the flavors of her home.
Exquisite: The Poetry and Life of Gwendolyn Brooks
ISBN: 1419734113 OCLC: 1035774238 Abrams 2020 A picture-book biography of celebrated poet Gwendolyn Brooks, the first Black person to win the Pulitzer Prize Gwendolyn Brooks (1917–2000) is known for her poems about "real life." She wrote about love, loneliness, family, and poverty—showing readers how just about anything could become a beautiful poem. Exquisite follows Gwendolyn from early girlhood into her adult life, showcasing her desire to write poetry from a very young age. This picture-book biography explores the intersections of race, gender, and the ubiquitous poverty of the Great Depression—all with a lyrical touch worthy of the subject. Gwendolyn Brooks was the first Black person to win the Pulitzer Prize, receiving the award for poetry in 1950. And in 1958, she was named the poet laureate of Illinois. A bold artist who from a very young age dared to dream, Brooks will inspire young readers to create poetry from their own lives.
Me & Mama
ISBN: 1534454217 OCLC: 1184125210 Simon & Schuster 2020 Mama's love is brighter than the sun, even on the rainiest of days. This celebration of a mother-daughter relationship is perfect for sharing with little ones! On a rainy day when the house smells like cinnamon and Papa and Luca are still asleep, when the clouds are wearing shadows and the wind paints the window with beads of water, I want to be everywhere Mama is. With lyrical prose and a tender touch, the Caldecott and Coretta Scott King Honor Book Mama and Me is an ode to the strength of the bond between a mother and a daughter as they spend a rainy day together. - Publisher.
Most Loved in All the World
ISBN: 0618419039 OCLC: 55765555 Houghton Mifflin, Boston : 2009. An authentic and powerful account of slavery and how a handmade quilt helps a little girl leave home for freedom. With a poet's keen ear, Tonya Hegamin tells the account of a little girl whose mother is a secret agent on the Underground Railroad. Before sending her daughter north to freedom, the mother sews a quilt for her daughter, not only to guide her with its symbols of moss and the north star, but also to remind her always that the smiling girl in the center of the quilt is "most loved in all the world." Strikingly illustrated in unique textile collaging and expressive acrylic paintings.
My Hair is a Garden
ISBN: 080750923X OCLC: 1006524511 Whitman 2018 After being teased yet again about her unruly hair, MacKenzie consults her neighbor, Miss Tillie, who compares hair care with tending her beautiful garden and teaches MacKenzie some techniques. Includes tips for shampooing, conditioning, and protecting black hair, and recipes for hair products.--
Stitchin' and Pullin': A Gee's Bend Quilt
ISBN: 0399549501 OCLC: 123539254 Dragonfly Books New York : 2016 For generations, the women of Gee's Bend have made quilts to keep a family warm, as a pastime accompanied by sharing and singing, or to memorialize loved ones. Today, the same quilts hang on museum walls as modern masterpieces of color and design. Inspired by these quilts and the women who made them, award-winning author Patricia C. McKissack traveled to Alabama to learn their stories. The lyrical rite-of-passage narrative that is the result of her journey seamlessly weaves together the familial, cultural, spiritual, and historical strands of life in this community.
Thanks a Million
ISBN: 0688172938 OCLC: 56387377 Amistad, New York : ©2006. Acclaimed poet Nikki Grimes and award-winning illustrator Cozbi A. Cabrera celebrate the joy of family, friends, and of feeling thankful. An inspirational and useful picture book that's perfect for educators, parents, and aspiring poets. What does it mean to connect with someone? What does it mean to feel thankful? Award-winning poet Nikki Grimes and Caldecott Honor artist Cozbi A. Cabrera honor human relationships—from family to friendships to community bonds—and the moments that bring us together. Beautiful and rhythmic, the text is written in a variety of poetic styles and forms, including letter poems, haikus, and riddles, among others. Richly detailed illustrations accompany each poem, making this a perfect pick for family as well as storytime sharing.