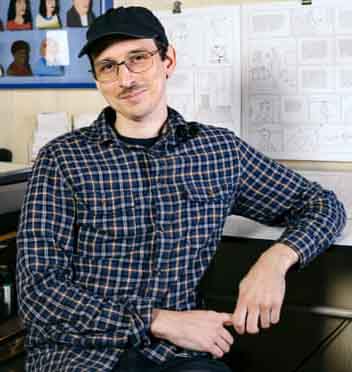 Nick Drnaso
Born:
Palos Hills, Illinois
Pen Name:
Connection to Illinois
: Drnaso was born in Palos Hills. He lives in Chicago.
Biography
: Nick Drnaso was born in 1989 in Palos Hills, Illinois. His debut graphic novel, Beverly, received the Los Angeles Times Book Prize for Best Graphic Novel. He has contributed to several comics anthologies, self-published a handful of comics, been nominated for three Ignatz Awards, and coedited the second and third issues of Linework, Columbia Colleges annual comic anthology. Drnaso lives in Chicago, where he works as a cartoonist and illustrator.
---
Awards
:
''Sabrina'',
-- THE FIRST EVER GRAPHIC NOVEL NOMINATED FOR THE MAN BOOKER PRIZE! A NEW YORK TIMES NOTABLE BOOK! ON 20 BEST OF 2018 LISTS INCLUDING THE WASHINGTON POST, NPR, NEWSWEEK, AND THE GUARDIAN!
Primary Literary Genre(s):
Fiction; Illustrator
Primary Audience(s):
Adult readers
Web:
https://drawnandquarterly.com/author/nick-drnaso
Wikipedia:
https://en.wikipedia.org/wiki/Nick_Drnaso
WorldCat:
http://www.worldcat.org/search?q=Nick++Drnaso
---
Selected Titles
Beverly
ISBN: 1770462252 OCLC: 908176287 Drawn & Quarterly 2016 The modern lost souls of Beverly struggle with sexual anxieties that are just barely repressed and social insecurities that undermine every word they speak. Time passes, bodies change sizes, realities blur with fantasies, truths disintegrate, childhood comforts turn uncomfortable. Again and again, the civilized façades of Nick Drnaso's pitch-perfect suburban landscapes crack in the face of violence and quiet brutality. Drnaso's debut graphic novel leaves you haunted and squirming and longing for more. --
Sabrina
ISBN: 177046316X OCLC: 1004939322 Drawn & Quarterly 2018 When Sabrina disappears, an airman in the U.S. Air Force is drawn into a web of suppositions, wild theories, and outright lies. Sabrina depicts a modern world devoid of personal interaction and responsibility, where relationships are stripped of intimacy through glowing computer screens. An indictment of our modern state, Drnaso contemplates the dangers of a fake news climate.--