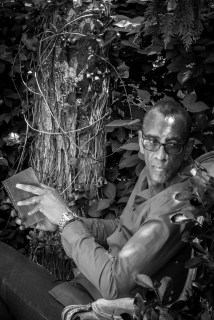 Ronald L. Smith
Born:
Pen Name:
Connection to Illinois
: Smith lived in Chicago for 15 years.
Biography
: Ronald L. Smith is an award-winning writer of children's literature including the novels, Black Panther: The Young Prince, The Mesmerist, The Owls Have Come To Take Us Away and Gloomtown, a Junior Library Guild Selection. His first novel, Hoodoo, earned him the 2016 Coretta Scott King/ John Steptoe New Talent Author Award and the ILA Award for Intermediate Fiction from The International Literacy Association. Before he became a full-time writer, he worked in advertising and wrote TV commercials for big corporations. He is much happier writing books for young people.
---
Awards
:
''HooDoo'',
-- Winner of the 2016 Coretta Scott King New Author Award Cooperative Childrens Book Center Best of Year List Junior Library Guild Selection 2016 ILA Intermediate Fiction Award from the International Literacy Association
''Gloom Town'',
-- A Junior Library Guild Selection
''The Owls Have Come to Take Us Away'',
-- A Junior Library Guild Selection
Primary Literary Genre(s):
Fiction; Mystery
Primary Audience(s):
Children
Web:
https://www.strangeblackflowers.com
Twitter:
https://twitter.com/RonSmithbooks
WorldCat:
http://www.worldcat.org/search?q=Ronald++L.++Smith
---
Selected Titles
Black Panther: The Young Prince (Marvel Black Panther)
ISBN: 1484787641 OCLC: 986954364 Marvel Press 2018 He felt the mesh of the Vibranium under his fingertips, smooth yet hard at the same time. It almost seemed like it pulsed. Like it wanted to be worn. 'This is the suit of the Black Panther,' T'Challa whispered. 'The suit of my father and his father before him.' He let the fabric fall from his hands and unfurl toward the floor. 'I have to do this,' he said. 'I have no choice.'--Jacket cover.
Gloom Town
ISBN: 1328841618 OCLC: 1080246486 Clarion 2020 Twelve-year-old Rory and his friend Izzy try to foil the plans of Lord Foxglove, for whom Rory works as a valet, and his inhuman accomplices from taking over the world.--
Hoodoo
ISBN: 0544445252 OCLC: 905969727 Clarion 2015 In 1930s Alabama, twelve-year-old Hoodoo Hatcher is the only member of his family who seems unable to practice folk magic, but when a mysterious man called the Stranger puts the entire town at risk from his black magic, Hoodoo must learn to conjure to defeat him.
The Mesmerist
ISBN: 0544445287 OCLC: 932050605 Clarion 2017 Thirteen-year-old Jess and her mother make a living as sham spiritualists--until they discover that Jess is a mesmerist and that she really can talk to the dead. Soon she is plunged into the dark world of Victorian London's supernatural underbelly and learns that the city is under attack by ghouls, monsters, and spirit summoners--
The Owls Have Come to Take Us Away
ISBN: 132884160X OCLC: 1016489994 Clarion 2019 After something strange happens during a camping trip, twelve-year-old alien-obsessed Simon suspects he has been abducted, but was it real or just his overactive imagination?