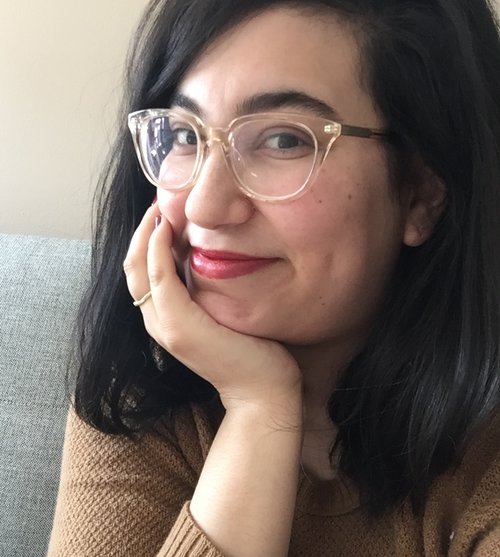 Tyler Feder
Born:
Connection to Illinois
: Feder lives in Chicago.
Biography
: Tyler Feder is a full-time illustrator based in Chicago. She graduated from Northwestern University in 2011 with a BA in Radio/TV/Film and a certificate in Creative Writing for the Media. She further honed her comedic skills at the Second City Training Center, where she graduated from the writing program. In 2012, Tyler began posting her artwork online, and within five years she had grown her illustration company, Roaring Softly, into a recognizable brand with a mix of witty pop culture art and intersectional feminist pieces. She has illustrated for Netflix, Comedy Central, and ESPN, and is the illustrator of Cristen Conger and Caroline Ervin's Unladylike.
---
Awards
:
-- Dancing at the Pity Party - Sydney Taylor Young Adult Book Award Winner, School Library Journal Best Book of 2020, YALSA Quick Picks for Reluctant Young Adult Readers List, YALSA Great Graphic Novels for Teens List, YALSA Excellence in Nonfiction Nominee
-- Bodies are Cool - Starred Reviews - Kirkus, Publishers Weekly, School Library Journal, and Booklist; Illinois READS Book Selection, Illinois Reading Council, 2022
Primary Literary Genre(s):
Fiction; Illustrator
Primary Audience(s):
Children
E-Mail:
tylerfeder@gmail.com
Facebook:
https://www.facebook.com/roaringsoftly/
Pinterest:
https://www.pinterest.com/roaringsoftly/
Twitter:
https://twitter.com/roaringsoftly
Web:
https://www.tylerfeder.com/
---
Selected Titles
Bodies are Cool
ISBN: 0593112628 OCLC: Dial Books 2021 Illustrations and easy-to-read, rhyming text celebrate bodies of all shapes, sizes, ages, and colors, with different kinds of hair, eyes, spots, scars, and more.
Dancing at the Pity Party
ISBN: 0525553029 OCLC: Dial Books 2020 Tyler Feder shares her story of her mother's first oncology appointment to facing reality as a motherless daughter in this frank and refreshingly funny graphic memoir. --
Together We March: 25 Protest Movements That Marched into History
ISBN: 1534442707 OCLC: Antheneum 2021 For generations, marches have been an invaluable tool for bringing about social change. People have used their voices, the words on their signs, and the strength in their numbers to combat inequality, oppression, and discrimination. They march to call attention to these wrongs and demand change and action, from a local to a global scale. Whether demanding protective laws or advocating for equal access to things like voting rights, public spaces, and jobs, the twenty-five marches in this book show us that even when a fight seems impossible, marching can be the push needed to tip the scales and create a movement. This gorgeous collection celebrates this rich and diverse history, the often-overlooked stories, and the courageous people who continue to teach us the importance of coming together to march today. -- Amazon.com.
Unladylike: A Field Guide to Smashing the Patriarchy and Claiming Your Space
ISBN: 9780399580451 OCLC: Ten Speed Press 2018 Get ready to get unladylike with this field guide to the what's, why's, and how's of intersectional feminism and practical hell-raising. Through essential, inclusive, and illustrated explorations of what patriarchy looks like in the real world, authors and podcast hosts Cristen Conger and Caroline Ervin blend wild histories, astounding stats, social justice principles, and self-help advice to connect where the personal meets political in our bodies, brains, booty calls, bank accounts, and other confounding facets of modern woman-ing and nonbinary-ing. By laying out the uneven terrain of double-standards, head games, and handouts patriarchy has manspread across society for ages, Unladylike is here to unpack our gender baggage and map out the space that's ours to claim. --