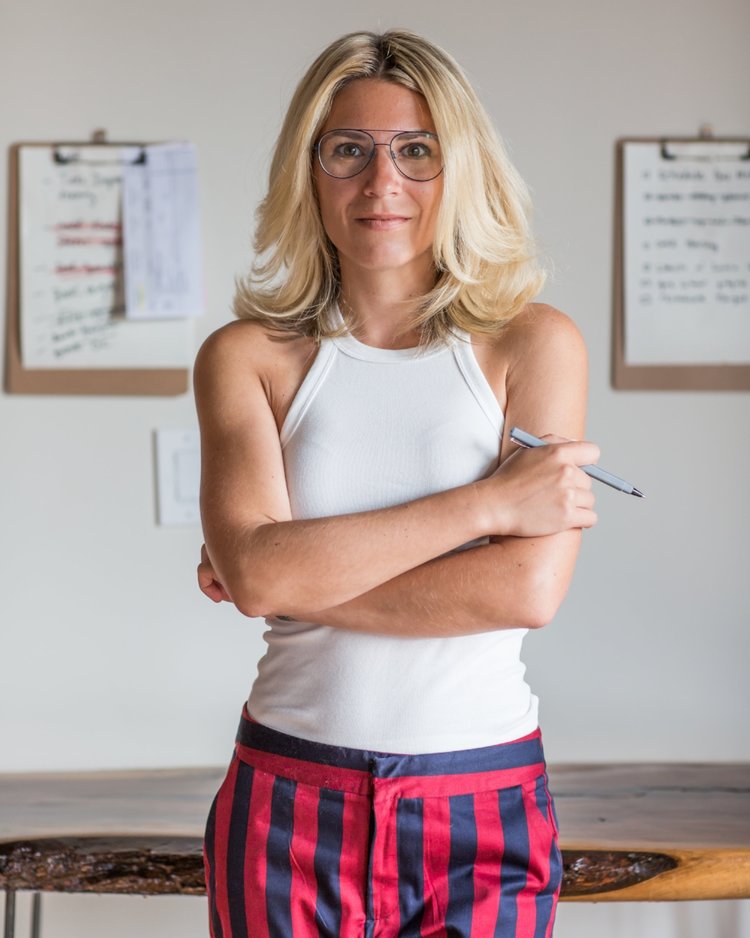 Emily Belden
Born:
Pen Name:
Connection to Illinois
: Belden is a Chicago native. She lives in Roscoe Village.
Biography
: Emily Belden is a food journalist, social media marketer, and storyteller. She is the author of the novels, Hot Mess and Husband Material, as well as Eightysixed: A Memoir about Unforgettable Men, Mistakes, and Meals. After she tiled her bedroom floor in over 60,000 pennies - all heads up for good luck - she was a guest on The Today Show and her story was covered by media outlets across the country.
---
Awards
:
Primary Literary Genre(s):
Fiction; Non-Fiction
Primary Audience(s):
Adult readers
Web:
http://www.emilybelden.com/
Twitter:
https://twitter.com/emilybelden
Blog:
http://www.emilybelden.com/blog
WorldCat:
http://www.worldcat.org/search?q=Emily++Belden
---
Selected Titles
Eightysixed: A memoir about unforgettable men, mistakes, and meals
ISBN: 0578650932 OCLC: Self Published 2020
Hot Mess
ISBN: 152581141X OCLC: 987279447 Graydon House 2018 Twentysomething Allie Simon is used to playing by the rules-- until Chicago's most sought-after, up-and-coming culinary genius, Benji Zane, walks into her world and pulls her into his. The only thing more renowned than Benji's mouthwatering masterpieces and equally luscious good looks? His struggle with addiction and his reckless tendency to live life on the edge, no matter the havoc he wreaks along the way. But loving someone means supporting him no matter what, or so Allie tells herself. That's why, when Benji's offered the chance to light up foodie hot spot Randolph Street with a high-profile new restaurant, Allie takes the ultimate risk and invests her life savings in his dream. Then one day Benji disappears, relapsing to a place where Allie can't reach him. Left with nothing but a massive withdrawal slip and a restaurant that absolutely must open in a matter of weeks, Allie finds herself thrust into a world of luxury and greed, cutthroat business and sensory delight. Lost in the mess of it all, she can either crumble completely or fight like hell for the life she wants and the love she deserves.--Provided by publisher.
Husband Material
ISBN: 1525805983 OCLC: 1111168398 Graydon House, 2019 Twenty-nine-year-old Charlotte Rosen has a secret: she's a widow. Ever since the fateful day that leveled her world, Charlotte has worked hard to move forward. Great job at a hot social media analytics company? Check. Roommate with no knowledge of her past? Check. Adorable dog? Check. All the while, she's faithfully data-crunched her way through life, calculating the probability of risk so that she can avoid it. Charlotte's algorithms could never have predicted that her late husband's ashes would land squarely on her doorstep five years later. Stunned but determined, Charlotte sets out to find meaning in this sudden twist of fate, even if that includes facing her perfectly coiffed, and perfectly difficult, ex-mother-in-law, and her husband's best friend, who seems to become a fixture at her side whether she likes it or not. But soon a shocking secret surfaces, forcing Charlotte to answer questions she never knew to ask and to consider the possibility of forgiveness.