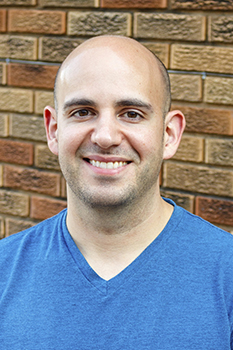 Adib Khorram
Born:
Kansas City, Missouri
Connection to Illinois
: Khorram studied design and technical theater at Southern Illinois University, Edwardsville, with an emphasis in lighting design.
Biography
: Adib Khorram lives in Kansas City, Missouri. When he isn't writing, you can probably find him trying to get his hundred-yard freestyle under a minute, learning to do a Lutz jump, or steeping a cup of oolong. His debut novel, Darius the Great Is Not Okay, earned several awards, including the William C. Morris Debut Award, the Asian/Pacific American Award for Young Adult Literature, and a Boston Globe-Horn Book Honor. It has also been optioned for film by Universal & Mandeville Films.
---
Awards
:
-- Darius the Great is Not Okay - YALSA William C. Morris Award. APALA Asian/Pacific American Literature Award. Boston Globe-Horn Book Honor. Lambda Literary Award Finalist. ALAN Amelia Elizabeth Walden Award Finalist. Midwest Booksellers Choice Award. 2021
-- Seven Special Somethings - Starred review - School Library Journal.
-- Darius the Great Deserves Better - Stonewall Honor Book. Starred Reviews - Kirkus, School Library Journal, and Booklist. An Instant Indie Bestseller.
-- Kiss and Tell - Starred Reviews - Kirkus, Booklist, Publishers Weekly and Bulletin of the Center for Children's Books.
Primary Literary Genre(s):
Fiction
Primary Audience(s):
Young adult readers
E-Mail:
adibwrites (at) gmail (dot) com
Instagram:
https://www.instagram.com/adibkhorram/
Twitter:
https://twitter.com/adibkhorram
Web:
https://adibkhorram.com
Web:
https://adibkhorram.tumblr.com/
---
Selected Titles
Darius the Great Deserves Better
ISBN: 059310823X OCLC: Dial 2020 Darius Kellner has everything he thought he wanted--a new boyfriend, a new internship, and a spot on the soccer team--but growing up makes him question everything --
Darius the Great Is Not Okay
ISBN: 0525552979 OCLC: Penguin 2019 Darius Kellner speaks better Klingon than Farsi, and he knows more about Hobbit social cues than Persian ones. He's a Fractional Persian--half, his mom's side--and his first-ever trip to Iran is about to change his life. Darius has never really fit in at home, and he's sure things are going to be the same in Iran. His clinical depression doesn't exactly help matters, and trying to explain his medication to his grandparents only makes things harder. Then Darius meets Sohrab, the boy next door, and everything changes. Soon, they're spending their days together, playing soccer, eating faludeh, and talking for hours on a secret rooftop overlooking the city's skyline. Sohrab calls him Darioush--the original Persian version of his name--and Darius has never felt more like himself than he does now that he's Darioush to Sohrab. -- Back cover.
Kiss & Tell
ISBN: 0593325265 OCLC: DIAL, 2022. On boy band Kiss & Tell's first major tour, lead singer Hunter Drake grapples with a painful breakup with his first boyfriend, his first rebound, and the stress of what it means to be queer in the public eye.
Seven Special Somethings: A Nowruz Story
ISBN: 0593108264 OCLC: Dial 2021 After accidentally ruining his family's haft-seen, a display of seven traditional items to bring luck in the Persian New Year, young Kian finds seven unusual items to replace them. Includes facts about Nowruz.