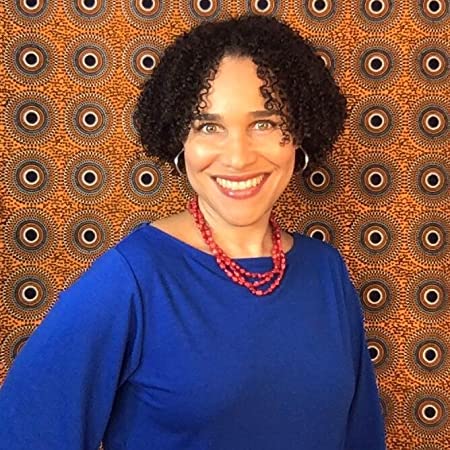 Zetta Elliott
Born:
1972
Connection to Illinois
: Elliott currently lives in Evanston.
Biography
: Zetta Elliott is a Black feminist writer of poetry, plays, essays, novels, and stories for children. She was born and raised in Canada, but has lived in the US for over 25 years. She earned her PhD in American Studies from NYU in 2003; she has taught at Ohio University, Louisiana State University, Mount Holyoke College, Hunter College, Bard High School Early College, and Borough of Manhattan Community College. Her poetry has been published in New Daughters of Africa, We Rise, We Resist, We Raise Our Voices, the Cave Canem anthology The Ringing Ear: Black Poets Lean South, Check the Rhyme: an Anthology of Female Poets and Emcees, and Coloring Book: an Eclectic Anthology of Fiction and Poetry by Multicultural Writers. Her novella, Plastique, was excerpted in T Dot Griots: an Anthology of Toronto's Black Storytellers, and her plays have been staged in New York, Cleveland, and Chicago. Her essays have appeared in School Library Journal, The Huffington Post, and Publishers Weekly. She received the Childrens Literature Associations Article Award for her 2014 essay, The Trouble with Magic: Conjuring the Past in New York City Parks. She is an advocate for greater diversity and equity in publishing, and has self-published numerous illustrated books for younger readers under her own imprint, Rosetta Press; 3 were named Best of the Year by the Bank Street Center for Childrens Literature, and Benny Doesnt Like to Be Hugged was a first-grade fiction selection for the 2019 Scripps National Spelling Bee. Dragons in a Bag, a middle grade fantasy novel, was published by Random House in 2018; the Association for Library Service to Children (ALSC) named it a Notable Childrens Book. Its sequel, The Dragon Thief, was named a Best Middle Grade Book of 2019 by CBC Books. Say Her Name, a young adult poetry collection, was published by Little, Brown Books for Young Readers in January 2020; A Place Inside of Me was published in July 2020 by FSG and was named a Notable Poetry Book by NCTE.
---
Awards
:
Bird Lee & Low New Voices Honor Award Best of 2008, Kirkus Reviews (& starred review) 2009 ALA Notable Children's Book Coretta Scott King/John Steptoe Award for New Talent & Ezra Jack Keats New Illustrator Award (won by Shadra Strickland) Bank Street College Best Children's Book 2009 2009 Paterson Prize for Books for Young Readers 2011 West Virginia Children's Choice Book Award
Ship of Souls Booklist Top Ten Sci-fi/Fantasy Title for Youth and was a finalist for the Phillis Wheatley Book Award Starred Review - Booklist
The Door at the Crossroads Finalist in the Speculative Fiction category of the 2017 Cybils Awards
Melenas Jubilee Winner of a 2017 Skipping Stones Honor Award! Named a 2017 Bank Street College Best Children's Book of the Year—with a star for outstanding merit! Named a Best Picture Book of 2016 by Betsy Bird @ School Library Journal!
Dragons in a Bag A 2021 GLOBAL READ ALOUD SELECTION AN ALA-ALSC NOTABLE CHILDREN'S BOOK AN NPR BEST BOOK OF THE YEAR A CHICAGO PUBLIC LIBRARY BEST BOOK OF THE YEAR A KIRKUS REVIEWS BEST BOOK OF THE YEAR NOMINATED FOR YOUNG READERS CHOICE AWARDS IN 8 STATES
A Place Inside of Me Bank Street College of Education's 2021 Edition of the Best Children's Books of the Year (9-12 year olds) Noa Denmon won the 2021 Caldecott Honor Award! 2021 ALA Notable Book Today Show Best Book for the Holidays NCTE Notable Poetry Book Nerdy Award Winner for Single Poem Picture Book 2021 Choices selection by the Cooperative Children's Book Center 2021 Skipping Stones Honor Award
The Witch's Apprentice Starred Review - Youth Services Book
Moonwalking A Junior Library Guild Gold Standard Selection! A CBC Books 2022 "summer pick" recommended by Bee Quammie. A 2022 NYPL Best Book and one of Kirkus Reviews Top 100 Middle Grade Novels of 2022. MOONWALKING won a 2022 Nerdy Book Club Award! A 2023 Books for a Global Society award winner!
Say Her Name Winner of the 2021 Lion & the Unicorn Award for Excellence in North American Poetry! Named a 2020 Book of the Year for Young People by Quill & Quire and a 2020 "Best of the Best" YA Title by the Black Caucus of the American Library Association. SAY HER NAME was nominated for the YALSA 2021 Nonfiction Award and is a Top Ten title for Rise: A Feminist Book Project. The Cooperative Children's Book Center included SAY HER NAME in its 2021 Choices List and the Ontario Library Association named it a 2021 "Best Bet." The audiobook was a finalist for the 2021 Audies and Channie Waites won the Audiophile Earphones Award! Listen to an excerpt here. Bank Street College of Education's 2021 Edition of the Best Children's Books of the Year (12-14 year olds)
Primary Literary Genre(s):
Fiction; Non-Fiction
Primary Audience(s):
Adult readers; Children; Young adult readers
Web:
http://www.zettaelliott.com/
Web:
https://twitter.com/zettaelliott
Web:
https://en.wikipedia.org/wiki/Zetta_Elliott
---
Selected Titles
A Wish After Midnight
ISBN: 0982555059 OCLC: 528835852 Skyscape New York, NY : 2010 Genna is a fifteen-year-old girl who wants out of her tough Brooklyn neighborhood. But she gets more than she bargained for when a wish gone awry transports her back in time. Facing the perilous realities of Civil War-era Brooklyn, Genna must use all her wits to survive.
A Hand to Hold
ISBN: 1530033667 OCLC: CreateSpace 2016 Can you hold onto someone with your heart instead of your hand? When it's time to start school, a little girl must let go of her father's hand in order to reach out and grab hold of something new.
A Place Inside of Me
ISBN: 0374307415 OCLC: 1123188349 FSG Las Vegas, NV : 2020 In this powerful, affirming poem by award-winning author Zetta Elliott, a Black child explores his shifting emotions throughout the year. There is a place inside of me / a space deep down inside of me / where all my feelings hide. Summertime is filled with joy -- skateboarding and playing basketball -- until his community is deeply wounded by a police shooting. As fall turns to winter and then spring, fear grows into anger, then pride and peace. In her stunning debut, illustrator Noa Denmon articulates the depth and nuances of a child's experiences following a police shooting -- through grief and protests, healing and community -- with washes of color as vibrant as his words. Here is a groundbreaking narrative that can help all readers, children and adults alike, talk about the feelings hiding deep inside each of us. -- Publisher.
A Wave Came Through Our Window
ISBN: 151503352X OCLC: CreateSpace 2015 Two sisters find a way to endure the hot summer nights by savoring the scents and sounds carried into their bedroom on currents of air. The girls lie awake and wait for each new wave to arrive, bringing jazz and Latin music, the smell of fried fish, the screeching of alley cats, and a soothing surprise that finally lulls the children to sleep.
American Phoenix: poems
ISBN: B08KH3RFJW OCLC: Independently Published 2020 AMERICAN PHOENIX, the second collection of poetry by award-winning author Zetta Elliott, extends the themes of resilience and resistance found in SAY HER NAME. Responding to the devastation of both the pandemic and police brutality, Elliott offers forty new poems that reflect upon the cycle of life, the struggle for liberation, and the artist's role in ensuring our survival.
An Angel for Mariqua
ISBN: 1517655463 OCLC: CreateSpace 2016 Christmas is coming, but eight-year-old Mariqua Thatcher isn't looking forward to the holidays. Mama's gone and Gramma doesn't know what to do with her feisty granddaughter. Almost every day Mariqua gets into a fight at school, and no one seems to understand how she feels inside. But things start to change when a mysterious street vendor gives Mariqua a beautifully carved angel as a gift. Each night Mariqua whispers in the angel's ear and soon her wishes start to come true! Mariqua begins to do better at school, and she even wins an important role in the church pageant. But best of all, Mariqua becomes friends with Valina Peterson, a teenager who lives in Mariqua's building. Valina helps Mariqua learn how to control her anger and reminds her pretend little sister that "everyone has a story to tell." Their friendship is tested, however, when Mariqua discovers that Valina has been keeping a secret about her own mother. Can the magic angel make things better? A touching story about love, compassion, and the gift within every heart. For children age 8+.
Benny Doesnt Like to Be Hugged
ISBN: 1548184896 OCLC: 1007770371 CreateSpace Las Vegas, NV : 2017 A little girl uses rhyming verse to describe the unique traits of her autistic friend. Benny likes trains and cupcakes without sprinkles, but he can also be fussy sometimes. The narrator doesn't mind, however, because true friends accept each other just the way they are. A gentle story encouraging children to appreciate and accept out differences.--Page [4] of cover.
Billie's Blues
ISBN: 1500260339 OCLC: CreateSpace 2016 Billie's best friend thinks their neighbor, Ms. Marble, is crazy. Supposedly Ms. Marble has a hundred cats in her apartment and sings to them all day long. But when Billie spends an afternoon with her elderly neighbor, she discovers that Ms. Marble is actually a lot of fun! Ms. Marble introduces Billie to Lady Day, Ma Rainey, and other great blues singers. Together they dress up in antique clothes and sing and dance to the blues. Then Ms. Marble shares an old secret she has been keeping in her heart. Billie learns that "some hurts stay inside you a mighty long time," but the optimism of the blues triumphs in the end; Ms. Marble assures her young friend that "the sun's gonna shine in my back door someday."
Bird
ISBN: 160060241X OCLC: 191023770 Lee & Low Book, New York, NY : ©2008. Bird, an artistic young African American boy, expresses himself through drawing as he struggles to understand his older brother's drug addiction and death, while a family friend, Uncle Son, provides guidance and understanding.
Chicken Wonders...Why?
ISBN: B0BTT6VTQR OCLC: Independently Published 2023 Every night on the farm, Dick and Jane gather the animals in the barn to tell them a bedtime story. When the farmers go on vacation, Pig offers to serve as storyteller but Goat insists that certain rules must be followed. Chicken wonders why all stories have to start and end the same way. Isn't it more interesting and fun when each story is unique?
Cin's Mark
ISBN: 1726772675 OCLC: Independently Published 2018 Ever since his uncle committed suicide, thirteen-year-old Taj has been trying to hold his family together. He'd do anything to see his mother happy again so when Taj meets a strange woman in Woodlands Cemetery, he carefully considers her curious offer: directions to a magical door that will let Taj and his mother escape this world's misery. All he has to do in return is find something precious that was taken from the woman over a hundred and fifty years ago. But can Taj reach the portal once the vengeful ghost's wrath is unleashed upon the city?
Dayshaun's Gift
ISBN: 1515008355 OCLC: 940575727 CreateSpace Las Vegas, NV : 2015 After putting on his grandfather's gardening hat, Dayshun travels back in time to the free Black community of Weeksville, Brooklyn, during the summer of 1863!--Page 4 of cover.
Dragons in a Bag
ISBN: 1524770450 OCLC: 1021080878 Random House Las Vegas, NV : 2018 When Jaxon is sent to spend the day with a mean old lady his mother calls Ma, he finds out she's not his gradmother - but she is a witch! She needs his help delivering baby dragons to a magical world where they'll be safe. There are two rules when it comes to the dragons: don't let them out of the bag and don't feed them anything sweet. Before he knows it, Jax and his friends Vikram and Kavita have broken both rules! Will Jax get the baby dragons delivered safe and sound? Or will they be lost in Brooklyn forever? --
Everyone Has a Story to Tell: Tips & Activities for Emerging Writers
ISBN: 1987455657 OCLC: CreateSpace 2018 Award-winning author Zetta Elliott has worked with kids and teens for thirty years. In this affordable, accessible guide she offers tips and activities designed to help emerging writers share their stories with the world. An important resource for educators committed to using inclusive literature in the classroom.
Find Your Voice
ISBN: 1095401890 OCLC: Independently Published 2019 How do you become a writer? You write! It sounds easy but many of us struggle to express ourselves. These simple activities are designed to build your confidence as a writer. Everyone has a story to tell and there are lots of different ways to tell that story. This guide will provide several options so that you can make writing a daily practice. Your voice matters, so make your voice heard!
Fox & Crow: A Christmas Tale
ISBN: 1502520249 OCLC: CreateSpace 2014 Fox and Crow are old friends who enjoy trying to outsmart one another. One winter evening, mischievous Crow plays a trick that leaves Fox with his head stuck in an empty jar! Instead of helping her friend, Crow flies off to have an adventure in town. Humbled by his embarrassing predicament, Fox must also leave the safety of the forest to search for help. Both creatures know from experience that humans can be wasteful and cruel, but on this special night, Fox and Crow see humans in a new light after they each bring joy to members of a family whose holiday spirit has been dimmed by illness. Inspired by actual events, Fox & Crow: A Christmas Tale is a contemporary take on Aesop's beloved fable.
I Love Snow!
ISBN: 1514348470 OCLC: 941812380 CreateSpace Las Vegas, NV : 2015 Too much snow can sometimes cause problems, and in time turns to dirty gray slush. But in the end, nothing can diminish a child's love of snow! -- Page [4] of cover.
Let the Faithful Come
ISBN: 1516892496 OCLC: 934138512 CreateSpace Las Vegas, NV : 2015 In this simple retelling of the nativity story, people come from all over to celebrate and recognize the value of each child born in this world.
Max Loves Muecas!
ISBN: 1497332028 OCLC: 900886820 CreateSpace Las Vegas, NV : 2014 Max wants to visit a beautiful boutique that sells handmade dolls, but he worries that other children will tease him. When he finally finds the courage to enter the store, Max meets Senor Pepe who has been making dolls since he was a boy in Honduras. Senor Pepe shares his story with Max and reminds him that, there is no shame in making something beautiful with your hands. Sewing is a skill--just like hitting a baseball or fixing a car.
Melenas Jubilee
ISBN: 0884484432 OCLC: 949986627 Tilbury House Las Vegas, NV : 2016 Forgive and be forgiven. It sounds so appealing - why doesn't it happen every day? Finding herself forgiven on a rain-scrubbed morning after a difficult day, Melena seizes her fresh start and shares the song in her heart with her family and friends. It's a day of new beginnings. It's Melena's jubilee--
Milo's Museum
ISBN: 1537580965 OCLC: 972352114 CreateSpace Las Vegas, NV : 2016 Milo is excited about her class trip to the museum. The docent leads them on a tour, and afterward Milo has time to look around on her own. But something doesn't feel right, and Milo gradually realizes that the people from her community are missing from the museum. When her aunt urges her to find a solution, Milo takes matters into her own hands and opens her own museum!
Moonwalking
ISBN: 0374314373 OCLC: 1237252575 FSG Las Vegas, NV : 2022 In 1980s Brooklyn, new student JJ Pankowski, an autistic, punk-rock-lover, befriends Pie Velez, an Afro-Latinx math geek and graffiti artist.
Mother of the Sea
ISBN: 1544263856 OCLC: CreateSpace 2017 When her village is raided, a teenage girl finds herself on a brutal journey to the coast of Africa and across the Atlantic. Her only comfort is a small child who clings to her for protection. But once they board the slave ship, the child reveals her rebellious nature and warns that her mother--a fierce warrior--is coming to claim them all.
On My Block
ISBN: B088B4MG2H OCLC: Independently Published Las Vegas, NV : 2020 A child shares their neighborhood's best features by focusing on the sights, sounds, and scents on each block. Parks encourage urban wildlife, gardens add color and beauty, chalk drawings brighten the pavement, and different cultures blend in a single community. For very young children, their world is often only as big as the families and neighbors on their block, and these rhyming verses reflect that microcosm of urban life.
One Eye Open
ISBN: 1461079896 OCLC: CreateSpace 2011 More than anything, Nina Traymore wants stability in her life. After graduating from college, Nina returns to New York City determined to immerse herself in the struggle to revive impoverished communities. Her world is shattered, however, when she is brutally raped in her home by a male acquaintance. Traumatized by the violation but fearful of life outside the city's familiar limits, Nina accepts a teaching position in Brooklyn and moves there hoping to piece her life back together. At the Sojourner Center for Families and Youth, Nina meets Isaiah Edwards, an aspiring architect whose privileged upbringing saved him from many of the traps that have ensnared his childhood friends. Although he intends to detach himself from his inner-city roots, Isaiah soon finds himself caring for Nina, though she seems bound to the crumbling community. Torn between her love for Isaiah and her duty to the children she serves, Nina must decide whether her path to healing lies abroad or in the beautiful yet brutal city that has been her home for so many years.
Perennial
ISBN: B0BVD5T3LY OCLC: Independently Published 2023 In her third collection of poetry, Zetta Elliott explores the certainties of life in the US—tulips blooming in the spring, police officers killing unarmed Black people, ginkgo leaves turning gold in autumn, and mass shooters targeting people of color simply trying to live their lives. Using free verse, tanka, and haiku, Elliott contrasts the beauty of each season with the brutality of American injustice, revealing the contradictions of contemporary urban life. Elliott's voice reveals vulnerability and defiance as the Black feminist poet struggles to hold onto hope despite exhausting and enraging conditions.
Room In My Heart
ISBN: 1500908231 OCLC: CreateSpace 2014 It took some time for Nikki to adjust to her parents' divorce, but now she and her little sister Natalie enjoy their new routine. Daddy comes over for dinner on Tuesday nights and the girls spend each weekend with him. But everything changes when Daddy picks them up for their weekend visit and introduces the girls to his new friend Sylvia. Nikki feels invisible when Sylvia's around and so she decides not to spend the weekend with Daddy anymore. Only after talking about her feelings with her aunt does Nikki learn that her father's love is unchanging, and that there is room in his heart to love many different people.
Roots Run Deep
ISBN: B08RR7G6P6 OCLC: Independently Published 2020 Africans brought to the Americas faced many challenges, but they never forgot their ancestral home. In this lyrical narrative, young readers witness the resilience and determination of Africans as they resist enslavement and fight for their rightful place as citizens of the United States.
Say Her Name
ISBN: 1368045243 OCLC: 1084621478 Little Brown Las Vegas, NV : 2020 Inspired by the #SayHerName campaign launched by the African American Policy Forum, these poems pay tribute to victims of police brutality as well as the activists insisting that Black Lives Matter. Elliott engages poets from the past two centuries to create a chorus of voices celebrating the creativity, resilience, and courage of Black women and girls. -- amazon.com
Ship of Souls
ISBN: 1612182682 OCLC: 759913498 AmazonEncore, Las Vegas, NV : ©2011. Set in New York City, Ship of Souls features a cast of three African-American teens: D, a math whiz, Hakeem, a Muslim basketball star; and Nyla, a beautiful military brat. When D's mother dies of breast cancer, he is taken in by Mrs. Martin, an elderly white woman. Grateful to have a home, D strives to please his foster mother and succeeds--until Mercy arrives. Unable to compete with a needy, crack-addicted baby, D disappears into the nearby park and immerses himself in bird watching. At school, he unexpectedly makes friends with Nyla and Hakeem, but just when D thinks he has finally found a way to belong, an unexpected discovery in the park changes everything. A mysterious bird leads D and his friends on a perilous journey that will take them from Brooklyn to the African Burial Ground in lower Manhattan, and into the very realm of the dead. Their courage and loyalty are tested every step of the way, but in the end, it is D who must find the strength to fulfill his destiny. Steeped in history and suspense, this inspiring urban fantasy provides an enriching experience that readers will find hard to forget.--Page 4 of cover.
Stranger In The Family
ISBN: 1441476431 OCLC: [United States] : CreateSpace [United States] : 2009 Stranger in the Family is a mixed-media memoir that examines the shifting terrain upon which we negotiate race, kinship, and identity. When my father died of cancer in the spring of 2004, I accepted an offer to teach in the tiny east African country of Djibouti. While abroad, I reflected upon the complicated concept of diaspora, and the alienation I sometimes felt as a foreigner brought to mind a hurtful remark my father once directed at me: "You're a stranger in this family." When my teaching assignment in Djibouti ended prematurely, I returned to Toronto and wrote a collection of essays to more closely examine my "outsider" role within my family and my native land. Stranger in the Family uses prose, photography, short stories, and poetry to trace my evolution as a black woman, a writer, a daughter, and a Canadian.
The Boy in the Bubble
ISBN: 1497444780 OCLC: CreateSpace 2014 A mysterious boy from another planet chooses an unusual girl as his guide on Earth. Both children lead solitary lives: the girl lives under a rock and lives on a diet of dreams; the boy, encased in a bubble, is unable to touch--or be touched by-- anything around him. As their friendship develops, however, the mysterious boy and the unusual girl begin to recognize the limits of their sheltered lives. The two children quarrel, but ultimately, they find a way to shatter the bubble that separates them from one another and the world.
The Deep
ISBN: 149290211X OCLC: CreateSpace 2013 THE DEEP plunges readers into a dangerous, underground world policed by members of The League, a secret group of women and men who use their intuitive abilities to detect energy surges far below the earth's surface. In the deep, ancient sources of malevolent energy are bubbling up through the bedrock, and only members of The League know how to detect and seal the leaks that allow evil to enter the world. Nyla Evans knows nothing about the war being waged beneath the city. It has been almost a year since she moved from Ramstein Air Base in Germany to Brooklyn, and Nyla is still searching for a way to belong. It doesn't help that she has started to hallucinate while walking the city streets, but things get even stranger when a man named Osiris approaches her and offers to introduce Nyla to others who have similar "gifts." When Nyla refuses, her friend D is kidnapped and held in the deep until Nyla agrees to let Osiris guide her underground. There, miles beneath Brooklyn, Nyla meets Lada—the mother who abandoned her a decade ago. Furious that Nyla is being recruited by The League, Lada tries to prevent her daughter from following in her footsteps. But Nyla feels at home in the deep and her training begins at an accelerated pace when The League discovers an earthquake will soon hit Brooklyn, releasing unprecedented levels of malevolent energy into the city. THE DEEP is the companion book to SHIP OF SOULS (2012), a Booklist Top Ten Sci-Fi/Fantasy Title for Youth and finalist for the Phillis Wheatley Book Award.
The Door at the Crossroads,
ISBN: 1515392163 OCLC: 950740631 CreateSpace Las Vegas, NV : 2016 One summer night, Genna Colon makes a fateful wish that sends her and her boyfriend Judah spiraling through time. They land hours apart in the city of Brooklyn--and in the middle of the Civil War. Genna is taken to the free Black community of Weeksville, but Judah suffers a harsher fate and is sent to the South as a slave. Judah miraculously makes his way back to Genna, but the New York City Draft Riots tear them apart once more. When Genna unexpectedly returns to her life in contemporary Brooklyn, she vows to fulfill the mandate of sankofa: go back and fetch it. But how will she summon the power she needs to open the door that leads back to Judah?
The Dragon Thief
ISBN: 1524770493 OCLC: 1048093855 Random House Las Vegas, NV : 2019 Told in two voices, Jax and Kavita, Kavita's brother Vik, and new friend Kenny try to return the baby dragon to the realm of magic before anything else goes wrong.
The Enchanted Bridge (Dragons in a Bag)
ISBN: 0593427777 OCLC: Yearling 2024 Getting three baby dragons back home was just the beginning. Now Jaxon is on a mission to help all magical creatures from Dragons in a Bag! But things in the magical realm are more complicated than they seem in the fourth book in the critically acclaimed series. With their new special abilities, Jaxon and his friends are not the ordinary kids they used to be. No longer destined to become a witch, Jax finds himself caught up in a secret plan involving the Guardian of Palmara's mysterious twin brother, Ol-Korrok. As the ambassador to the realm of magic, Jax must convince Sis that magical creatures should be free to return to the human world. But to reach Palmara, Jax and his friends must cross Ol-Korrok's enchanted bridge connecting the two realms. Is Ol-Korrok really the ally he pretends to be? Or has Jax set in motion a plan that will endanger both realms? It takes strength to build a bridge. But sometimes even the strongest bridges must be burned.
The Ghosts in the Castle (City Kids)
ISBN: 1540357589 OCLC: CreateSpace 2017 Zaria has dreamed of England for as long as she can remember—according to the novels she's read, everything magical happens there! When her grandfather suffers a stroke, Zaria and her mother head to London to help care for him. Zaria reads fantastic tales to her grandfather every afternoon, and she's thrilled to discover that her cousin Winston shares her love of wands, wizards, and mythical creatures. But Zaria soon finds that life in London is actually quite ordinary—until she goes on a day trip to nearby Windsor Castle. There Zaria meets two extraordinary ghosts who need help finding their way back to the African continent they once called home.
The Girl Who Swallowed the Sun
ISBN: 1499606087 OCLC: CreateSpace 2014 On the outside, Zoe looks like an ordinary little girl, but her father knows just how special she is inside. On cloudy days, they pretend that she has swallowed the sun, and then together Zoe and her father put it back up in the sky. After the terrible events of September 11th, Zoe decides she must secretly swallow the sun both to keep it safe, and to fill the void left by her missing father. As the days pass, however, the sun inside Zoe becomes too heavy a burden to bear. With her mother's help, Zoe learns to accept her father's death, and she puts the sun back in the sky where it belongs.
The Last Bunny in Brooklyn
ISBN: 1500870412 OCLC: 905244386 CreateSpace Las Vegas, NV : 2014 Chloe isn't a social bunny, but she enjoys her solitary life in the Brooklyn Botanic Garden. As autumn approaches, however, Chloe realizes that all the other bunnies have gone away. The little rabbit enlists the help of her neighbors to solve the mystery. Should she wait for them to return, or should she leave the safety of the garden to find her family?--Publisher.
The Magic Mirror
ISBN: 149736471X OCLC: CreateSpace 2014 When a boy at school hurts Kamara's feelings, she goes home and asks her grandmother if the mean words are really true. Gramma tells Kamara to go upstairs and clean the old mirror in the guest room. But when Kamara starts to rub the glass, she discovers that the mirror is magical! Kamara sees brave women from the past who faced many challenges yet never gave up hope. When the historical journey ends in the twenty-first century, the mirror once again shows Kamara her own reflection. She sheds her self-doubt and instead draws strength from the courage of the women she met in the magic mirror.
The Phantom Unicorn (City Kids)
ISBN: 1975659635 OCLC: CreateSpace 2017 It's lonely being the new kid on the block, especially when your family is "unique." Q has left California behind to start a new life in New York City with his two moms and baby sister. He can't wait for his dad to come up for the weekend, but the visit is canceled when Q's father gets arrested while attending a peace march. A special gift from his father leads to adventure, however, and Q is astonished when a medieval tapestry comes to life while he's visiting a nearby museum. With the help of two new friends, Q must face his fears and battle a villain who has waited five hundred years to destroy the world! Book #4 in the City Kids series.
The Phoenix on Barkley Street
ISBN: 1500589403 OCLC: 900668557 Las Vegas, NV : 2014 Best friends Carlos and Tariq love their block, but Barkley Street has started to change. The playground has been taken over by older boys, which leaves Carlos and Tariq with no place to call their own. They decide to turn the yard of an abandoned brownstone into their secret hang-out spot. Carlos and Tariq soon discover, however, that the overgrown yard is already occupied by an ancient phoenix! When the Pythons try to claim the yard for their gang, the magical bird gives the friends the courage to make a stand against the bullies who threaten to ruin their beloved neighborhood.
The Return
ISBN: 1537560743 OCLC: CreateSpace 2018 After a devastating injury, seventeen-year-old Hakeem Diallo is leaving basketball and his life in Brooklyn behind to spend the summer with his grandmother in Senegal. Three years have passed since the earthquake of 2011 when Keem witnessed his girlfriend's apparent suicide in the deep. Weeks later he received a mysterious text that led him to believe Nyla might still be alive, but her silence over the years has led Keem to believe that the girl he once loved is gone. Keem arrives in Dakar determined to put the past behind him, but then Nyla unexpectedly returns and draws him back into her dangerous world. Once trained by The League, Nyla is now a fugitive with a mission to expose their corruption. As Nyla grows more and more powerful, she inspires both fear and awe in others. Keem cannot deny his love for her and yet he fears that Nyla has become a jinn--a demon. When The League finally hunts Nyla down, Keem's loyalty is tested. Is he willing to give his life for a girl who is no longer human?
The Witch's Apprentice
ISBN: 059342770X OCLC: 1251741329 Random House Las Vegas, NV : 2022 Now that he is Ma's apprentice Jax is finding himself mixed up with all sorts of magical doings, like taking care of a phoenix egg which is going to hatch soon, trying to bring back the creatures Sis stole, finding his grandfather, and convincing Sis, the guardian, to reunite the two realms--and hopefully living to see Brooklyn again.