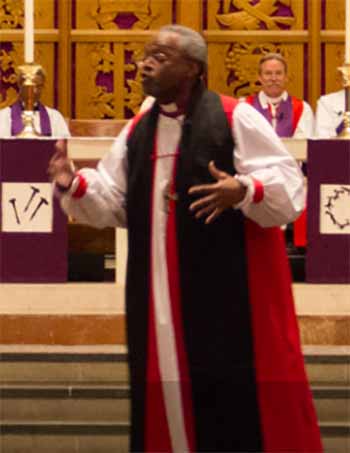 Michael B. Curry
Born:
1953 in Maywood, Illinois
Pen Name:
Connection to Illinois
: Curry was born in Maywood, a suburb of Chicago.
Biography
: The Most Reverend Michael B. Curry is the presiding bishop and primate of the Episcopal Church. Elected in 2015, he is the first African-American to lead the denomination. He was previously bishop of the Episcopal Diocese of North Carolina. A noted advocate for human rights and author of several books, Bishop Curry is recognized as one of the most popular preachers in the English language. He and his wife Sharon Curry have two daughters, Rachel and Elizabeth. They live in North Carolina.
---
Awards
:
Primary Literary Genre(s):
Non-Fiction
Primary Audience(s):
Adult readers
Web:
https://www.episcopalchurch.org/presiding-bishop-michael-curry/biography/
Wikipedia:
https://en.wikipedia.org/wiki/Michael_Curry_(bishop)
WorldCat:
http://www.worldcat.org/search?q=Michael++B.++Curry
---
Selected Titles
Crazy Christians: A Call to Follow Jesus
ISBN: 0819228850 OCLC: 844245154 Morehouse Publishing [Place of publication not identified], 2013 As has been true throughout Christianity the faithful need to be ready to respond to challenging times and contexts. In this creative and lively book, Episcopal Bishop Michael Curry offers us refreshing reflections on how to be "crazy" to the world by acting faithful to God. Crazy Christians is based on Bp. Curry s 2012 General Convention homily and video that went viral on the web. It includes the acclaimed 2012 General Convention address "We need some Christians who are as crazy as the Lord. Crazy enough to love like Jesus, to give like Jesus, to forgive like Jesus, to do justice, love mercy, walk humbly with God, like Jesus. Crazy enough to dare to change the world from the nightmare it often is into something close to the dream that God dreams for it. And for those who would follow him, those who would be his disciples, those who would live as and be the people of the Way? It might come as a shock, but they are called to craziness." (Publisher).
Following the Way of Jesus: A clarion call to join the Jesus movement
ISBN: 1473697506 OCLC: 1046551484 HODDER & STOUGHTON LTD, [Place of publication not identified], 2019. Michael Curry leads off with a clarion call for us to join the Jesus Movement. A team of the Episcopal Church's brightest stars follow up with reflections on the practice of ministry in light of the movement: Sara Miles on encountering the other, Rob Wright on adaptive leadership, Broderick Greer on reconciliation, Anthony Guillen on new ministries, Megan Castellan on evangelism, and Kellan Day on ministry with young people. Diana Butler Bass closes with a word on making the world whole. Christians have been following Jesus together for some 2000 years - these leaders help to illuminate how we follow him in our time.
Love is the Way: Holding on to Hope in Troubling Times
ISBN: 0525543031 OCLC: 1147288033 Avery 2020 Walk the path of love with one of the warmest, most beloved spiritual leaders of our time, and learn how to put faith into action. Much of the world (read: two billion people) met Bishop Michael Curry when he delivered his sermon on the redemptive power of love at the royal wedding of Prince Harry and Meghan Markle at Windsor Castle. Here, he expands on his message of hope, in an inspirational roadmap for living the way of love, illuminated with moving lessons from his own life. As the descendant of slaves and the son of a civil rights activist, Bishop Curry's life illustrates massive changes in our times. Through the prism of his faith, ancestry, and personal journey, Love is the Way shows us how America came this far and, more importantly, how to go a whole lot farther. The way of love is essential for addressing the seemingly insurmountable challenges facing the world today: poverty, racism, selfishness, deep ideological divisions, competing claims to speak for God. This book will lead readers to discover the gifts they need in order to live the way of love: deep reservoirs of hope and resilience, simple wisdom, the discipline of nonviolence, and unshakable regard for human dignity--
Songs My Grandma Sang: The gift of faith through music
ISBN: 1473697484 OCLC: 1046546446 HODDER & STOUGHTON LTD, [Place of publication not identified], 2019.
The Power of Love: Sermons, reflections, and wisdom to uplift and inspire
ISBN: 0525542892 OCLC: 1048446899 Avery 2018 Bishop Curry shares five of his favorite sermons on the themes of love and social justice. Throughout there is one riveting, hopeful, and deceptively simple message: love and acceptance are what we need in these strange times. -- adapted from Amazon.com info