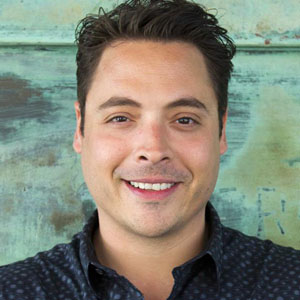 Jeff Mauro
Born:
1978 in Chicago, Illinois
Connection to Illinois
: Mauro is a Chicago native. He attended the Oak Park-River Forest High School in Oak Park and graduated from Bradley University in Peoria.
Biography
: Jeff Mauro is a Chef and TV Star of the Food Networks The Kitchen, Next Food Network Star, and Sandwich King. In his book, Come On Over, he shares his food tips, tricks and recipes, while talking family and entertaining guests.
---
Awards
:
Come On Over Starred Review - Publishers Weekly
Primary Literary Genre(s):
Non-Fiction
Primary Audience(s):
Adult readers
Web:
http://www.jeffmauro.com/web/
Web:
https://comeonover.com/
Web:
https://www.facebook.com/TheRealJeffMauro
Web:
https://twitter.com/jeffmauro
Web:
https://www.instagram.com/jeffmauro/
Web:
https://en.wikipedia.org/wiki/Jeff_Mauro
---
Selected Titles
Come On Over: 111 Fantastic Recipes for the Family That Cooks, Eats, and Laughs Together
ISBN: 0062997084 OCLC: 1162543713 Morrow 2021 Bursting with personality and mouthwatering dishes, a cookbook for family and friendly gatherings from celebrity chef Jeff Mauro, co-host of Food Network's The Kitchen. When Jeff Mauro was growing up in his big Italian American family in Chicago, his mother would often be on the phone talking to cousins, aunts, uncles, grandparents, and family friends. Her favorite phrase? Come on over! When Jeff heard those three words, he and his siblings knew company was coming and there would be good food to accompany their visit. A boy who loved to eat and make people laugh, Jeff was in heaven. Now the host of the Emmy-nominated The Kitchen on Food Network, Jeff still loves entertaining with his family. For Jeff, there's no better way to create shared memories than over a good meal. In Come on Over he invites everyone to share in the fun, providing delicious recipes for all occasions, from game day to birthdays to brunch, along with fun stories from his life. Whatever the get-together, Jeff has the perfect food to make it memorable—and make everyone feel like family—with recipes such as: Early Bird Gets the Brunch . . . Come On Over Sausage, Egg, and Cheese "MoMuffins" Marjorie Alice Ross Jones' Fried Pork Chops . . . for Breakfast Hey Bro, We're Watching the Game . . . Come On Over . . . And Pick Up Some Ice on the Way BLT Sliders with Candied Bacon Pancetta and Parm Popcorn Come On Over . . . I'm Throwing an Island Party Crispy Plantain Chips Takeout-Style Chinese Spare Ribs Do You Smell That Meat Smoke? That's Right, It's Coming from my Backyard . . . Come On Over Smoked Cheez-Its Smoked Honey-Glazed Cedar Plank Salmon Sarah's Baking . . . Come On Over Sarah's Famous Sea Salt Pecan Chocolate Chip Cookies No-Bake Cookie Butter Pie Overflowing with Jeff's big personality, celebration-ready food for friends and family, and gorgeous food and lifestyle color photographs, this laugh-out-loud-funny cookbook will inspire you to pick up the phone and invite your favorite people to share good times, eat good food, and make wonderful memories.