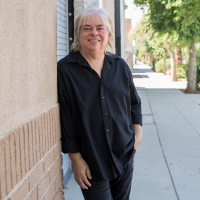 Charlie Glasgow
Born:
Connection to Illinois
: Glasgow grew up in Quincy.
Biography
: Charlie Glasgow is a life long fan of horror novels and a musician/singer. He has enjoyed a life long love affair with writing from my junior year in high school. Even though he never took it serious until my latter years, here he is with five novels under his belt. He also has three progressive blues CDs on Amazon under Charlie and the Fez Kings or Charlie & the Fez Kings. His love of music has been around since age five and never waned! The neighborhood Glasgow grew up in was full of mansions and being a child with an overactive imagination guided him towards a library card thanks to his grandmother and a tour of the greats from Edgar Allen Poe, Alfred Hitchcock and Shirley Jackson. In high school, he discovered the short stories of Stephen King and have followed his writings since then. Dean Koontz and Whitley Strieber were also on his radar as well as Brian Lumley from England with his wonderful Vampire stories and necromancy! He started writing House of Painted Souls in 1987. After picking up the original forty five pages and putting a good six months of writing into it, Glasgow finished the book. The tale is not quite over as he's already written a couple of sequels and is hoping to do a book of short stories called, Tales from the Family Vault. Glasgow now resides in Phoenix, Arizona.
---
Awards
:
Primary Literary Genre(s):
Fiction; Mystery
Primary Audience(s):
Adult readers
Facebook:
https://www.facebook.com/horror60/?modal=admin_todo_tour
Twitter:
https://twitter.com/charlieglasgow
Website:
https://allauthor.com/author/charlieglasgow/
WorldCat:
http://www.worldcat.org/search?q=Charlie++Glasgow
---
Selected Titles
Gravity
ISBN: B09BTDXPKZ OCLC: Independently Published 2021
Mr. Mayflower
ISBN: B08CWBCZNP OCLC: Independently Published 2020
The House of Painted Souls
ISBN: 1698171536 OCLC: Independently Published 2019
The House of Slumbers
ISBN: B08CWCFP1B OCLC: Independently Published 2020
Viking Lake
ISBN: B08F83WBQ3 OCLC: Independently Published 2020