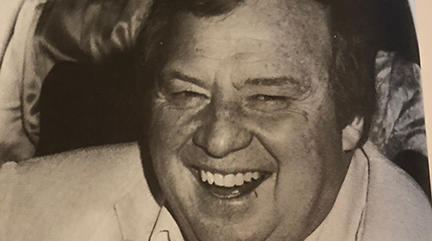 Royce Elliott
Born:
March 29, 1936 Stephenville, Texas
Died:
April 21, 2013 Peoria, Illinois
Connection to Illinois
: Elliott attended Irving Grade School and was a 1954 graduate of Woodruff High School - both in Peoria. He also attended Bradley University in Peoria and Western Illinois University in Macomb.
Biography
: Royce Elliott graduated from Woodruff High School, where he played baseball, basketball and football and participated in choir. He later attended Western Illinois University, where he played football and baseball. He also attended Bradley University. Along with his love of sports, Royce loved coaching and sponsoring local teams. He played several years in the Peoria Sunday Morning League and played fast pitch softball for about 20 years. Elliott's Jesters sponsored fast pitch teams, park district men's basketball teams, and youth track teams. He coached in the Salvation Army Biddy Basketball league and West Peoria Little League. Royce was best known as "America's funniest clean comedian." He traveled all over North America performing as an emcee for sports, corporate and charity events. Additionally, he entertained at venues such as Bally's Las Vegas, The Grand Ole Opry and Atlantic City; however, he could also be heard doing his routine at the Stadium Club in Peoria, Two Brother's Tap and local baseball fields. Many of his appearances can be found on Royceelliott.com. He made dozens of national television appearances on "The Ralph Emery Show," "Crook and Chase," "Nashville Now" and "The Statler Brothers Show." He worked with many celebrities such as Frank Sinatra, Lou Rawls, Rich Little, Barbara Mandrell, Vince Gill and Conway Twitty. He worked sports banquets and fantasy camps with sports stars Lou Brock, Bob Gibson, Fergie Jenkins, Terry Bradshaw, Jack Buck, Harry Caray and numerous others. After semi-retiring, he worked in the Peoria area as a co-host of "Breakfast With Royce and Roger," where he connected with his all-time favorite comedian, Jonathan Winters. He spent most Thursday mornings at Sterling Family Restaurant with good friends from the ROMEO (Retired Old Men Eating Out) club.
---
Awards
:
Primary Literary Genre(s):
Fiction
Primary Audience(s):
Adult readers
WorldCat:
http://www.worldcat.org/search?q=Royce++Elliott
YouTube:
https://www.youtube.com/watch?v=lmPDOrzE7BM
---
Selected Titles
My adventures with Booger and Skinny
ISBN: B0006R226C OCLC: M&D printing 1988
Royce!: The life, times, best jokes and funniest photos of America's favorite clean comedian
ISBN: B0006P8BKU OCLC: Royce Elliott 1994