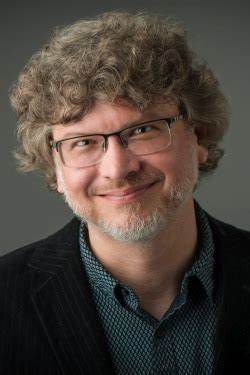 Jonathan Wright
Born:
Connection to Illinois
: Wright is a Peoria area native. He received his bachelor's degree from Bradley University in 1998.
Biography
: Jonathan Wright is a writer, editor, musician, and freelance journalist. He is a content strategist at Simantel and served 16 years as editor in chief at Peoria Magazines. A central Illinois native, he earned his bachelor's degree in business management & entrepreneurship at Bradley University before beginning his career as a computer programmer and web developer. Active in the community, he sits on the Peoria City/County Racial Justice & Equity Commission Steering Committee, Sun Foundation Board of Directors, Turner Center for Entrepreneurship Advisory Council, and Community Foundation of Central Illinois Marketing Committee. He has previously logged time as an independent publisher, freelance writer, published author, adjunct professor, vinyl DJ and concert promoter. He resides in Peoria with his wife, Dr. Mae Gilliland Wright.
---
Awards
:
Punks in Peoria: Making a Scene in the American Heartland Russell P. Strange Memorial Book of the Year Award
Primary Literary Genre(s):
Non-Fiction
Primary Audience(s):
Adult readers
LinkedIn:
https://www.linkedin.com/in/jdw23
Web:
https://linktr.ee/jonathan.wright
Web:
https://www.madeinpeoriail.com/punks-in-peoria-book/
Web:
https://www.wcbu.org/people/jonathan-wright
---
Selected Titles
Punks in Peoria: Making a Scene in the American Heartland (Music in American Life)
ISBN: 0252085795 OCLC: 1226924185 University of Illinois Press 2021 Synonymous with American mediocrity, Peoria was fertile ground for the boredom- and anger-fueled fury of punk rock. Jonathan Wright and Dawson Barrett explore the do-it-yourself scene built by Peoria punks, performers, and scenesters in the 1980s and 1990s. From fanzines to indie record shops to renting the VFW hall for an all-ages show, Peoria's punk culture reflected the movement elsewhere, but the city's conservatism and industrial decline offered a richer-than-usual target environment for rebellion. Eyewitness accounts take readers into hangouts and long-lost venues, while interviews with the people who were there trace the ever-changing scene and varied fortunes of local legends like Caustic Defiance, Dollface, and Planes Mistaken for Stars. What emerges is a sympathetic portrait of a youth culture in search of entertainment but just as hungry for community—the shared sense of otherness that, even for one night only, could unite outsiders and discontents under the banner of music.A raucous look at a small-city underground, Punks in Peoria takes readers off the beaten track to reveal the punk rock life as lived in Anytown, U.S.A.