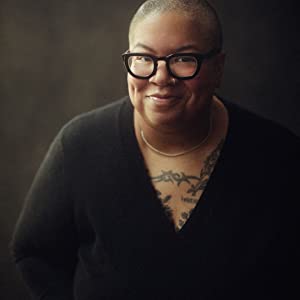 Samantha McKiver Irby
Born:
1980
Pen Name:
Samantha Irby
Connection to Illinois
: Irby grew up in Evanston.
Biography
: Samantha Irby is a longtime practitioner of the personal blog post. Her site, bitchesgottaeat.com, has spawned books of essays. She invites audiences right into her life, so they can rubberneck and relate. Few are successful on both counts.
---
Awards
:
Wow, No Thank You. #1 New York Times Bestseller; Lambda Literary Award for Bisexual Non-Fiction, 2021
We Are Never Meeting in Real Life. New York Times Bestseller; A New York Times Critics Top Book of the Year
Meaty A Cosmo Best 22 Books of the Year For Women, By Women • An Emily Books Book Club Selection
Primary Literary Genre(s):
Non-Fiction
Primary Audience(s):
Adult readers
Instagram:
https://www.instagram.com/bitchesgottaeat/
Web:
http://www.samanthairby.com/
Wikipedia:
https://en.wikipedia.org/wiki/Samantha_Irby
WorldCat:
http://www.worldcat.org/search?q=Samantha++McKiver++Irby
---
Selected Titles
Meaty: Essays
ISBN: 0525436162 OCLC: 1029604980 Vintage 2018 Irby laughs her way through tragicomic mishaps, neuroses, and taboos as she struggles through adulthood: chin hairs, depression, bad sex, failed relationships, masturbation, taco feasts, inflammatory bowel disease and more. Updated with her favorite Instagramable, couch-friendly recipes, this much-beloved romp is treat for anyone in dire need of Irby's infamous, scathing wit and poignant candor.
Quietly Hostile: Essays
ISBN: 0593315693 OCLC: 1345217558 Vintage 2023 Samantha Irby's career has taken her to new heights. She dodges calls from Hollywood and flop sweats on the red carpet at premieres (well, one premiere). But nothing is ever as it seems online, where she can crop out all the ugly parts. Irby got a lot of weird emails about Carrie Bradshaw, and not only is there diarrhea to avoid, but now—anaphylactic shock. She is turned away from restaurants for being inappropriately dressed and looks for the best ways to cope, i.e., reveling in the offerings of QVC and adopting a deranged pandemic dog. Quietly Hostile makes light as Irby takes us on another outrageously funny tour of all the gory details that make up the true portrait of a life behind the screenshotted depression memes. Relatable, poignant, and uproarious, once again, Irby is the tonic we all need to get by.
We Are Never Meeting in Real Life.: Essays
ISBN: 1101912197 OCLC: 961155460 Knopf Doubleday 2017 Whether Samantha Irby is talking about how her difficult childhood has led to a problem in making "adult" budgets; explaining why she should be the new Bachelorette (she's "35-ish, but could easily pass for 60-something"); detailing a disastrous pilgrimage-slash-romantic-vacation to Nashville to scatter her estranged father's ashes; sharing awkward sexual encounters; or dispensing advice on how to navigate friendships with former drinking buddies who are now suburban moms (hang in there for the Costco loot!); she's as deft at poking fun at the ghosts of her past self as she is at capturing powerful emotional truths.
Wow, No Thank You.: Essays
ISBN: 0525563482 OCLC: 1129200091 Vintage 2020 Irby is forty, and increasingly uncomfortable in her own skin despite what Inspirational Instagram Infographics have promised her. She has left her job as a receptionist at a veterinary clinic, has published successful books and has been friendzoned by Hollywood, left Chicago, and moved into a house with a garden that requires repairs and know-how with her wife in a Blue town in the middle of a Red state where she now hosts book clubs and makes mason jar salads. This is the bourgeois life of a Hallmark Channel dream. She goes on bad dates with new friends, spends weeks in Los Angeles taking meetings with "tv executives slash amateur astrologers" while being a "cheese fry-eating slightly damp Midwest person," "with neck pain and no cartilage in [her] knees," who still hides past due bills under her pillow. The essays in this collection draw on the raw, hilarious particulars of Irby's new life. Wow, No Thank You. is Irby at her most unflinching, riotous, and relatable.