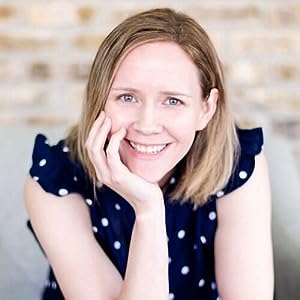 Becca Kinzer
Born:
Connection to Illinois
: Kinzer lives in Springfield.
Biography
: Becca Kinzer is a critical care nurse. When she's not taking care of sick patients or reminding her husband and two kids that frozen chicken nuggets is a gourmet meal, she enjoys making up lighthearted stories with serious laughs. She is a 2018 ACFW First Impressions Contest winner, a 2019 Genesis Contest winner, 2021 Cascade Award winner, and all-around champion coffee drinker. Dear Henry, Love Edith is her debut novel.
---
Awards
:
Primary Literary Genre(s):
Fiction; Romance
Primary Audience(s):
Adult readers
Blog:
https://www.beccakinzer.com/blog
E-Mail:
beccaannkinzer@gmail.com
Facebook:
https://www.facebook.com/becca.kinzer.5
Instagram:
https://www.instagram.com/beccaannkinzer/
Twitter:
https://twitter.com/beccakinzer
Web:
https://www.beccakinzer.com/
WorldCat:
http://www.worldcat.org/search?q=Becca++Kinzer
---
Selected Titles
Dear Henry, Love Edith: A Charming Mistaken-Identity Romantic Comedy
ISBN: 149646608X OCLC: 1333620957 2023 Tyndale House Publishers He thinks she's an elderly widow. She's convinced he's a grumpy old man. Neither could be further from the truth. After a short and difficult marriage, recently widowed Edith Sherman has learned her lesson. Forget love. Forget marriage. She plans to fill her thirties with adventure. As she awaits the final paperwork for a humanitarian trip to South Africa, she accepts a short-term nursing position in a small Midwestern town. The last thing she needs is a handsome local catching her eye. How inconvenient is that? Henry Hobbes isn't exactly thrilled to have Edith, who he assumes is an elderly widow, dumped on him as a houseguest for the summer. But he'd do almost anything for his niece, who is practically like a sister to him given how close they are in age. Especially since Edith will be working nights and Henry works most days. When he and Edith keep missing each other in person, they begin exchanging notes―short messages at first, then longer letters, sharing increasingly personal parts of their lives. By the time Henry realizes his mistake―that Edith is actually the brown-eyed beauty he keeps bumping into around town―their hearts are so intertwined he hopes they never unravel. But with her departure date rapidly approaching, and Henry's roots firmly planted at home, Edith must ultimately decide if the adventure of her dreams is the one right in front of her. Reminiscent of the beloved classic You've Got Mail comes a delightful new romantic comedy about mistaken identities, second chances, and finding love in unexpected places.
Love in Tandem
ISBN: 1496466128 OCLC: 1386700642 Tyndale House Publishers [S.l.] : 2024 She's perfectly content leading a quiet life in her small hometown. He's an adventurer with unquenchable wanderlust. The two couldn't be any more opposite if they tried. But a tandem bicycle and a 500-mile road trip just might change all that. After a failed engagement and her mother's battle with cancer, Charlotte Carter's life is finally turning around now that she's landed a dream job teaching music. What she didn't see coming was the imminent closure of the school's music program. She's determined to save it, even if it means getting creative. There's no way she's chalking this up as just another failure in her book of recent embarrassments. Zach Bryant is back in town just long enough to see his brother Ben get married and then he's off traveling the world again. He never imagined he'd run into Charlotte Carter, his brother's ex-fiancé, or that everyone would believe he and Charlotte are an item. He certainly didn't dream he'd end up riding a tandem bicycle hundreds of miles with her in an attempt to raise funds for a defunct music program, but how can he say no when the prize money would help him out of his financial predicament too? Charlotte is sure she can set aside her differences with Zach long enough to cross the finish line and win the giant cash prize . . . can't she? A few hundred miles in, she's questioning her deeply held assumptions about Zach and wondering if maybe tandem biking is only the start of their biggest adventure yet. Fake dating romantic comedy by Becca Kinzer Timeless opposites attract theme Clean romance Discussion questions for book clubs