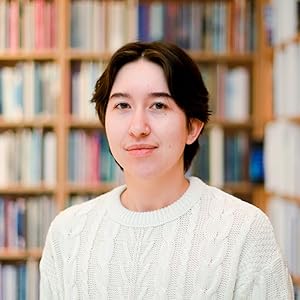 Alex Crespo
Born:
Connection to Illinois
: Crespo lives in Chicago.
Biography
: Born and raised by the Great Lakes, Alex Crespo writes about queer love, magic, and all the ways they intersect. When not writing, you can find him making art or daydreaming about Mothman. He currently lives in Chicago with an endless anime watchlist and his black cat Hex. Saint Juniper's Folly is his debut novel.
---
Awards
:
Saint Juniper's Folly Starred Reviews - The Bulletin for the Center of Children's Books and Shelf Awareness, Illinois Reads Book Selection, Illinois Reading Council, 2024
Primary Literary Genre(s):
Fiction
Primary Audience(s):
Young adult readers
Instagram:
https://www.instagram.com/byalexcrespo
Twitter:
https://twitter.com/byalexcrespo
Web:
https://alexcrespo.com/
---
Selected Titles
Saint Juniper's Folly
ISBN: 1682635775 OCLC: 1375112291 Peachtree Teen 2023 For Jaime, returning to Saint Juniper means returning to a past he's spent eight years trying to forget. But every gossip in town already knows his business, so he seeks out solitude into the nearby woods—Saint Juniper's Folly—and does not return.For Theo, Saint Juniper means being stuck. His senior year is going to be like all the rest, dull and claustrophobic. That is until he wanders into the Folly and stumbles on a haunted house with an acerbic yet handsome boy trapped—as in physically trapped—inside.For Taylor, Saint Juniper is a mystery. She struggles to practice the magic her dad banned from the house after her mom, an accomplished witch, suddenly died. Then a wide-eyed teenager barges into her life, rambling about a haunted house and a trapped boy. He needs a witch.The Folly and its ghosts will draw these three teenagers together. But can they each face their demons to forge a bond strong enough to escape the Folly's shadows?Alex Crespo's queer haunted house mystery is equal parts spine-tingling thrills, a celebration of found family, and must-read for paranormal romance fans.