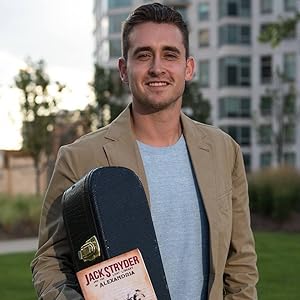 Mitchell Stevens Granger
Born:
in Chicago, Illinois
Connection to Illinois
: Granger was born and raised in Chicago. He graduated from the University of Illinois Chicago.
Biography
: Mitchell Stevens Granger grew up an avid tennis player and philanthropist - starting his own non-profit in Chicago. At the age of 24, after graduating from the University of Illinois - Chicago, Granger released his first novel, 'Jack Stryder and the Lost Library of Alexandria.'
---
Awards
:
Primary Literary Genre(s):
Fiction
Primary Audience(s):
Adult readers
WorldCat:
http://www.worldcat.org/search?q=Mitchell++Stevens++Granger
---
Selected Titles
Jack Stryder and the Lost Library of Alexandria (Jack Stryder Series)
ISBN: 0692882758 OCLC: 990792429 Bowker 2017 Jack Stryder's reckless escapades, led by wit, intelligence, and a hint of cockiness will reintroduce you to the charm of historical-fiction novels. While spinning a tale of sword wielding, gun toting time-travelers, Granger intertwines his original narrative with re-imagined historical events and well-known figures. Jack Stryder will thrust you into an adventure encountering Scottish Kings, Western Cowboys, Julius Caesar, ancient scholars, and more characters in dauntless shoot-outs, sword fights, and time-jumps.