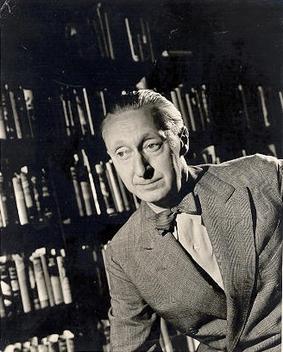 Harry T Hansen
Born:
December 26, 1884 Davenport, Iowa
Died:
January 3, 1977
Connection to Illinois
: Hansen attended the University of Chicago, majoring in English and acquiring his Ph.D in 1909. After graduation, Hansen joined the Chicago Daily News as a staff reporter and upon the outbreak of the First World War, Hansen became the Daily News' overseas war correspondent in Europe. When the United States entered the war, Hansen was promoted to foreign editor. By 1920, he had risen to the position of Literary Editor, and he remained in that position until leaving the Daily News in 1926.
Biography
: Harry Hansen was an American journalist, editor, literary critic and historian. He is notable as one of the many authors who wrote for the Random House Landmark Series of children's history during the 1950s and 1960s and he also edited the World Book from 1950 to 1965.
---
Awards
:
Primary Literary Genre(s):
Fiction; Non-Fiction
Primary Audience(s):
Adult readers
Web:
https://www.lib.uchicago.edu/e/scrc/findingaids/view.php?eadid=ICU.SPCL.HANSENH
Web:
https://archives.newberry.org/repositories/2/resources/150
Wikipedia:
https://en.wikipedia.org/wiki/Harry_Hansen_(author)
WorldCat:
http://www.worldcat.org/search?q=Harry++T++Hansen
---
Selected Titles
Colorado, a guide to the highest state (American guide series)
ISBN: 0803811454 OCLC: 96749 Hastings House 1970 Comes now the 'Colorado State Guide' with its carefully garnered historical data, maps, and pictures that both confirm and correct the bright expectations of the half-million annual visitors to the State, which likes to be known as a vacation land.
New England Legends and Folklore
ISBN: 0803849982 OCLC: 475234 Hastings House Pub New York, 1967
Scarsdale, From Colonial Manor to Modern Community
ISBN: B000IU95EO OCLC: Harper & Brothers, Publishers New York, 1954
The Chicago: Rivers of America Series
ISBN: B0007DNB60 OCLC: Farrar & Rinehart 1942
The Civil War: A History (Signet Classics)
ISBN: 0451531663 OCLC: 664735509 Signet 1961 Presented in one comprehensive volume, this is the Civil War as it really was-the forces and events that caused it, the soldiers and civilians who fought it, and the ideas and values that are its legacy today.
The story of Illinois
ISBN: B0007DZ2QM OCLC: Garden City Books 1956
Your Life Lies Before You
ISBN: B000K6NN58 OCLC: Harcourt Brace & Company 1935