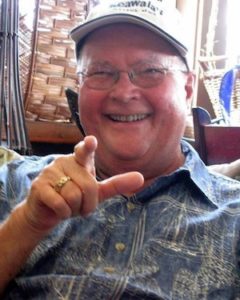 James Horton Palmer
Born:
1944, in Cedar Rapids, IA
Pen Name:
J Horton Palmer
Connection to Illinois
: Palmer hails from Bartlett.
Biography
: James Horton Palmer taught middle school language arts for 30 years in Illinois and then began a writing career, mainly focused on poetry. For the past 20 years he has divided his time between Hawaii and Illinois, and now has added Florida as another location. He has published a children's book on Amazon, titled Maui Mutt, the Molokini Adventure. His poetry is published yearly in the DuPage Writers Group Possibilities anthologies. He is a member of the Barrington Writers Workshop, the DuPage Writers Workshop, The Phoenix Writers group in Clarendon Hills, and the Maui Live Poets Society in Hawaii.
---
Awards
:
Primary Literary Genre(s):
Fiction; Poetry
Primary Audience(s):
Adult readers; Children; Young adult readers
E-Mail:
mauimutt@yahoo.com
Facebook:
http://www.facebook.com/james.h.palmer
LinkedIn:
https://www.linkedin.com/in/j-horton-palmer-8b498268
Web:
http://www.mauimutt.org
WorldCat:
http://www.worldcat.org/search?q=James++Horton++Palmer
---
Selected Titles
Maui Mutt: The Molokini Adventure
ISBN: 198405581X OCLC: 1040035387 CreateSpace 2018 Who will save rascally Maui Mutt when he decides to go on a journey to the Molokini Crater and ends up in big trouble? Will his intelligent friend Sebastian E. Gecko or the cantankerous Sunny Parrot be able to help? Mutt treks from the beaches of south Maui to the diving site at famous Molokini Crater. What will he find on the crater and in the surrounding waters? Adventure, danger, excitement, and more await you in this story of how friendship makes life fulfilling.