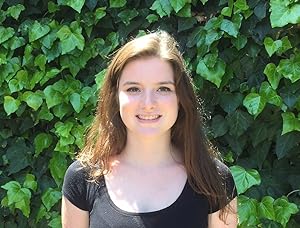 Kiley Roache
Born:
Connection to Illinois
: Roache grew up in La Grange and graduated from Nazareth Academy. She has worked as a reporter for the Chicago Tribune's teen publication The Mash.
Biography
: Kiley Roache is a novelist and multi-published journalist. She is the author of young adult novels FRAT GIRL and THE DATING GAME (Inkyard Press/ HarperCollins). Her byline has appeared in The New York Times, San Francisco Chronicle, and The Wall Street Journal, among others. She has a bachelor's degree in political science from Stanford University and a master's in journalism from Columbia University Kiley has been writing since seventh grade and signed with her literary agent days after graduating high school. She wrote her first two books while she was still a college student, and once got up early to finish a chapter before tailgating a Stanford football game. When she is not writing, Kiley can be found walking her dog, Chewbacca, drinking way too much Dunkin' Donuts coffee, or scrolling TikTok for hours.
---
Awards
:
Primary Literary Genre(s):
Fiction
Primary Audience(s):
Young adult readers
E-Mail:
kileyroache@gmail.com
Facebook:
https://www.facebook.com/kileyroachewrites/
Instagram:
https://www.instagram.com/kileyroache
Twitter:
https://twitter.com/KileyRoache
Web:
https://www.kileyroache.com
WorldCat:
http://www.worldcat.org/search?q=Kiley++Roache
---
Selected Titles
Frat Gir
ISBN: 0373212348 OCLC: 1029333308 Harlequin Teen 2018 Fraternity—specifically Delta Tau Chi, a frat house on the verge of being banned from the school. Accused of offensive, sexist behavior, they have one year to clean up their act. With one shot at a scholarship to the school of her dreams, Cassie pitches an unusual research project—to pledge Delta Tau Chi, take on the boys' club and provide proof of their misogynistic behavior. It's different, but it's not against the rules, and she's pretty sure she knows exactly what to expect once she gets there. Which means the DTC brothers will have to face the dreaded F-word… Feminist—the type of girl who thinks they're nothing but tank-top-wearing "bros" and is determined to see them booted from the school. But Cassie soon realizes things aren't as simple as they appeared. Some of the DTC brothers, including her fellow pledge, Jordan Louis, are much more than she ever expected to find in a frat house. With her academic future on the line, and her heart all tangled in a web of her own making, Cassie will ultimately have to define for herself what the F-word is all about.
Killer Content
ISBN: 0593427491 OCLC: 1258044526 Underlined 2021 35 million followers. One dead body. The six teenagers who make up the Lit Lair have it made. A beachfront mansion, millions of followers, stunning good looks, and sponsorship deals worth more money than they ever dreamed. They live together, making videos about their perfect lives. Except it's not so perfect after one of them turns up dead in the infinity pool. When the group TikTok account starts posting cryptic messages, the police stop looking outside the house for suspects—and start looking straight at them. Everyone in the Lit Lair had reasons why their lives would have been easier without Sydney Reynolds. But only one of them killed her. Underlined is a line of totally addictive romance, thriller, and horror titles coming to you fast and furious each month. Enjoy everything you want to read the way you want to read it.
The Dating Game
ISBN: 1335017569 OCLC: 1090302094 Inkyard Press 2019 When a notoriously difficult class for future entrepreneurs leads to three freshmen developing the next "it" app for dating on college campuses, all hell breaks loose… Type A control freak Sara lives by her color-coordinated Post-it notes. Rich boy Braden wants out from under his billionaire father's thumb. Scholarship student Roberto can't afford for his grades to drop. When the three are forced to work together in one of the university's most difficult classes, tension rises to the breaking point…until, shockingly, the silly dating app they create proves to be the most viable project in class. Late nights of app development, interest from investors and unexpected romance are woven into a true-to-life college drama that explores what it means to really connect online and IRL.