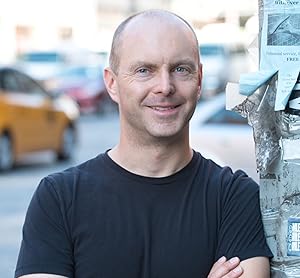 Geoff Rodkey
Born:
September 9, 1970 Freeport, Illinois
Connection to Illinois
: Rodkey grew up in Freeport, and in high school, he wrote humor pieces for his school newspaper.
Biography
: Geoff Rodkey is the New York Times bestselling author of the suburban-apocalypse comedy LIGHTS OUT IN LINCOLNWOOD (July 2021) and ten books for middle grade kids: Kevin Hart's MARCUS MAKES A MOVIE (June 2021); the science fiction comedy WE'RE NOT FROM HERE; the illustrated comedy THE TAPPER TWINS GO TO WAR (WITH EACH OTHER) and its three sequels; the critically acclaimed CHRONICLES OF EGG adventure-comedy trilogy; and THE STORY PIRATES PRESENT: STUCK IN THE STONE AGE, a comic novel bundled with a how-to guide for kids who want to create stories of their own. Geoff is also the Emmy-nominated screenwriter of such hit films as DADDY DAY CARE, RV, and the Disney Channel's GOOD LUCK, CHARLIE, IT'S CHRISTMAS. His early writing credits include the educational video game WHERE IN THE WORLD IS CARMEN SANDIEGO?, the non-educational MTV series BEAVIS AND BUTT-HEAD, and Comedy Central's POLITICALLY INCORRECT.
---
Awards
:
Primary Literary Genre(s):
Fiction; Non-Fiction
Primary Audience(s):
Adult readers; Children; Young adult readers
E-Mail:
geoff@geoffrodkey.com
Instagram:
https://www.instagram.com/geoffrodkey/
Twitter:
https://twitter.com/GeoffRodkey
Web:
https://www.geoffrodkey.com/
Wikipedia:
https://en.wikipedia.org/wiki/Geoff_Rodkey
WorldCat:
http://www.worldcat.org/search?q=Geoff++Rodkey
---
Selected Titles
Blue Sea Burning (The Chronicles of Egg)
ISBN: 039925787X OCLC: 854561783 G.P. Putnam's Sons Books for Young Readers 2014 After narrowly escaping the New Lands, Egg is determined to take down ruthless slave trader Roger Pembroke. But war is brewing among the Blue Sea's pirate gangs—and Egg, Guts, and Kira are running out of time to find the Fire King's treasure and free the Okalu slaves from the silver mine on Sunrise. Can they save Kira's people before Sunrise is plundered by Ripper Jones's pirates? Will Burn Healy save the day, or has the legendary captain finally met his match? And will Egg ever win back Millicent from the annoyingly handsome Cyril? This explosive conclusion to Egg's journey delivers the ultimate combination of humor, heart, and white-knuckle adventure.
Deadweather and Sunrise: The Chronicles of Egg, Book 1
ISBN: 0399257853 OCLC: 756912917 G.P. Putnam's Sons Books for Young Readers New York : 2012 A stunning middle-grade debut--full of heart, humor, and nonstop action It's tough to be thirteen, especially when somebody's trying to kill you. Not that Egg's life was ever easy, growing up on sweaty, pirate-infested Deadweather Island with no company except an incompetent tutor and a pair of unusually violent siblings who hate his guts. But when Egg's father hustles their family off on a mysterious errand to fabulously wealthy Sunrise Island, then disappears with the siblings in a freak accident, Egg finds himself a long-term guest at the mansion of the glamorous Pembroke family and their beautiful, sharp-tongued daughter Millicent. Finally, life seems perfect. Until someone tries to throw him off a cliff. Suddenly, Egg's running for his life in a bewildering world of cutthroat pirates, villainous businessmen, and strange Native legends. The only people who can help him sort out the mystery of why he's been marked for death are Millicent and a one-handed, possibly deranged cabin boy. Come along for the ride. You'll be glad you did.
Lights Out in Lincolnwood
ISBN: 0063065924 OCLC: 1258031884 Harper Perennial 2021 It's Tuesday morning in Lincolnwood, New Jersey, and all four members of the Altman family are busy ignoring each other en route to work and school. Dan, a lawyer turned screenwriter, is preoccupied with satisfying his imperious TV producer boss's creative demands. Seventeen-year-old daughter Chloe obsesses over her college application essay and the state tennis semifinals. Her vape-addicted little brother, Max, silently plots revenge against a thuggish freshman classmate. And their MBA-educated mom Jen, who gave up a successful business career to raise the kids, is counting the minutes until the others vacate the kitchen and she can pour her first vodka of the day. Then, as the kids begin their school day and Dan rides a commuter train into Manhattan, the world comes to a sudden, inexplicable stop. Lights, phones, laptops, cars, trains…the entire technological infrastructure of 21st-century society quits working. Normal life, as the Altmans and everyone else knew it, is over. Or is it? Over four transformative, chaotic days, this privileged but clueless American family will struggle to hold it together in the face of water shortages, paramilitary neighbors, and the well-mannered looting of the local Whole Foods as they try to figure out just what the hell is going on.
New Lands (The Chronicles of Egg)
ISBN: 0399257861 OCLC: 823927605 G.P. Putnam's Sons Books for Young Readers 2013 After a narrow escape from Deadweather Island, Egg and his slightly deranged partner Guts head for the remote New Lands. They're in search of the lost Okalu tribe, who hold the key to the mysterious treasure map that Egg can't decipher. But the ruthless Roger Pembroke is hard on Egg's trail, and the New Lands are full of new enemies—against which our heroes' only weapons are their brains, their courage...and the two dozen swear words Guts just memorized in the local tongue. They're going to need help. But who can they trust? Is Kira, the beautiful and heavily armed Okalu refugee, their ally…or their enemy? Is Pembroke's daughter Millicent on Egg's side…or her father's? Why on earth is the notorious pirate Burn Healy being so nice to them? And the biggest question of all: what shocking secret is Egg about to discover in the shadow of an ancient Okalu temple?
The Story Pirates Present: Stuck in the Stone Age
ISBN: 1635650895 OCLC: 982536619 Random House Books for Young Readers 2015 Cavemen! A saber-toothed tiger! And . . . a Rockball tournament? This laugh-out-loud time-travel adventure (inspired by a real kid's idea) doubles as a creative writing guide for young writers! Tom Edison (no, not that Tom Edison) is a hopeful janitor who dreams of becoming a scientist--and Dr. Morice is a shy scientist who dreams of making friends. When an accident at the lab sends them back in time to the stone age, Tom and Dr. Morice must work together to face down cavemen, saber-tooth tigers, and other B.C. hazards, with only one problem: Tom isn't very good at science, and Dr. Morice isn't very good with people. "Changing kids' lives, one story at a time" is the motto of the Story Pirates, a group of performers who bring kids' writing to life through sketch comedy. Stuck in the Stone Age is an action-packed adventure based on an idea from a real kid! Teaming up with New York Times bestselling author, Geoff Rodkey, the Story Pirates present this hilarious story, which doubles as an introduction to the basics of creative writing. With the help of Story Pirate Captain Vincent Rolo and the Story Creation Zone, readers can use this novel as inspiration to create their OWN great adventure!
The Tapper Twins Go to War (With Each Other) (The Tapper Twins, 1)
ISBN: 0275933741 OCLC: 24630835 Little, Brown Books for Young Readers New York : 2016 Twelve-year-old twins, Claudia and Reese, who couldn't be more different...except in their determination to come out on top in a vicious prank war. But when the competition escalates into an all-out battle that's fought from the cafeteria of their New York City private school all the way to the fictional universe of an online video game, the twins have to decide if their efforts to destroy each other are worth the price. In a starred review, Publishers Weekly declared "This uproarious series opener... is packed with both laugh-out-loud moments and heart." Don't miss the further adventures of the Tapper Twins in The Tapper Twins Tear Up New York, The Tapper Twins Run for President, and The Tapper Twins Go Viral.
The Tapper Twins Go Viral (The Tapper Twins, 4)
ISBN: 0316297844 OCLC: 939596166 Little, Brown Books for Young Readers 2017 Claudia Tapper just doesn't get it: How is it possible that the video of the best breakup song she's ever written is watched by virtually nobody, when her brother Reese's completely moronic 2-second clip of an video game wipeout ends up being the hottest thing online at Culvert Prep? Unfortunately, Claudia's bold declaration of injustice sets the stage for the bet of her life: Which of the Tapper twins can get more online followers in a week? She had better top Reese's rapidly escalating popularity or she can kiss her social life goodbye if she loses the bet and is forced to post the most embarrassing video imaginable!
The Tapper Twins Run for President (The Tapper Twins, 3)
ISBN: 0316297852 OCLC: 917345580 Little, Brown Books for Young Readers 2016 Told as a series of interviews, screenshots, text messages, and social media bursts, The Tapper Twins Run For President tops the antics of the real 2016 elections! Claudia Tapper wants to become President of the United States someday. She's the sixth-grade class president and has every reason to presume she'll get reelected. Reese Tapper could not care less about student government--until he learns becoming class president is his best shot at overturning a hated new rule. And thus, the greatest political rivalry in Culvert Prep history is born! In a tangle of evil-genius advisers, meddlesome best-friends, negative campaign attacks and outrageously funny missteps, Claudia and Reese duke it out to see who will rule the school.
The Tapper Twins Tear Up New York (The Tapper Twins, 2)
ISBN: 0316316016 OCLC: 930041078 Little, Brown 2016 Geoff Rodkey delivers another pitch-perfect ultra-modern comedy told as oral history with texts, screenshots and smartphone photos. When Claudia initiates a citywide scavenger hunt to raise money for charity, it's not just the twins' opposing teams that run riot. With the whole school racing to trade in sights seen for points to score front row tickets at Madison Square Garden, they may not get to the finish line with their dignity--and social lives--intact!
We're Not from Here
ISBN: 1524773077 OCLC: 1088893295 Yearling 2020 The first time I heard about Planet Choom, we'd been on Mars for almost a year. But life on the Mars station was grim, and since Earth was no longer an option (we may have blown it up), it was time to find a new home. That's how we ended up on Choom with the Zhuri. They're very smart. They also look like giant mosquitos. But that's not why it's so hard to live here. There's a lot that the Zhuri don't like: singing (just ask my sister, Ila), comedy (one joke got me sent to the principal's office), or any kind of emotion. The biggest problem, though? The Zhuri don't like us. And if humankind is going to survive, it's up to my family to change their minds. No pressure.