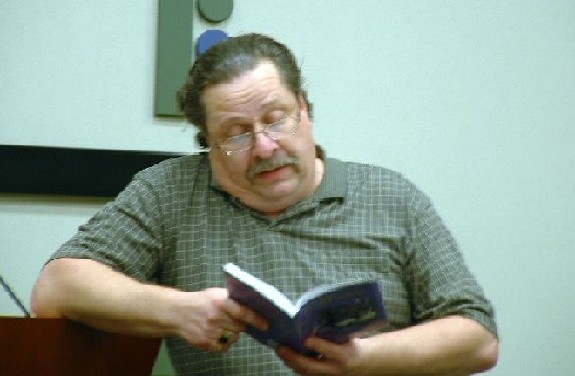 Rick Buda
Born:
1950 in Chicago, Illinois
Pen Name:
Rick Arjohn Buda
Connection to Illinois
: Founded, Edited and contributed to the Nuts & Bolts of gaming; a magazine commenting upon, previewing, reviewing and rating strategic and tactical Role Playing Games (Face to Face as well as Play By Mail and the email based turn games as well) N&BoG was nominated in 1984 for an Origins award, a highly sought award in the Role Playing industry. Rick also began an online presence in the 1990s with his part in online radio (streaming DJs). He could be heard on various stations from 1999 through 2009. His last association with streaming was Our Generation Radio (orgenerationradio.com) and still holds ties there today. Rick makes personal appearances and loves to talk about writing, publishing and his experiences in these pursuits.
Biography
: Founded, contributed, edited and published (Bolt Publications) for The Nuts & Bolts of Gaming (formally, The Nuts & Bolts of PBM); a magazine previewing, reviewing and rating Strategic, and Tactical Role Playiing games (Face to Face as well as computer based; also the Play By Mail markets). N&B was nominated for a Founders award in 1984.Rick has hosted Internet Radio shows (Streams) since 1999 and currently (Jan 2009) be heard on The AnJ Show broadcast from Our Generation Radio (www.ourgenerationradio.com)
---
Awards
:
"""WolfPointe"""
-- LiFe Award: Literature for the Environment
Primary Literary Genre(s):
Fiction
Primary Audience(s):
Adult readers
Email:
rickbuda@sbcglobal.net
My Space :
http://www.myspace.com/rickbuda
The AnJ Show - Internet radio show on Our Generation Radio :
http://www.anj.westpm.net
Direct link to Our Generation Radio :
http://www.ourgenerationradio.com
Rick Buda on WorldCat :
http://www.worldcat.org/search?q=rick+buda
---
Selected Titles
Starshot :
ISBN: 1979682216 OCLC: 1083102131 "A story direct from the backstages, behind the scenes and deep into the corporate offices of one of the largest music publication and record distribution companies in the world. Starshot follows the life and musical career of David Joseph Glossack, or as millions of fans know him – Deejay Gloss. Following his life from the 1960's through his discovery and emergence into the entertainment industry, Gloss became a superstar. With his partner John DeVoe and ally Jim Clark, the world is his to woo and seduce. Through the 70's and into the 1980's the golden years of music, Gloss will ride the rapids of fame. It's all there, very unforgettable scene. All the Music, artistic conflict, love, hate, sex, drugs and yes, Rock & Roll, is laid naked for you to see. One man wanting the freedom he feels he has earned, the love Gloss has sought out, the rough, violent, depraved world he claims as his own is his to conquer. How does Deejay do it? How did any artist manage? It's here, the things you remember, details never revealed till now scenes you never dreamt possible."--Amazon.com
WolfPointe /
ISBN: 1931201080 OCLC: 54694535 Twilight Times Books, Kingsport, Tenn. : ©2001 (2004 printing)