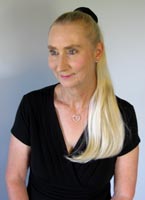 Renetta Dudzinski
Born:
1950 in Bryan, Texas
Pen Name:
None
Connection to Illinois
: Dudzinski lives in Rochelle, Illinois.
Biography
: Renetta lives in rural northern Illinois, but was born a southern girl in Bryan, Texas. She has owned and operated a country feed and animal supply store. Known as the 'feedlady,' she has had the opportunity to meet people from many different walks of life. Renetta is happily married and has three children. In 2001, the family experienced an unexpected financial setback. Renetta asked the Lord to giver her something pleasant to think of, so she would not dwell on her circumstances. The result of that prayer was her book series ''The Journey''. Renetta says, 'This story was given to me day by day until it was obvious I had to put it on paper. Each night and early morning before I opened my eyes, the story continued. The statement that God used my hand is not an exaggeration. The Journey with David and Rose is a gift from God. And it continues.' Renetta continues working on the book series.
---
Awards
:
Primary Audience(s):
Adult readers; Young adult readers
Email:
ren@thejourneybooks.com
Website:
http://www.thejourneybooks.com
Renetta Dudzinski on WorldCat :
http://www.worldcat.org/search?q=renetta++dudzinski
---
Selected Titles
The Journey
ISBN: 1591609763 OCLC: 272997657 Xulon Press 2003
The journey, book two :
ISBN: 1933145757 OCLC: 793096132 Rhapsody Press, Rochelle, IL : ©2007.