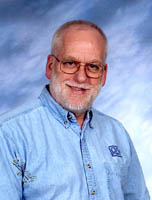 Mike (Myron G.) Odell
Born:
Elgin, Illinois
Pen Name:
None
Connection to Illinois
: Odell was born and raised in Elgin, Illinois. He graduated from the University of Illinois with both a BS and MBA.
Biography
: Odell graduated from the University of Illinois with an MBA and retired after a 35-year career as an IT professional. Over the years he has written a number of professional publications and contributed to professional references. He has published articles in ''Victory Lane'', the vintage and historic racing news magazine and he has also written for ''Road Racers'' Magazine. His wife, Cindy, provided the illustrations for his book, ''Brother Mine''.
---
Awards
:
Email:
odellmg@aol.com
Website:
http://www.mayhavenpublishing.com
Mike Odell on WorldCat :
http://www.worldcat.org/search?q=mike+odell
---
Selected Titles
Brother mine :
ISBN: 1932278036 OCLC: 64199513 Mayhaven Pub., Mahomet, IL : ©2005.