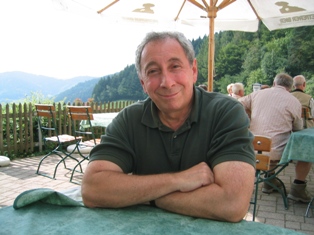 Joseph Parisi
Born:
Duluth, MN
Pen Name:
None
Connection to Illinois
: Joseph Parisi lives and works in Chicago, Illinois.
Biography
: Joseph Parisi was the editor of Poetry Magazine from 1984-2002.
---
Awards
:
Recently spoke before the Circolo Britannico in Venice, Italy.
Primary Audience(s):
Adult readers; Young adult readers
Email:
parisi.joe@sbcglobal.net
Facebook:
http://www.facebook.com/home.php?#!/profile.php?id=1520978121&ref=search&sid=1535835302.339512143..1=joseph+parisi
Joseph Parisi on WorldCat :
http://www.worldcat.org/search?q=joseph+parisi
---
Selected Titles
100 essential modern poems
ISBN: 1566636124 OCLC: 59002770 Ivan R. Dee, Chicago : 2005. Collects one hundred poems from the past century that reflect modern culture, including works by William Butler Yeats, Langston Hughes, Dorothy Parker, Wallace Stevens, and Edna St. Vincent Millay.
100 essential modern poems by women /
ISBN: 1566637414 OCLC: 173136285 Ivan R. Dee, Chicago : ©2008. From the Publisher: Like the widely praised 100 Essential Modern Poems, this lively, up-to-date guide to modern poetry is filled with wisdom and insights that will delight, engage, and inspire readers of all ages and interests. This bountiful collection presents memorable poems written in the English language over the past 150 years-masterworks and new classics by great authors from Emily Dickinson to Rita Dove, Marianne Moore and Edna St. Vincent Millay to Maxine Kumin and Mary Oliver, Sylvia Plath and Linda Pastan to Kay Ryan and Marge Piercy-that offer compelling perspectives on timeless topics of love, marriage, family, friendship, nature, faith and hope, courage and endurance, and life as lived intensely and to the full. Brief biographies introduce each poet and her work.
Between the lines :
ISBN: 1566636566 OCLC: 62782139 Ivan R. Dee, Publisher, Chicago : 2006. "Virtually all of the nearly five hundred letters in Between the Lines have never been printed before. Mr. Parisi's introductions and commentaries set the stage for the lively drama of contemporary poetry in the making, and unfold the improbable tale of how perennially impoverished Poetry survived to make literary - and financial - history." "More than eighty illustrations - candid author photographs, drawings, and newspaper clippings - enliven this unusually rich cultural history."--Jacket.
Dear editor :
ISBN: 0393050920 OCLC: 50205579 Norton, New York : ©2002. Collects more than six hundred letters to and from the editors of "Poetry" that were written about and by such figures as Ezra Pound, T.S. Eliot, Robert Frost, Edna St. Vincent Millay, and Wallace Stevens.
Marianne Moore :
ISBN: 0835720314 OCLC: 20596027 UMI Research Press, Ann Arbor, Mich. : ©1990.
Poetry anthology :
ISBN: 0395265479 OCLC: 233026340 Houghton Mifflin, [Place of publication not identified] : 1978.
Poets in person :
ISBN: 1881505081 OCLC: 40694667 Poetry Press, [Chicago, Ill.] : ©1997.
The Poetry anthology :
ISBN: 1566636043 OCLC: 56570721 Ivan R. Dee, Chicago : 2004, ©2002. This bountiful collection from Poetry magazine offers the greatest poems of the last century and its greatest poets ... The Poetry Anthology is an American keepsake.--Page 4 of cover.
The Poetry anthology, 1912-2002 :
ISBN: 1566634687 OCLC: 50348224 Ivan R. Dee, Chicago : 2002. For 90 years "Poetry" has been America's most distinguished magazine of verse. This 90th anniversary anthology may be the most bountiful collection of American poems ever published. It offers a record of poetic achievement as well as some of the vagaries, fads, fashions, and failures of the last 90 years.
Voices & visions viewer's guide /
ISBN: 0838972004 OCLC: 17617491 American Library Association and the Annenberg/CPB Project, Chicago, Ill. : ©1987. This guides details notes and biographical details for 13 renowned American poets.