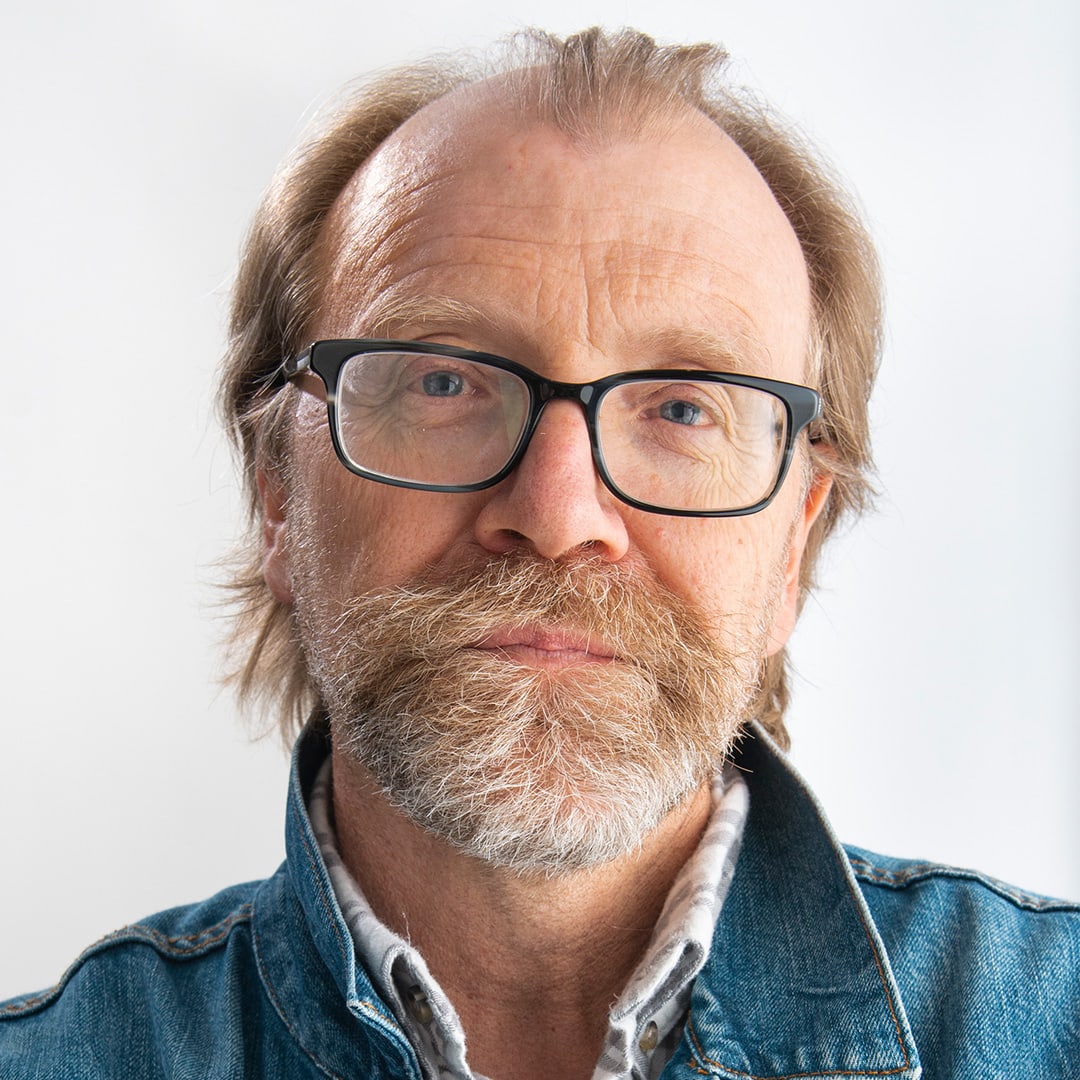 George Saunders
Born:
1958 in Amirillo, Texas
Pen Name:
None
Connection to Illinois
: Saunders grew up near Chicago and graduated from Oak Forest High School in Oak Forest.
Biography
: George Saunders is the #1 New York Times bestselling author of short stories, essays, novellas, children's books, and novels. His writing has appeared in The New Yorker, Harper's, McSweeney's, and GQ. He also contributed a weekly column, American Psyche, to the weekend magazine of The Guardian. He has received MacArthur and Guggen-heim fellowships and the PEN/Malamud Prize for excellence in the short story, and was recently elected to the American Academy of Arts and Sciences. In 2013, he was named one of the world's 100 most influential people by Time magazine. He teaches in the creative writing program at Syracuse University.
---
Awards
:
Liberation Day: Stories NEW YORK TIMES BESTSELLER, ONE OF THE BEST BOOKS OF THE YEAR: The New Yorker
A Swim in a Pond in the Rain: In Which Four Russians Give a Master Class on Writing, Reading, and Life NEW YORK TIMES BESTSELLER, LONGLISTED FOR THE PEN/DIAMONSTEIN-SPIELVOGEL AWARD • ONE OF THE BEST BOOKS OF THE YEAR: The Washington Post, NPR, Time, San Francisco Chronicle, Esquire, Milwaukee Journal Sentinel, Town & Country, The Rumpus, Electric Lit, T
Tenth of December: Stories NEW YORK TIMES BESTSELLER • NATIONAL BOOK AWARD FINALIST • NAMED ONE OF TIME'S TEN BEST FICTION BOOKS OF THE DECADE • NAMED ONE OF THE BEST BOOKS OF THE DECADE BY ENTERTAINMENT WEEKLY AND BUZZFEED • NAMED ONE OF THE TEN BEST BOOKS OF THE YEAR BY
Congratulations, by the way: Some Thoughts on Kindness NEW YORK TIMES BESTSELLER
Lincoln in the Bardo: A Novel #1 NEW YORK TIMES BESTSELLER • WINNER OF THE MAN BOOKER PRIZE,Named One of Paste's Best Novels of the Decade • Named One of the Ten Best Books of the Year by The Washington Post, USA Today, and Maureen Corrigan, NPR • One of Time's Ten Best Nove
Body of Work 2023 Library of Congress Prize for American Fiction
Primary Literary Genre(s):
Fiction
Primary Audience(s):
Adult readers; Children
E-Mail:
gwsaunde@syr.edu
Web:
https://georgesaundersbooks.com/
Wikipedia:
https://en.wikipedia.org/wiki/George_Saunders
---
Selected Titles
A Swim in a Pond in the Rain: In Which Four Russians Give a Master Class on Writing, Reading, and Life Paperback
ISBN: 1984856030 OCLC: Random House Trade Paperbacks 2022 From the New York Times bestselling Booker Prize-winning author of Lincoln in the Bardo and Tenth of December comes a literary master class on what makes great stories work and what they can tell us about ourselves - and our world today. For the last twenty years, George Saunders has been teaching a class on the Russian short story to his MFA students at Syracuse University. In A Swim in a Pond in the Rain, he shares a version of that class with us, offering some of what he and his students have discovered together over the years. Paired with iconic short stories by Chekhov, Turgenev, Tolstoy, and Gogol, the seven essays in this book are intended for anyone interested in how fiction works and why it's more relevant than ever in these turbulent times. In his introduction, Saunders writes, We're going to enter seven fastidiously constructed scale models of the world, made for a specific purpose that our time maybe doesn't fully endorse but that these writers accepted implicitly as the aim of art - namely, to ask the big questions, questions like, How are we supposed to be living down here? What were we put here to accomplish? What should we value? What is truth, anyway, and how might we recognized it? He approaches the stories technically yet accessibly , and through them explains how narrative functions; why we stay immersed in a story and why we resist it; and the bedrock virtues a writer must foster. The process of writing, Saunders reminds us, is a technical craft, but also a way of training oneself to see the world with new openness and curiosity. A Swim in a Pond in the Rain is a deep exploration not just of how great writing works but of how the mind itself works while reading, and how the reading and writing of stories make genuine connection possible. --
CivilWarLand in Bad Decline: Stories and a Novella
ISBN: 1573225797 OCLC: New York : Random House, New York : ©1996. A novella and short stories on a future America, a land of corporate hypocrisy, violence and pollution. Trendy attractions include pickled babies and cows with plexiglass sides, so you can see the milk made, people buy other people's more interesting memories for downloading into their heads.
Congratulations, by the way: Some Thoughts on Kindness
ISBN: 0812996275 OCLC: Random House 2014 Drawing on his well-received convocation address at Syracuse University, one of today's most influential and original writers shows how to lead a kinder, more fulfilling life.
Fox 8: A Story
ISBN: 1984818023 OCLC: Random House 2018 Idealistic Fox 8's ability to communicate in Yuman cannot save his pack when their den and food supply are destroyed to build a mall, so he writes a letter asking for an explanation of human's cruelty.
In Persuasion Nation
ISBN: 159448242X OCLC: New York : Riverhead Books, New York : 2006. This new collection of stories--his best work yet--comes from the acclaimed and mind-bendingly hilarious George Saunders.
Liberation Day: Stories
ISBN: 0525509593 OCLC: Random House 2022 The 'best short story writer in English' (Time) is back with a masterful collection that explores ideas of power, ethics, and justice, and cuts to the very heart of what it means to live in community with our fellow humans. With his trademark prose--wickedly funny, unsentimental, and perfectly tuned--Saunders continues to challenge and surprise: here is a collection of prismatic, deeply resonant stories that encompass joy and despair, oppression and revolution, bizarre fantasy and brutal reality. 'Love Letter' is a tender missive from grandfather to grandson, in the midst of a dystopian political situation in the not-too-distant future, that reminds us of our obligations to our ideals, ourselves, and each other. 'Ghoul' is set in a Hell-themed section of an underground amusement park in Colorado, and follows the exploits of a lonely, morally complex character named Brian, who comes to question everything he takes for granted about his 'reality.' In 'Mother's Day,' two women who loved the same man come to an existential reckoning in the middle of a hailstorm. And in 'Elliott Spencer,' our eighty-nine-year-old protagonist finds himself brainwashed--his memory 'scraped'--a victim of a scheme in which poor, vulnerable people are reprogrammed and deployed as political protesters. Together, these nine subversive, profound, and essential stories coalesce into a case for viewing the world with the same generosity and clear-eyed attention as Saunders does, even in the most absurd of circumstances --
Lincoln in the Bardo
ISBN: 0553397591 OCLC: February 1862. The Civil War is less than one year old. The fighting has begun in earnest, and the nation has begun to realize it is in for a long, bloody struggle. Meanwhile, President Lincoln's beloved eleven-year-old son, Willie, lies upstairs in the White House, gravely ill. In a matter of days, despite predictions of a recovery, Willie dies and is laid to rest in a Georgetown cemetery. Newspapers report that a grief-stricken Lincoln returned to the crypt several times alone to hold his boy's body. Willie Lincoln finds himself in a strange purgatory, where ghosts mingle, gripe, commiserate, quarrel, and enact bizarre acts of penance. Within this transitional state, called, in the Tibetan tradition, the bardo, a monumental struggle erupts over young Willie's soul.
Pastoralia
ISBN: 1573228729 OCLC: If Americans in the future were to try to send us a message about where our culture is heading, they might simply point to the fiction of George Saunders. Living in a world that's both indelibly original and hauntingly familiar, the characters in these stories bring to life our most absurd tendencies, and allow us to see ourselves in a shocking, uproariously funny new light. Here you find people who live and work in a simulated, theme-park cave and communicate with their loved ones via fax machine. You encounter a family happily gathered around their favorite form of entertainment, a computer-generated TV show called The Worst That Could Happen. And you hear an upbeat self-help guru sermonize about how figuring out who's been crapping in your oatmeal will help raise your self-esteem. With an uncanny sense of how our culture reflects our character, Saunders mixes a deadpan naturalism with a wicked sense of humor to reveal a picture of contemporary America that's both feverishly strange and, through his characters' perseverance, oddly hopeful. Named by The New Yorker one of the Twenty Best American Fiction Writers Under Forty, George Saunders has been recognized as a visionary storyteller with a hypnotic style. Critics have placed him in the tradition of Kurt Vonnegut, Mark Twain, and Thomas Pynchon -- a savage satirist with a sentimental streak, said The New York Times. These stories bring greater wisdom and maturity to the worldview he established with his first collection, and leave little doubt that he has found a place in modern fiction all his own.
Tenth of December: Stories
ISBN: 0812984250 OCLC: A collection of stories which includes Home, a wryly whimsical account of a soldier's return from war; Victory lap, a tale about an inventive abduction attempt; and the title story, in which a suicidal cancer patient saves the life of a young misfit.
The Braindead Megaphone: Essays
ISBN: 159448256X OCLC: New York : Riverhead Books, New York : 2007. George Saunders's first foray into nonfiction is comprised of essays on literature, travel, and politics. At the core of this unique collection are Saunders's travel essays based on his trips to seek out the mysteries of the Buddha Boy of Nepal; to attempt to indulge in the extravagant pleasures of Dubai; and to join the exploits of the minutemen at the Mexican border. Saunders expertly navigates the works of Mark Twain, Kurt Vonnegut, and Esther Forbes, and leads the reader across the rocky political landscape of modern America. Emblazoned with his trademark wit and singular vision, Saunders's endeavor into the art of the essay is testament to his exceptional range and ability as a writer and thinker.
The Brief and Frightening Reign of Phil
ISBN: 1594481520 OCLC: New York : Riverhead Books, New York : 2005. Welcome to Inner Horner a country so small it can only accommodate one person at a time, while six other persons must wait their turn to get in. When Inner Horner shrinks even more their neighbor country declares an invasion.
The Very Persistent Gappers of Frip
ISBN: 0812989635 OCLC: In the seaside village of Frip live three families: the Romos, the Ronsens, and a little girl named Capable and her father. The economy of Frip is based solely on goat's milk, and this is a problem because the village is plagued by gappers: bright orange, many-eyed creatures the size of softballs that love to attach themselves to goats. When a gapper gets near a goat, it lets out a high-pitched shriek of joy that puts the goats off giving milk, which means that every few hours the children of Frip have to go outside, brush the gappers off their goats, and toss them into the sea. The gappers have always been everyone's problem, until one day they get a little smarter, and instead of spreading out, they gang up: on Capable's goats. Free at last of the tyranny of the gappers, will her neighbors rally to help her? Or will they turn their backs, forcing Capable to bear the misfortune alone? --Excerpt from Amazon.com.