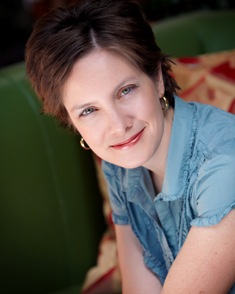 Alison Strobel
Born:
1976 in Arlington Heights, Illinois
Pen Name:
None
Connection to Illinois
:
Biography
: Alison inherited the writing gene from her father, Lee, and grew up composing stories on everything from napkins to typewriters. Alison and her family now live in Colorado.
---
Awards
:
Primary Literary Genre(s):
Fiction; Non-Fiction
Primary Audience(s):
Adult readers; Children
Email:
alison.strobel@gmail.com
Website:
http://www.alisonstrobel.com/
Alison Strobel on WorldCat :
http://www.worldcat.org/search?q=alison+strobel
---
Selected Titles
Reinventing Rachel /
ISBN: 1434767744 OCLC: 377790343 David C. Cook, Colorado Springs, CO : ©2010. God let Rachel Westing down. For twenty-six years she's done everything by the book; she figures He should have her back. But then she learns her fiancé is cheating on her, her parents are getting a divorce, and her Christian mentor has a pill addiction. Where is God in all this? Nowhere, as far as Rachel can see. Wounded, bitter, and with a shattered faith, she quits her job and goes across the country to live with Daphne, her childhood best friend whose soul Rachel once thought she was meant to save.
The heart of memory /
ISBN: 0310289475 OCLC: 667873165 After undergoing a heart transplant, Christian writer Savannah Trover experiences a disconcerting loss of faith, a result which could have devastating consequences for the ministry that she and her husband have built up over a period of ten years.
The weight of shadows
ISBN: 9781602857681 OCLC: 503042707 Center Point Pub., Thorndike, Me. : 2010. After a difficult childhood, Kim has built a successful life for herself ... but she'd leave it all if it meant being rid of the guilt she harbors over a tragic mistake she made years ago. When she meets Rick, she finds everything she needs---including a way to pay for her sins every time he hits her. Kim and Rick's new neighbor, Joshua, knows more than Kim realizes about Rick, but Joshua has battles of his own to fight. Soon to intersect Kim's and Rick's lives is Debbie, who has saved countless women from abuse through the shelter she runs, but Debbie might be as desperate for love as the women she serves. Meanwhile, as Rick's wrath extends to their baby, Kim must decide if her penance is more important than protecting that innocent life---and if she should dare leave Rick when he has the power to bring her hidden crime to light.
The weight of shadows :
ISBN: 0310289459 OCLC: 424557461 Zondervan, Grand Rapids, Mich. : ©2010. After a difficult childhood, Kim finds everything she needs in Rick--including a way to pay for her sins--but when Rick turns his physical abuse on their baby, Kim must protect her child at the risk of revealing her own crimes.
Violette between :
ISBN: 9780307550651 OCLC: 688479919 WaterBrook Press, Colorado Springs, Colo. : ©2006. Between here and the past, there lies a place ... a place of longing for what has been rather than hoping for what could be.
Worlds collide
ISBN: 9780307551535 OCLC: 842872977 WaterBrook Press, Colorado Springs, Colo. : 2005. While the headlines screamed Hollywood Heartthrob Marries Girl Next Door, the public relationship of Jack Harrington and Grace Winslowe never revealed the private struggles that threatened to pull them apart--and when celebrity biographer Jada Eastman starts digging, she discovers that there's more to this couple than anyone could guess. Their relationship began like a scene from one of Jack's movies. Leaving behind a dead-end relationship and the bitter Chicago winter, Grace had moved to Southern California to start a new life. Meanwhile, Jack had established himself as an up-and-comer with considerable acting talent, and a private heartache. When a fateful accident pulled the two of them together, they couldn't avoid their initial attraction or the vast differences in their values and lifestyles. Now, against the backdrop of Beverly Hills and the 24/7 nature of the entertainment world, Jada grapples with her own beliefs as she encounters the spiritual chasm of this famous couple. Can Grace and Jack face the consequences of their own personal histories--and can the biographer avoid being affected? As the three of them examine the couple's bittersweet story, it becomes clear that everyday decisions can carry lifetime consequences when individual worlds collide.