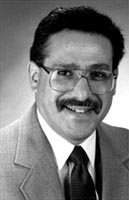 Steven Burgauer
Born:
in New York City, New York
Pen Name:
None
Connection to Illinois
: Burgauer lived in Peoria. He is a graduate of Illinois State University in Normal. He taught at Eureka College in Eureka, Illinois.
Biography
: Avid hiker, Eagle Scout, and founder of a mutual fund, Steven Burgauer resides in Florida. A graduate of Illinois State University and the New York Institute of Finance, Steve writes science fiction and historic fiction. His work has been reviewed in many places, including LOCUS, SCIENCE FICTION CHRONICLE, the PEORIA JOURNAL STAR, the EUREKA LITERARY MAGAZINE, and PROMETHEUS, the journal of the Libertarian Futurist Society. When Steven lived in Illinois, the State of Illinois Library included him in a select group of authors invited to the stateís Authorsí Day. He has often been a speaker and panel member at public library events and science-fiction conventions all across the country.
---
Awards
:
Steven was honored at the 2004 Illinois Authors Book Fair which was sponsored by the Illinois Center for the Book and the Illinois State Library in Springfield, Illinois.
Primary Literary Genre(s):
Fiction; Non-Fiction; Non-Fiction
Primary Audience(s):
Adult readers
E-Mail:
steven.burgauer@gmail.com
Facebook:
https://www.facebook.com/TheRoadToWarDutyandDrill
Website:
https://sites.google.com/site/stevenburgauer/
---
Selected Titles
A more perfect union /
ISBN: 1440130183 OCLC: 422598583 iUniverse, Inc., Bloomington, IN : ©2009.
Flights for Freedom
ISBN: 108798310X OCLC:
Fornax
ISBN: 1569013748 OCLC: 31034854 Northwest Pub., Salt Lake City, Utah : 1994.
Fornax Drive.
ISBN: 0595514677 OCLC: 1124493634
In the shadow of Omen
ISBN: 076100775X OCLC: 36720288 Zero-g Press, [Midvale, Utah] : ©1997.
Moon Beam
ISBN: 0692105352 OCLC:
Nazi saboteurs on the bayou /
ISBN: 0692808124 OCLC: 993627460 Nazis plot to destroy the Higgins boat manufacturing facility in New Orleans during the summer of 1942.
Newhuman :
ISBN: 0595227538 OCLC: 52223104 Writers Club Press, San Jose [Calif.] : ©2002.
NewHuman Mars: In the Shadow of the Omen
ISBN: 1440179093 OCLC: 464974606 iUniverse, New York : ©2009.
Skullcap
ISBN: 1491761830 OCLC:
The brazen rule /
ISBN: 0595005454 OCLC: 76965266 Writer's Showcase, San Jose : ©2000.
The grandfather paradox :
ISBN: 1450290434 OCLC: 700146129 iUniverse, Bloomington, Ind. : ©2011. Andu Nehrengel and his three female clone companions are marooned on a planet in the present. Their only hope for survival in the future lay in the past.
The last American
ISBN: 0595379079 OCLC: 63211367 iUniverse, Inc., New York : 2006.
The night of the eleventh sun /
ISBN: 1419671545 OCLC: 162169458
The Railguns of Luna
ISBN: 1491714794 OCLC:
The road to war :
ISBN: 1450218806 OCLC: 601052884 iUniverse Inc., Bloomington, IN : ©2010. A riveting first-person account of a soldier in World War II who enlisted shortly after Pearl Harbor, became a junior officer in army infantry, lead a combat boat team ashore on Omaha Beach, and was shortly afterwards taken prisoner, suffering great deprivation before finally being liberated by advancing Russian forces.
The slaves of Aphrodite /
ISBN: 0595282830 OCLC: 53447982 iUniverse, Inc., Lincoln, NE : ©2003.
The wealth builder's guide :
ISBN: 1892086026 OCLC: 40953094 Zero-g Press, Peoria, Ill. : 1999.
Treachery on the dark side
ISBN: 1892086034 OCLC: 43697960 Zero-g Press, Peoria, IL : 2000.
War memories :
ISBN: 9780773548510 OCLC: 962422655 War Memories explores the patchwork formed by collective memory, public remembrance, private recollection, and the ways in which they form a complex composition of observations, initiatives, and experiences. Offering an international perspective on war commemoration, contributors consider the process of assembling historical facts and subjective experiences to show how these points of view diverge according to various social, cultural, political, and historical perspectives. Encompassing the representations of wars in the English-speaking world over the last hundred years or so, this collection presents an extensive, yet integrated, reflection on various types of commemorations and interpretations of events. Essays respond to common questions regarding war memory: how and why do we remember war? What does commemoration tell us about the actors in wars? How does commemoration reflect contemporary society's culture of war? War Memories disseminates current knowledge on the performance, interpretation, and rewriting of facts and events during and after wars, while focusing on how patriotic fervour, resistance, conscientious objection, injury, trauma, and propaganda contribute to the shaping of individual and collective memory.--