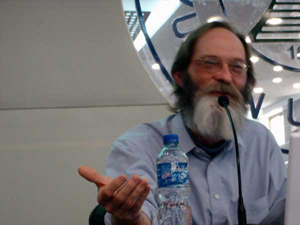 Steven Schroeder
Born:
1954 in Wichita Falls, Texas
Connection to Illinois
: Schroeder has lived in Chicago for more than twenty years. He is a graduate of the University of Chicago (Ph. D. 1982, M. A. 1976) and teaches at the University of Chicago Graham School in Asian Classics and the Basic Program of Liberal Education for Adults.
Biography
: Steven Schroeder received his Ph.D. in Ethics and Society from the University of Chicago in 1982. He is the co-founder, with composer Clarice Assad, of the [http://vacpoetry.org Virtual Artists Collective] (a 'virtual' gathering of musicians, poets, and visual artists), which has published five full-length poetry collections each year since it began in 2004. He teaches at the University of Chicago in Asian Classics and the Basic Program of Liberal Education for Adults and at Shenzhen University in China.He has published extensively in philosophy and religious studies and has lectured and written on the relationship of poetry with philosophy -- and of both with religion. He has teamed with Chinese colleagues Liang Huichun, Wang Hao, and Zhang Xiaohong to translate work of contemporary Chinese poets including Jimu Langge, Li Nan, Li Sen, Tang Danhong, and Zhai Yongming. With Russian colleague Vassily Pivoev, he has written a book on Henri Bergson published in 2008 in Petrozavodsk. His current academic research includes work on the ethics of translation and response as well as investigation of poetry as politics and performance.He has been a featured reader and guest professor at Yunnan University in China and has lectured at the University of Macao, Zhongshan University in China, the University of Hong Kong, Hong Kong Baptist University, Petrozavodsk State University in Russia, and Vilnius University in Lithuania. He has been an invited reader at festivals in Ohio; Oklahoma; Texas; Vilnius and Druskininkai (Lithuania); Shenzhen, Macao, Kunming, and Hong Kong (China); and Chicago.With Kunming poets Li Sen and Hai Nan and Shenzhen colleague Zhang Xiaohong, he began the Chicago-Kunming poetry group, which publishes New Poetry Appreciation (with the work of Kunming poets and Chicago poets in Chinese translation). With Li Sen, Long Xiaoying, Wang Hao, and Zhang Xiaohong, he co-edited a bilingual collection of the work of twenty-seven poets from the southwest of China and the southwestern United States called Two Southwests that appeared in October 2008. His work has appeared or is forthcoming in
After Hours
,
AmarilloBay
, ''Cha: An Asian Literary Journal'', ''Concho River Review'', the ''Christian Science Monitor'', the ''Cresset'', ''Druskininkai Poetic Fall 2005'', ''Georgetown Review'', the ''Journal of the American Medical Association'', ''Karamu'', ''Macao Closer'', ''Mid-America Poetry Review'', ''Poetry East'', ''Poetry Macao'', ''Rambunctious Review'', ''Rhino'', ''Shichao'', ''Sichuan Literature'', ''Texas Review'', ''TriQuarterly'' and other literary journals. He has published two chapbooks,
Theory of Cats
and
Revolutionary Patience
, and four full-length collections,
Fallen Prose
,
The Imperfection of the Eye
,
Six Stops South
, and
A Dim Sum of the Day Before
.
---
Awards
:
Email:
steven_schroeder@earthlink.net
Website:
http://stevenschroeder.org/
---
Selected Titles
A. Bergson i problemy metodologii gumanitarnogo znanii︠a︡
ISBN: 9785802109267 OCLC: 667181999 Izd-vo PetrGU, Petrozavodsk : 2008.
Between freedom and necessity :
ISBN: 9042013028 OCLC: 46380496 Rodopi, Amsterdam ; 2000.
Four Truths
ISBN: 9781630879808 OCLC: 1088348324 Wipf and Stock Publishers, La Vergne : 2011.
On not founding Rome :
ISBN: 9781621890676 OCLC: 1011587165
On the no road way to tomorrow :
ISBN: 9780981989839 OCLC: 779989789
Six stops South :
ISBN: 9781934999431 OCLC: 465479634 Cherry Grove Collections, Cincinnati, Ohio : ©2009.
The metaphysics of cooperation :
ISBN: 9042007761 OCLC: 43170436 Rodopi, Amsterdam ; 1999.
Touching philosophy, sounding religion, placing education
ISBN: 9042011637 OCLC: 51178972 Rodopi, Amsterdam ; 2002.
Virginia Woolf's subject and the subject of ethics :
ISBN: 0773489231 OCLC: 32779818 Edwin Mellen Press, Lewiston, NY : ©1996.