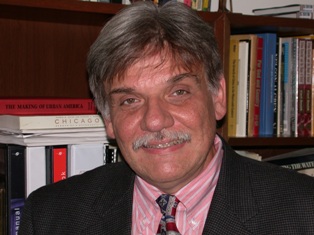 Dominic A. Pacyga
Born:
May 1, 1949
Pen Name:
None
Connection to Illinois
: Pacyga was born and raised in Chicago's Back of the Yards neighborhood and attended De La Salle Institute. His undergraduate and graduate work was conducted at the University of Illinois at Chicago. He received a Ph. D. in 1981.
Biography
: Dominic A. Pacyga is professor emeritus of history in the Department of Humanities, History, and Social Sciences at Columbia College Chicago. His books include Polish Immigrants and Industrial Chicago: Workers on the South Side, 1880–1922; Chicago: A Biography; and Slaughterhouse: Chicago's Union Stock Yard and the World It Made, all from the University of Chicago Press. Pacyga is the 2014 Mieczyslaw Haiman Award winner for exceptional and sustained contribution to the study of Polish Americans.
---
Awards
:
Primary Literary Genre(s):
Non-Fiction
Primary Audience(s):
Adult readers
E-Mail:
dpacyga@colum.edu
Website:
https://2343.org/dominic-pacyga/
Website:
https://www.goodreads.com/author/show/670554.Dominic_A_Pacyga
on WorldCat:
http://www.worldcat.org/search?q=dominic+a.++pacyga
---
Selected Titles

ISBN: 1531619517 OCLC:
American Warsaw :
ISBN: 022640661X OCLC: 1083153446
Chicago :
ISBN: 0226104133 OCLC: 5226985 Chicago Historical Society, [Chicago] : 1979. "This guide to some of Chicago's historic neighborhoods of the South Side is the first of what we hope will be an important series interpreting the historical processes that have formed and shaped the city's community life. Both words and images have been used to create a historical and social iconography of each of the areas covered, in the hope that this combination will not only convey the changes that have occurred in each neighborhood, but will also impart a sense of each community's uniqueness" -- from preface.
Chicago :
ISBN: 0226644286 OCLC: 298670853 University of Chicago Press, Chicago ; 2009. "Chicago traces the city's storied past, from the explorations of Joliet and Marquette in 1673 to the new wave of urban pioneers today. The city's great industrialists, reformers, and politicians - and, indeed, the many not-so-great and downright notorious - animate this book, from Al Capone and Jane Addams to Mayor Richard J. Daley."--Inside jacket.
Chicago, city of neighborhoods :
ISBN: 082940497X OCLC: 12587104 A guide to fifteen tours through Chicago neighborhoods emphasizing historic landmarks and pointing out institutions and buildings which had important roles in each neighborhoods growth.
Polish immigrants and industrial Chicago :
ISBN: 0226644243 OCLC: 52214821 University of Chicago Press, Chicago : 2003. "How did working-class immigrants from Poland create new communities in Chicago during the industrial age? This book explores the lives of immigrants in two iconic South Side Polish neighborhoods - the Back of the Yards and South Chicago - and the stockyards and steel mills in which they made their living. Pacyga shows how Poles forged communities on the South Side in an attempt to preserve the customs of their homeland; how through the development of churches, the building of schools, the founding of street gangs, and the opening of saloons they tried to recreate the feel of an Eastern European village. Through such institutions, Poles also were able to preserve their folk beliefs and family customs. But in time, the economic hardships of industrialization forced Poles to reach out to their non-Polish neighbors. And this led, in large part, to the organization of labor unions in Chicago's steel and meatpacking industries."--BOOK JACKET.
Slaughterhouse :
ISBN: 022612309X OCLC: 898910930 On the South Side to tour the Union Stock Yard, people got a firsthand look at Chicago's industrial prowess as they witnessed cattle, hogs, and sheep disassembled with breathtaking efficiency. At their height, the kill floors employed 50,000 workers and processed six hundred animals an hour, an astonishing spectacle of industrialized death. Pacyga chronicles the rise and fall of an industrial district that, for better or worse, served as the public face of Chicago for decades. He takes readers through the packinghouses as only an insider can, covering the rough and toxic life inside the plants and their lasting effects on the world outside. He shows how the yards shaped the surrounding neighborhoods; looks at the Yard's sometimes volatile role in the city's race and labor relations; and traces its decades of mechanized innovations.