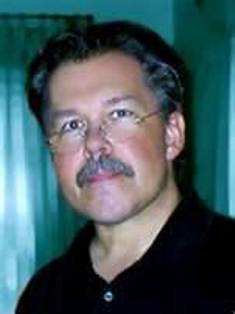 Patrick Girouard
Born:
1957 in St. Louis, Missouri
Pen Name:
None
Connection to Illinois
: Patrick lived in Chicago and currently resides in Munster, Indiana.
Biography
: You know that kid who was constantly getting yelled at by teachers to stop drawing pictures and pay attention? The one whose book covers and paper margins were covered with artwork? The kid who handed in test papers that were half completed but thoroughly illustrated? That was Patrick Girouard.Now he's a freelance illustrator whose clients include Sesame Street Magazine, National Geographic World, Kid City, Spider, Weekly Reader, USA Today, Click, Scholastic, Highlights and Oxford University Press.His work can be found in over 100 children's books as well as museum exhibits, greeting cards, t-shirts, games, toys, puzzles, odd scraps of paper, the margins of newspapers, and his Mom's refrigerator door.
---
Awards
:
-- Science Books and Films Best Books., ''Yikes - Lice!''
-- Society of School Librarians International Honor Book., ''I Have A Weird Brother Who Digested A Fly.''
Primary Literary Genre(s):
Fiction; Non-Fiction
Primary Audience(s):
Children
Email:
patrick@pgirouard.com
Website:
http://www.pgirouard.com
Patrick Girouard on WorldCat :
http://www.worldcat.org/search?q=patrick+girouard
---
Selected Titles
Dinosaurs dance /
ISBN: 0516263587 OCLC: 36865620 Children's Press, New York : ©1998. Though other animals may twirl and prance, there is nothing like a dinosaur dance.