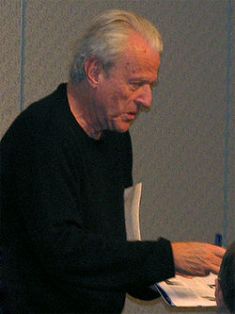 William Goldman
Born:
1931 Chicago, Illinois
Pen Name:
S. Morganstern
Connection to Illinois
: The author grew up in Highland Park.
Biography
: William Goldman has been writing books and movies for more than forty years. He has won two Academy Awards (for Butch Cassidy and the Sundance Kid and All the President's Men), and three Lifetime Achievement Awards in screenwriting.
---
Awards
:
Primary Literary Genre(s):
Fiction; History; Mystery; Other ; Romance
Primary Audience(s):
Adult readers; Young adult readers
William Goldman on WorldCat :
http://www.worldcat.org/search?q=william+goldman
---
Selected Titles
Absolute power :
ISBN: 1557832757 OCLC: 36617320 Applause Books, New York : ©1997. "When a routine burglary in an elegant, upscale Virginia mansion goes awry, career thief Luther Whitney finds himself witness to a brutal murder involving none other than Alan Richmond, the youthful, charming and thoroughly corrupt President of the United States. Torn between fear for his life and devotion to his family and country, Luther must make a decision that will change not only his own destiny, but the destiny of the world as we know it. Based on the best-selling thriller by David Baldacci, William Goldman's screenplay captures the paranoia, greed, and corruption of politics through the ages and around the world."--BOOK JACKET.
Adventures in the screen trade :
ISBN: 9781455580569 OCLC: 846835444 Warner Books, New York : ©1983. Includes an idea-to-film production case study of his short story, Da Vinci.
Adventures in the screen trade :
ISBN: 0446391174 OCLC: 11229890 Warner Books, New York : 1984, ©1983. William Goldman, screenwriter of such films as "All the President's Men," "The Right Stuff," and "Butch Cassidy and the Sundance Kid," discusses his experiences in Hollywood, and his craft.
Boys & girls together /
ISBN: 0345439732 OCLC: 48774044 Ballantine Books, New York : 2001. Aaron, Walt, Jenny, Branch, and Rudy, are bound together by traumatic past events and their quest to achieve their dreams against the frenzied backdrop of 1960s New York City.
Boys & girls together :
ISBN: 9781453292013 OCLC: 864822555 In New York, five young people sacrifice everything for a life in the theaterAaron, Walt, Rudy, Jenny, and Branch-a writer, a director, two actors, and one iron-willed producer. They grew up as creative, ambitious loners, and they all believe that their destiny lies in New York City. For these five, art is a calling to which they will sacrifice everything they have. They are determined to realize their potential even if it means destroying their friends-or themselves. More than a coming-of-age story or a portrait of Manhattan's theater scene in the 1960s, Boys and Girls Together is a white-hot.
Magic
ISBN: 9780307487865 OCLC: 773740846 Dell Pub., New York : [2008], ©1976. Starting out as a boy in the Catskills, Corky develops into a brilliant and famous magician whose long-hidden secret and expert skills attract dark forces intent on destroying him.
Magic /
ISBN: 0440151414 OCLC: 3440444 Dell Pub. Co., New York : 1977, ©1976. Corky was a brilliant entertainer with a great future ahead. He had good looks, many women, and enormous talent. He also had a secret and a certainty: a secret that must be hidden from his public at all costs; and a certainty that the dark forces of magic were out to destroy him.
Marathon man
ISBN: 9781453292006 OCLC: 828426497 Open Road Integrated Media, New York : 2011. One of the most memorably harrowing encounters between a villain and victim is in Goldman's suspense masterpiece Marathon Man. A seminal thriller of the 20th century, the bestseller will enthrall a whole new generation of readers in the 21st.
Temple of gold
ISBN: 9781453291993 OCLC: 828196217 Open Road Integrated Media, New York : 2011. William Goldman & rsquo;s stunning debut novel about a young boy, adrift and alone, coming of age in a cruel world Raymond Euripides Trevitt is not yet ten when he resolves to make his own way in life. When a new boy, Zock, moves in next door, he knows he has finally met his partner in life & rsquo;s great adventures. As they come of age in midwestern, midcentury America, Ray and Zock become the best of friends & mdash;even though they & rsquo;re opposites in many ways. Ray takes Zock hiking; Zock teaches Ray about poetry. Together, they run away to Chicago, hide out in movie theaters, and watch Gunga Din over and over. They navigate high school together: double dating, learning about first love, getting into college. But during a summer visit home, a tragic accident leaves Ray racked with guilt and self-loathing. Broken and lost, Ray is left to find his way through life one blunder at a time, never giving up hope or relinquishing his quest for atonement. This ebook features a biography of William Goldman.
The princess bride :
ISBN: 9781328948854 OCLC: 1005469172 The thrilling and timeless story of Buttercup, Westley and their fellow adventurers, filled with the stuff of fairy tales and more.
The princess bride: S. Morgenstern's classic tale of true love and high adventure.
ISBN: 0156035219 OCLC: 624008 Harcourt Brace Jovanovich New York, [1973] "A Del Rey book." The most beautiful girl in the world marries the handsomest prince in the world.
The season :
ISBN: 0879100230 OCLC: 10505983 Limelight Editions, New York : 1984, ©1969.
Which lie did I tell? :
ISBN: 0747553173 OCLC: 779088392 Bloomsbury, London : 2000.
William Goldman :
ISBN: 155783198X OCLC: 31610208 Applause Books, New York : ©1995.
William Goldman's The temple of gold.
ISBN: 0345439740 OCLC: 48088675 Ballantine Books, New York : 2001. Ray Trevitt is coming of age in the American Midwest of the late 1950s. Handsome, restless, eager to live life and to find his place in the world, Ray hurtles headlong through a young man's rite of passage, searching for answers and somewhere to belong. What he discovers is that within friendships and love affairs, army tours and married life, victory and tragedy, lie the experiences that will shape his destiny, scar his soul, and ultimately teach him profound lessons he never expected.