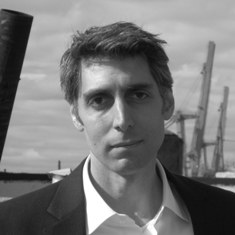 Alex Shaker
Born:
1968 in Brooklyn, NY
Pen Name:
None
Connection to Illinois
: Alex now lives in Chicago, Illinois
Biography
: Alex Shakarís latest novel, Luminarium, was the winner of the 2011 Los Angeles Times Book Prize for Fiction. It was also named a Notable Book of the year by The Washington Post, an Editorís Choice by The New York Times, and a best book of the year by Publishers Weekly, Booklist, the Austin Chronicle, and the Kansas City Star. His novel The Savage Girl was a New York Times Notable Book. His story collection City in Love won the FC2 National Fiction Competition. A Brooklyn native, he now lives in Chicago, and teaches fiction at the University of Illinois at Urbana-Champaign.
---
Awards
:
-- Luminarium, ''Los Angeles Times Book Prize in Fiction''
-- City in Love, ''FC2 National Fiction Competition''
Primary Literary Genre(s):
Fiction
Primary Audience(s):
Adult readers
Email:
http://alexshakar.com/contact
Website:
http://alexshakar.com
Alex Shaker on WorldCat :
http://www.worldcat.org/search?q=alex+shaker
---
Selected Titles
City in love :
ISBN: 157366023X OCLC: 36128759 It is the year 1 B.C. and New York City is a place to behold: staggeringly vast, dangerous, seductive, and strange. It is a place where a museum guard inscribes a secret message into the streets of Manhattan; a troubled Queens schoolgirl becomes the most powerful superhero in the city; and an Alphabet City sculptor constructs his ideal woman from eighty-eight rubber bands, a tattered umbrella, and the bones of a fish. The street odysseys of these and other characters.
Look sauvage /
ISBN: 2846260478 OCLC: 470425319 Au diable Vauvert, Vauvert : 2003
Luminarium :
ISBN: 1616951834 OCLC: 694394361 Soho Press, New York : ©2011. "Shakar takes measure of our post-9/11 existential confusion in a technology-avid but sciencephobic, 'ever-complexifying world.' A radiantly imaginative social critic, Shakar is also a knowledgeable and intrepid explorer of metaphysical and neurological mysteries. With beguiling characters trapped in ludicrous and revelatory predicaments, this is a cosmic, incisively funny kaleidoscopic tale of loss, chaos, and yearning."--Booklist, Starred review.
The savage girl
ISBN: 1428103171 OCLC: 71482951 Recorded Books, Prince Frederick, MD : 'Ąó2006. Ex-art student Ursula Van Urden's new job is to spot trends for Tomorrow, Ltd. Her instructions are simple: go out and find the future, or whatever may be trend worthy. But what Ursula discovers is quite unexpected: a homeless girl who panhandles and lives on the street. Dubbed the savage girl, she becomes the impetus for a bizarre advertising scheme. That is, until things go terribly, terribly wrong.
The savage girl :
ISBN: 0066209870 OCLC: 48028520 HarperCollinsPublishers, New York : ©2001. In a novel about the effects of consumerism on society, a young woman travels to Middle City to help her fashion model sister recover from a suicide attempt.