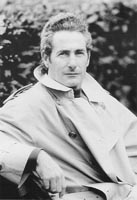 Barry Gifford
Born:
1946 in Chicago, Illinois
Pen Name:
None
Connection to Illinois
: Gifford was born in Chicago.
Biography
: Gifford is a poet, novelist, screenwriter, memoirist, essayist, and biographer. He was the co-founder of ''Black Lizard Books'' and worked as their editor until until 1989. He also worked as a merchant seaman, musician, journalist, editor, and truck driver. He served in the US Air Force Reserves in 1964-65.
---
Awards
:
American Library Association Notable Book Award, 1978 and 1988 Maxwell Perkins Award, PEN, 1983 PEN Syndicated Fiction Award, 1985 Christopher Isherwood Foundation award for fiction, 2006
Primary Audience(s):
Adult readers
Email:
askoscar@barrygifford.com
Website:
http://www.BarryGifford.com
Barry Gifford on WorldCat :
http://www.worldcat.org/search?q=barry++gifford
---
Selected Titles
Arise and walk :
ISBN: 0786860138 OCLC: 29184978 Hyperion, New York : ©1994. From the acclaimed author of Night People and Wild at Heart comes a stark, eccentric, and wholly original plunge into the dark and grimy world of just revenge. Set in New Orleans at the turn of the twenty-first century, Arise and Walk continues the chronicle of American madness begun in Night People. Tracking the lives of individuals intent on making a profound difference in the world before they are willingly or forcibly removed from it, Barry Gifford strips away the veneer of civility character by character only to leave the disturbing echo - is even vengeance enough?
Baby cat-face :
ISBN: 0151001839 OCLC: 32012683 Harcourt Brace, New York : ©1995.
Do the Blind Dream? :
ISBN: 9781609801106 OCLC: 697122336 Seven Stories Press, New York : 2010. Gifford's newest fiction, tasting of Bunuel and Cocteau.--Pedro Almodovar.
Do the blind dream? :
ISBN: 1583226702 OCLC: 58830974 Seven Stories ; New York : 2005.
Hot rod /
ISBN: 0811815935 OCLC: 34932827 Chronicle Books, San Francisco : ©1997. From the chop shops of East Bakersfield to the drag strips and deserts of California and Utah, David Perry captures the American obsession with speed, thrills, and cars in this collection of photographs. Greasers, gearheads, drag strip beatniks, rockabilly queens, and hopped-up machines of all kinds are featured in these evocative images. Tracing the cult of cars from the tattooed and goateed hipsters of San Francisco to the no-frills land-speed racers of the Bonneville Salt Flats and the dry lake beds of El Mirage, Hot Rod exposes the underbelly of a growing obsession that is creeping up on the nation in snakeskin boots. Barry Gifford adds an original novelette in which Danny and his paramour Yolanda find themselves in a zone somewhere between the San Joaquin Valley and the Gates of Hell - an eerie ballad that seizes the rebellious spirit of the images.
Jack's book :
ISBN: 9780857867643 OCLC: 782994152 Canongate, Edinburgh : 2012, In this kaleidoscopic portrait of Jack Kerouac, William Burroughs, Carolyn Cassady, Gregory Corso, Lawrence Ferlinghetti, Allen Ginsberg, Gary Snyder, Gore Vidal and many others talk, argue and reminisce about their times with him. But alongside these luminaries of the Beat generation are the voices of those who knew a different side of Kerouac: the working men, the childhood friends, the bar companions, the lovers. --Back cover.
Jack's book :
ISBN: 0312113382 OCLC: 755697730 Penguin Books, New York : 2012. Here is Jack Kerouac's story, as recorded through the voices of his friends and lovers. Authors Barry Gifford and Lawrence Lee retraced Kerouac's life at home and on the road and talked with the prophets, musicians, poets, socialites, and working people who knew him. Some are famous (Allen Ginsberg, Gore Vidal, William Burroughs) ; some are not (Jack's boyhood buddies, his lovers, his barroom companions). All have contributed to a remarkably vibrant, riveting portrait of a life and the Beat Generation.
Memories from a sinking ship /
ISBN: 1583227628 OCLC: 82287322 Seven Stories Press, New York : ©2007.
Memories from a Sinking Ship :
ISBN: 1299577113 OCLC: 842877410 Seven Stories Press, 2011.
Perdita Durango /
ISBN: 0802134831 OCLC: 34966299 Grove Press ; New York : 1996.
Rooster Trapped in the Reptile Room.
ISBN: 1282731513 OCLC: 911064379 Seven Stories Press, 2010.
Sinaloa Story :
ISBN: 9781609801113 OCLC: 697122334 Seven Stories Press, New York : 2010. Mixing a fool for love, a smoking gun and a chance in hell.
The cavalry charges :
ISBN: 1568583346 OCLC: 82673701 Thunder's Mouth Press ; New York : 2007.
The imagination of the heart /
ISBN: 158322873x OCLC: 245025997 Seven Stories Press, New York : ©2009. The Imagination of the Heart is the final chapter in the saga of Sailor Ripley and Lula Pace Fortune, the "Romeo and Juliet of the Deep South." Their story began in Barry Gifford's novel Wild at Heart, which in 1990 was made into a Palme d'Or-winning feature film by David Lynch.
The rooster trapped in the reptile room :
ISBN: 1583225250 OCLC: 51886279 Seven Stories Press, New York : ©2003.
The Sinaloa story :
ISBN: 1583226761 OCLC: 58789962 Seven Stories Press, New York : ©2005.
Wyoming /
ISBN: 1583226362 OCLC: 54907006 Seven Stories Press, New York : 2004.
Wyoming.
ISBN: 9781611459616 OCLC: 855969482 Skyhorse Publishing, Inc., New York : 2012. A subtle, impeccably rendered new novel from one of America's most distinctive writers. A woman and her young son are traveling together by car through the southern and midwestern United States in the mid-to-late 1950s. As the mother drives, she and the boy, Roy, talk about their lives, their disappointments, and their dreams. Wyoming exists as a state of mind rather than an actual place, a place neither the boy nor his mother have ever been, an idyll where the two of them can live an untroubled life. Told entirely in dialogue, the story of Roy and his mother traverses both real and im.